A virtual art tour of our favourite rooms and suites at Altstadt Vienna
Taking up an oh-so-aesthetic residence in a 19th-century townhouse tucked on the Spittelberg in Vienna's trendy 'Boboville' district, Altstadt Vienna has got the styling of its 62 sleeping quarters (quite literally) down to a fine art. The individually decorated rooms and suites are the result of creative collaborations with artists, architects, and fashion designers known the world over, so no two spaces are alike. The hotel's extensive contemporary art collection (from Warhol to Prachensky) is also a big draw for modern aesthetes, who fancy the idea of spending the night in an art gallery. This World Art Day, we take a closer look at the works within our favourite bedroom walls…
Atil Kutoğlu
Stepping into the light-filled Room 23 is like being transported to the sultry shores of the Aegean Sea. Istanbul-born, Vienna-based fashion designer Atil Kutoğlu has brought a touch of Ottoman opulence to the custom-made furnishings, bedecked with patterns inspired by Mallorcan ikat and Turkish kaftans. The headboard is a triumph in turquoise, made using hand-painted Iznik tiles.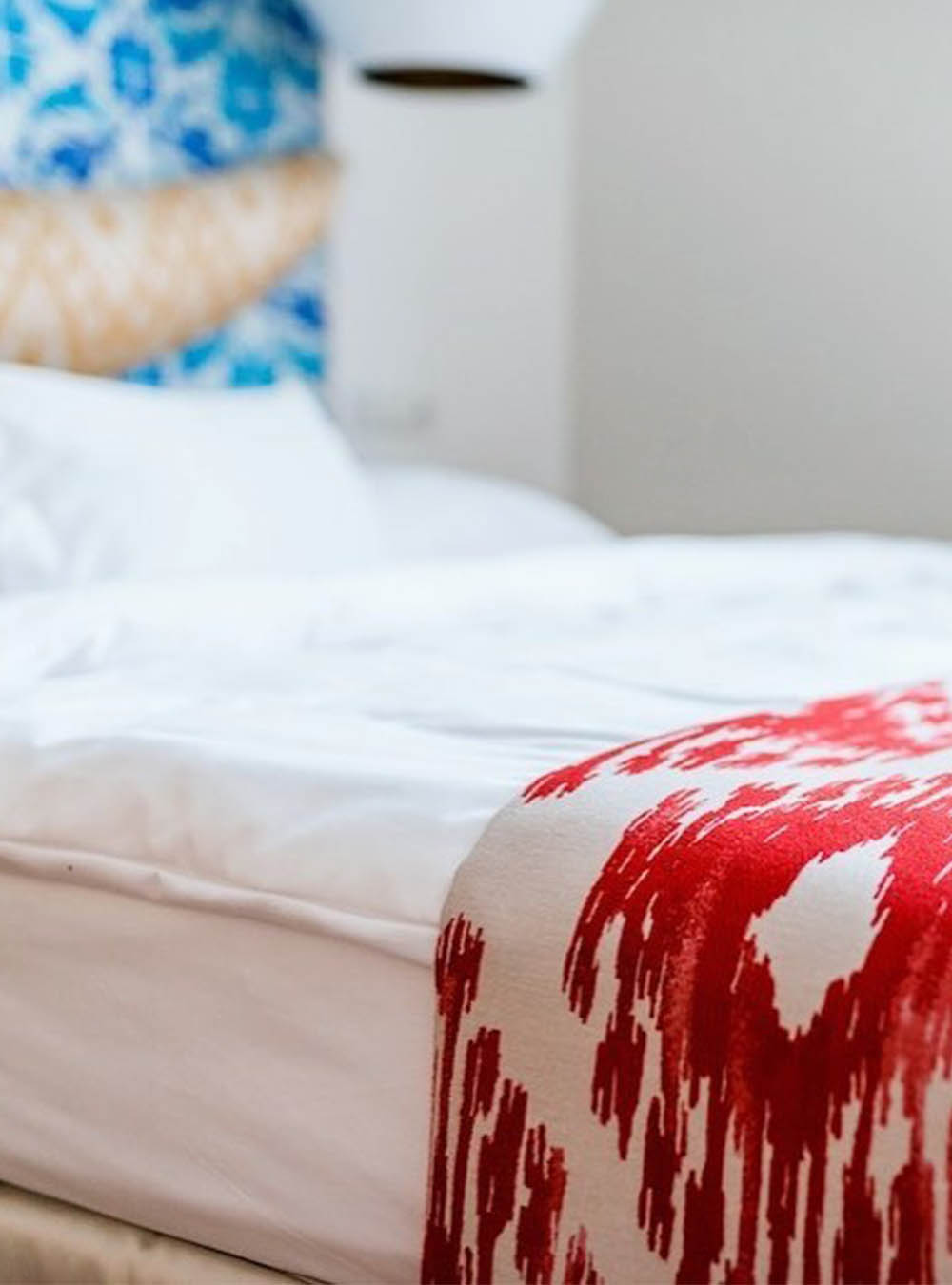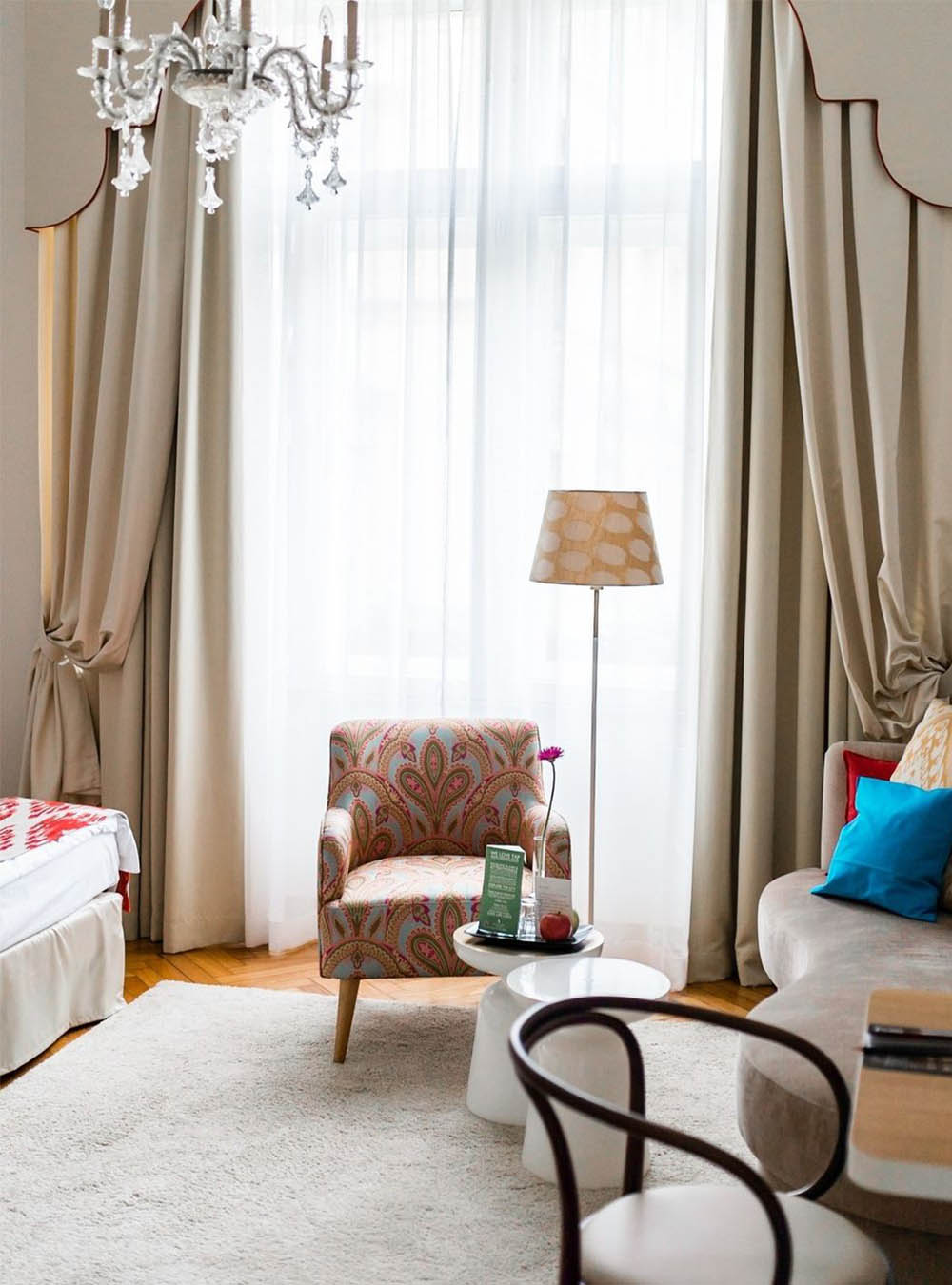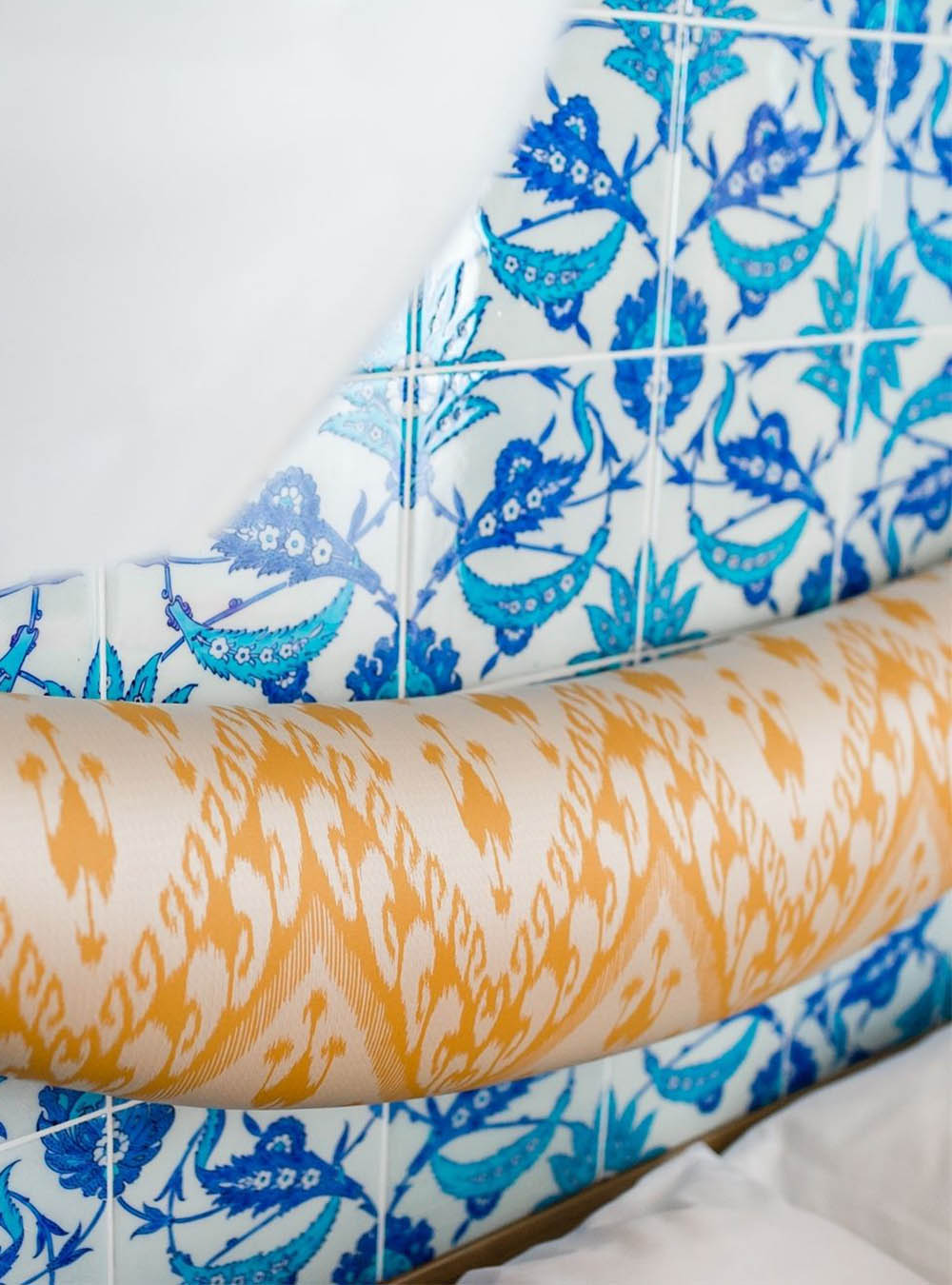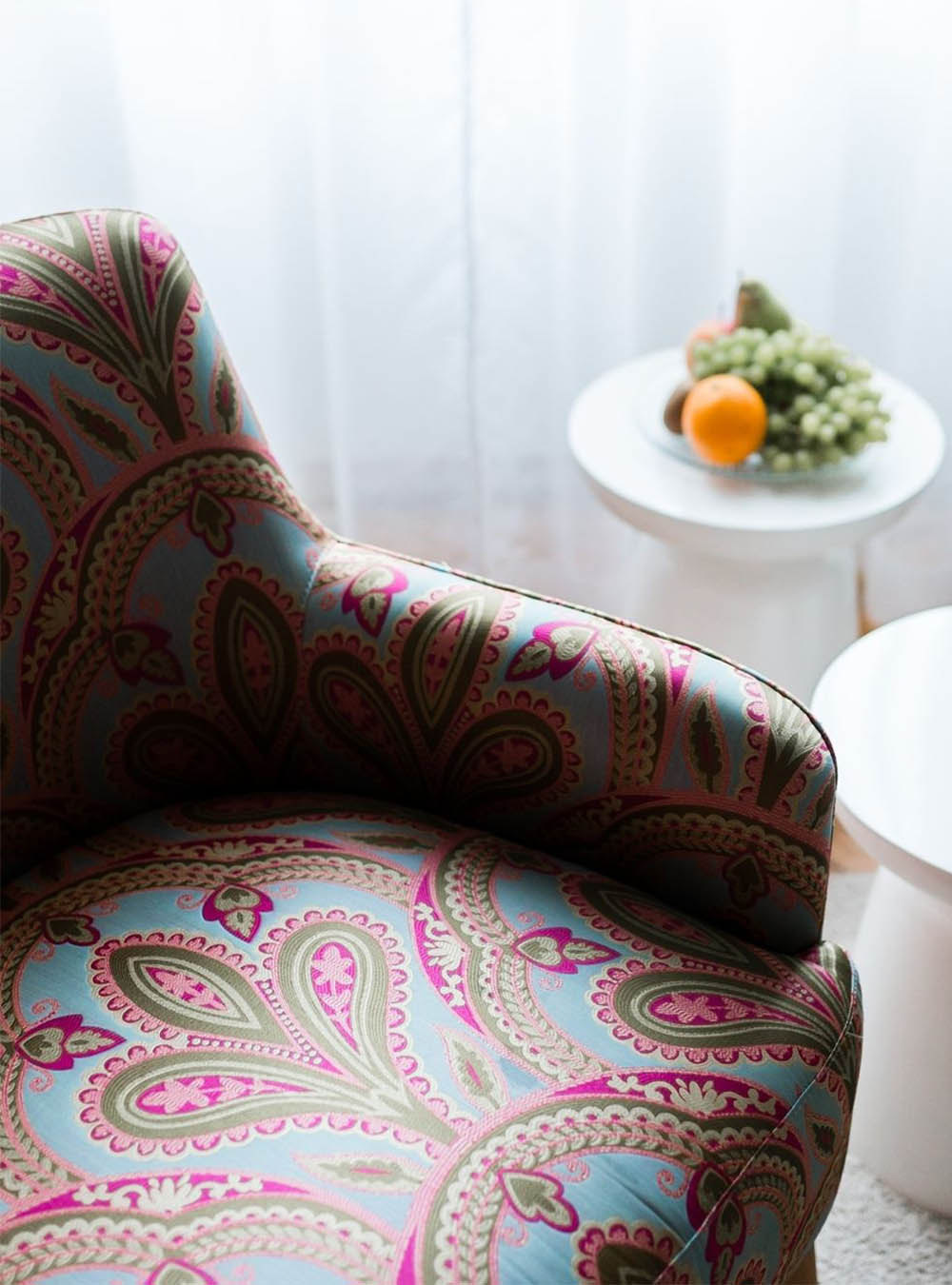 Andi Lackner
It's big, it's Baroque, it's the dramatically decadent work of star stylist Andreas Lackner – a master of staging who has been behind some of Europe's grandest celebrations, including the Venice Carnival and Vienna's Féte Impériale. Check-in to Rooms 53 and 56 for some moody elegance, and admire the photographic portraits by Vienna Photography School-trained, Berlin-based artist Josef Fischnaller, who embeds modern details into restaged Old Masters works. Famous pieces by the likes of Caravaggio and Bartolomeo Veneto are reinvented and ever-so-subtly subverted.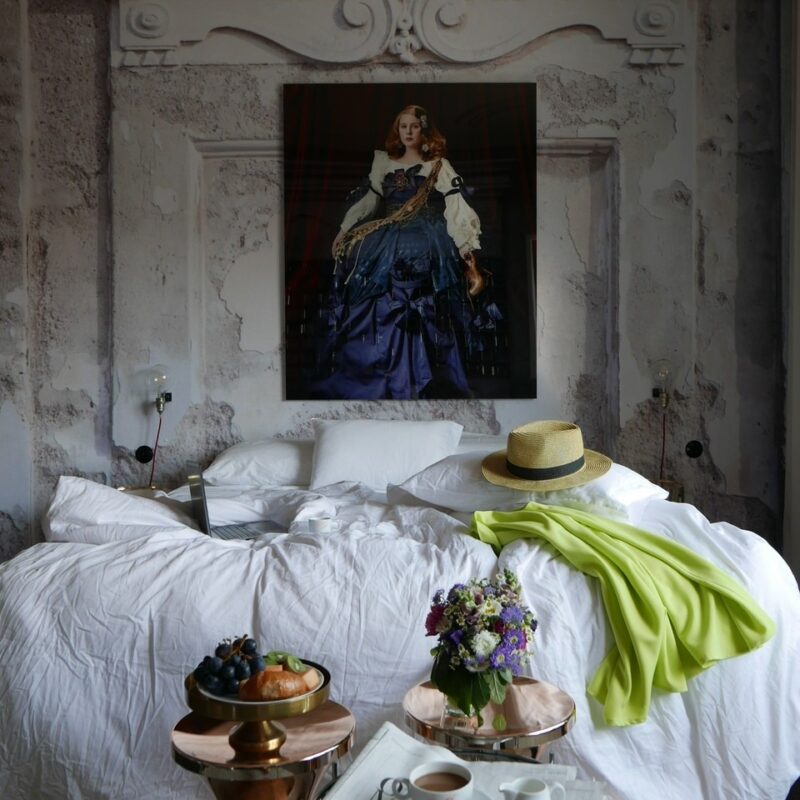 Image by @irinahp
Violet Suite
Internationally renowned German artist Carsten Fock was let loose with his paintbrush on Suite 19, and his colour of choice could not have been more striking against the crisp white walls. A vision in violet, Fock spent two days applying brushstroke after brushstroke of purple pigment directly to the statement wall piece titled, 'Every Day is a Day'. This is off-set by a colourful painting of a mountain on the opposite side of the room, and if you look closely you can just about make out the faded lettering, 'End the End'. Our takeaway message? There's really no need to fear the end if you simply live in the moment, and appreciate each day as it comes.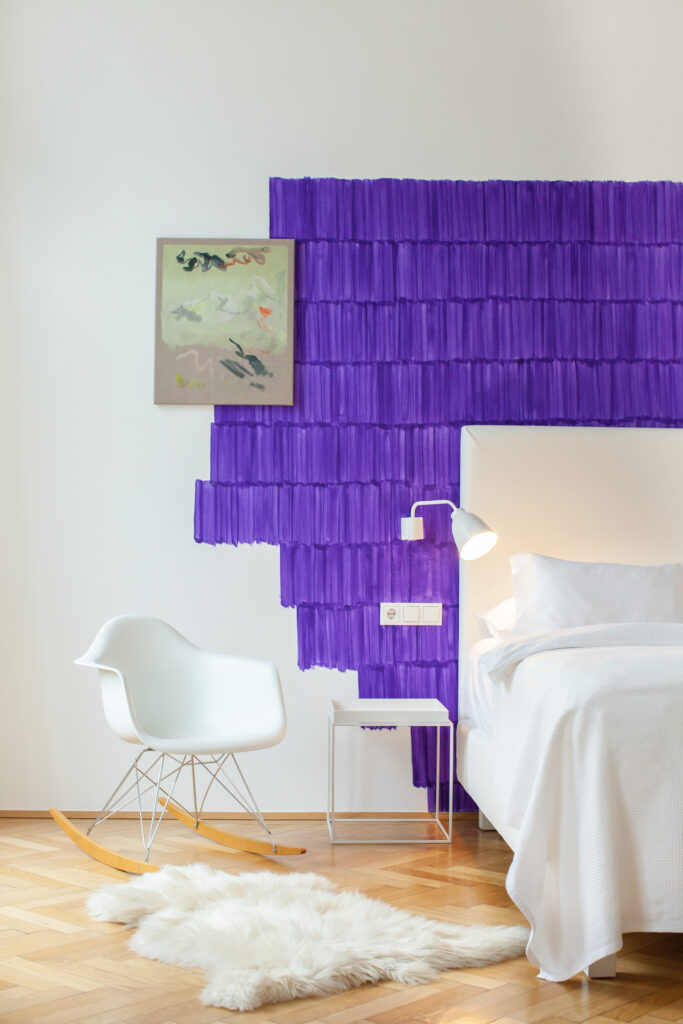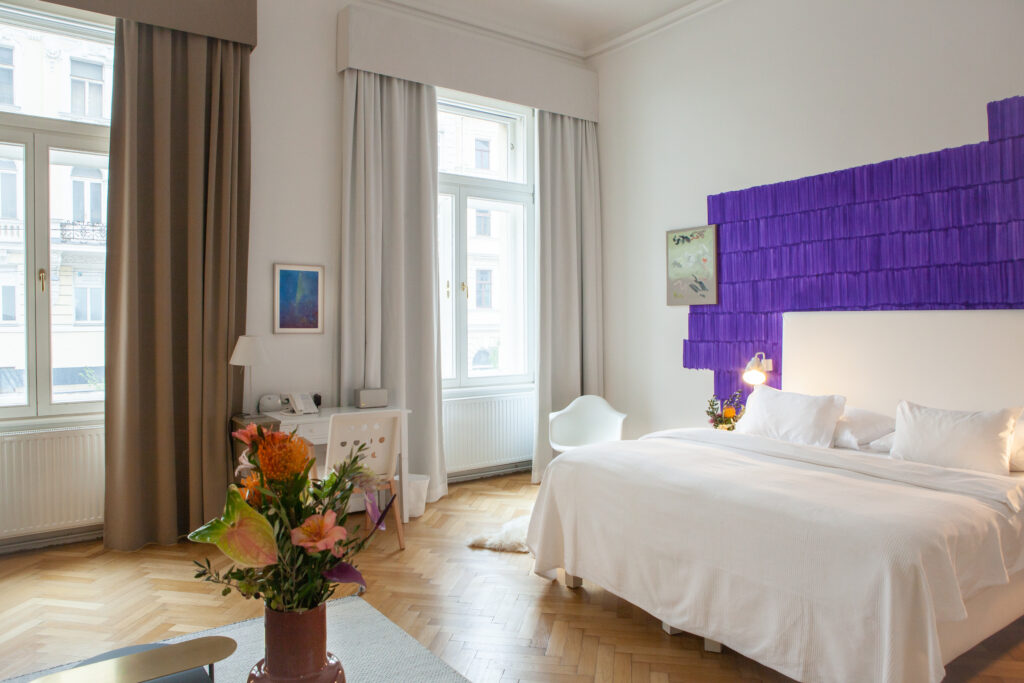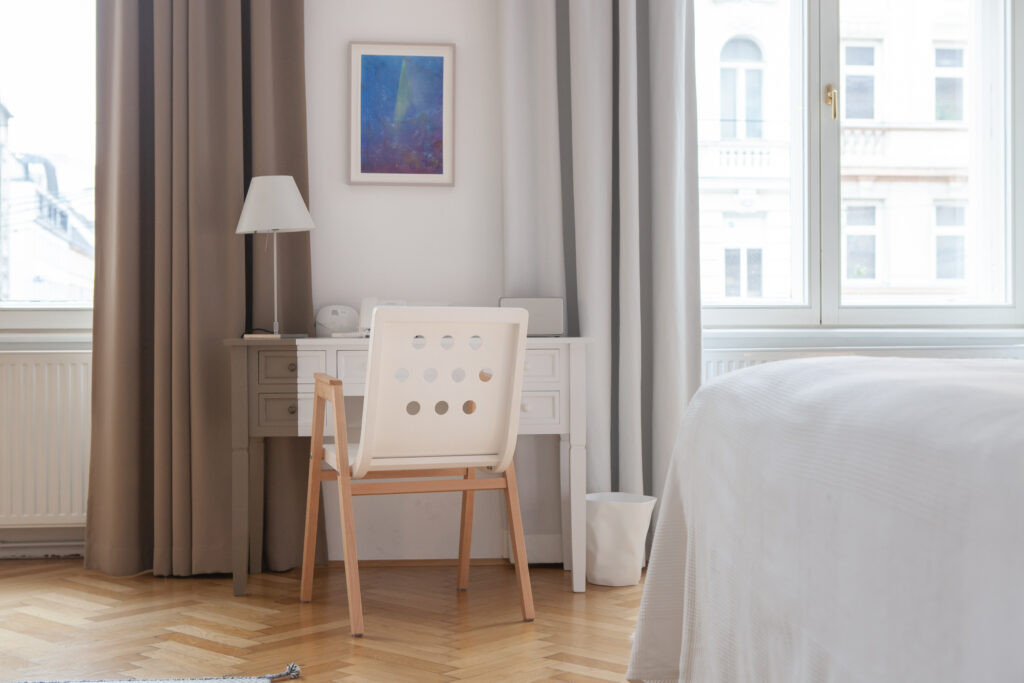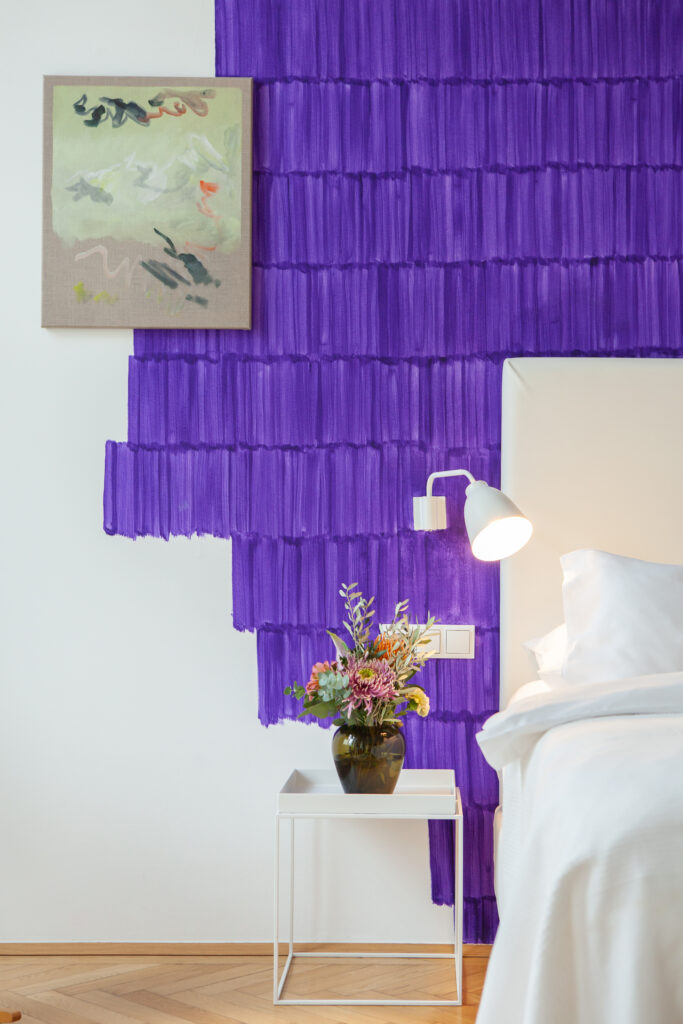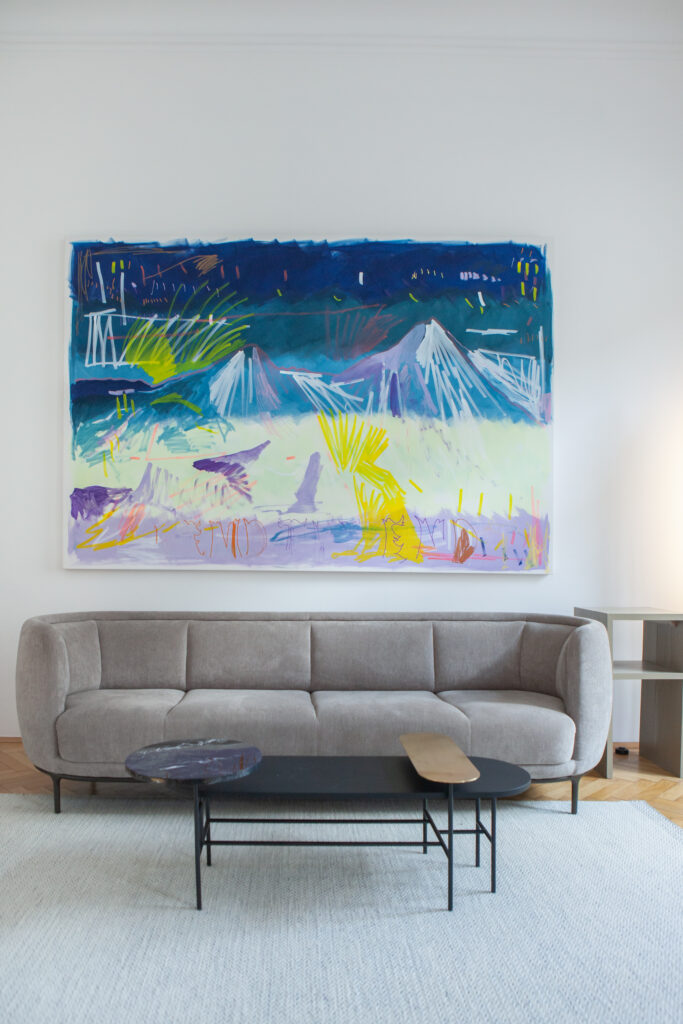 Three paintings by Fock were commissioned especially for the suite, which delve into mystical underwater worlds, and sit alongside additional works selected by Saskia Wiesenthal, the hotel's Marketing, Art & Social Media Manager.
Bösendorfer Suite
Taking its name from the Viennese grand piano maker, Bösendorfer, this musically-inspired suite is brimming with hand-picked objets d'art and one-off pieces, including a century-old tiled stove which is illuminated by a Zettel'z pendant lamp by Ingo Maurer. The artworks are cleverly contrasting yet complementary – a piece by American portrait photographer Annie Leibovitz hangs opposite a still-life by Austrian painter Robin Christian Andersen, and Austrian artist Alexander Ruthner was commissioned to add a pop of colour to the whitewashed bedroom.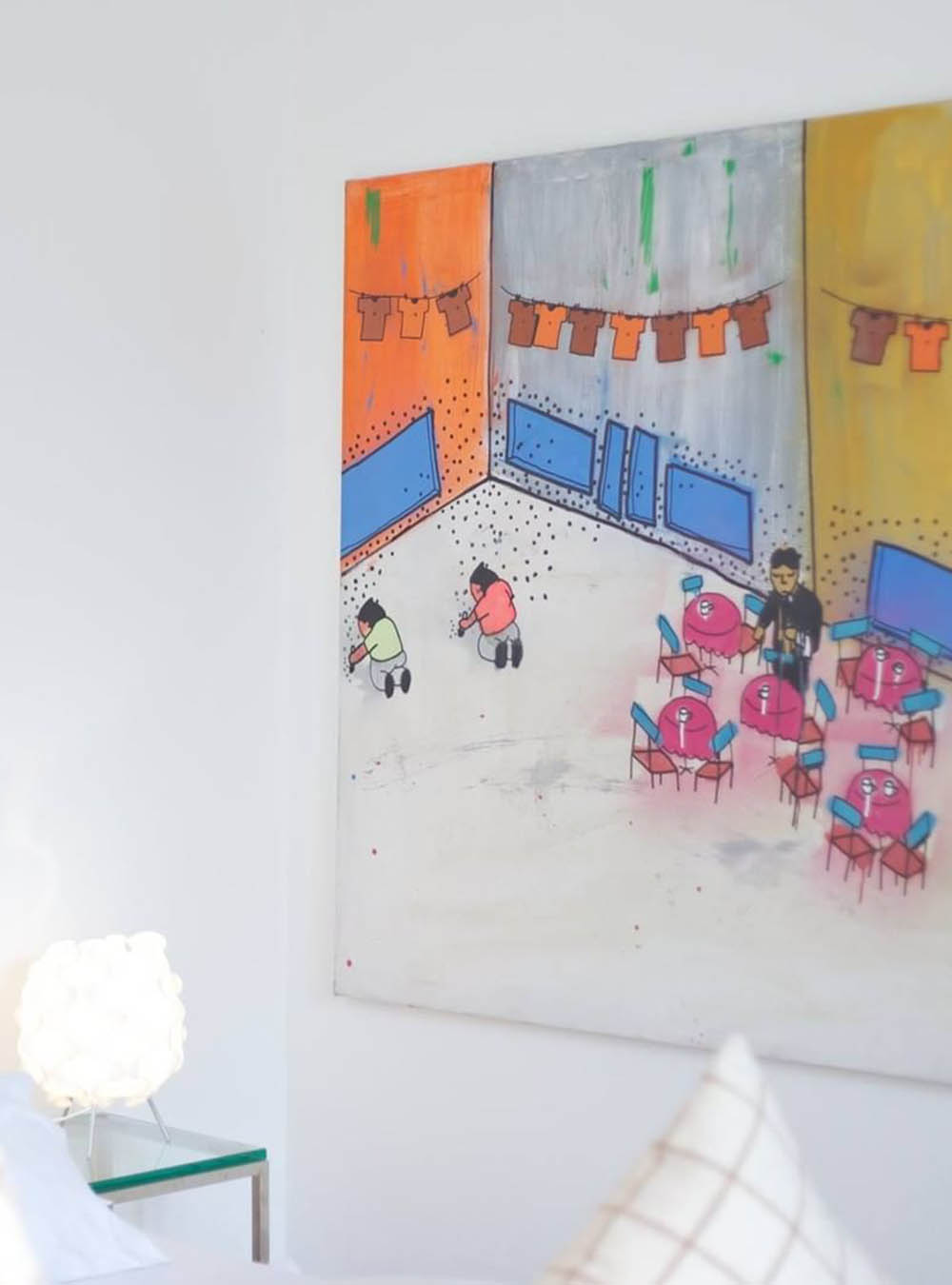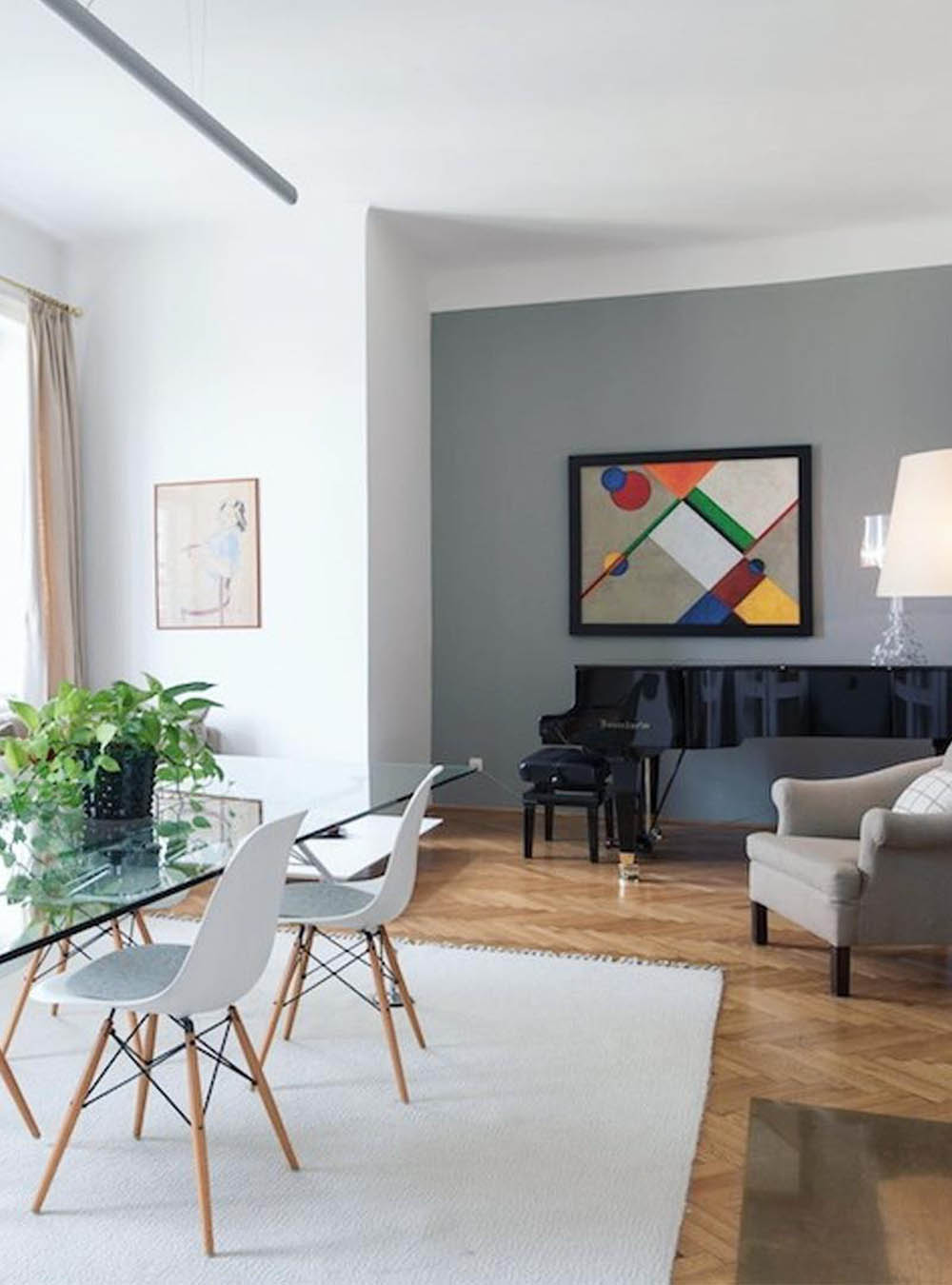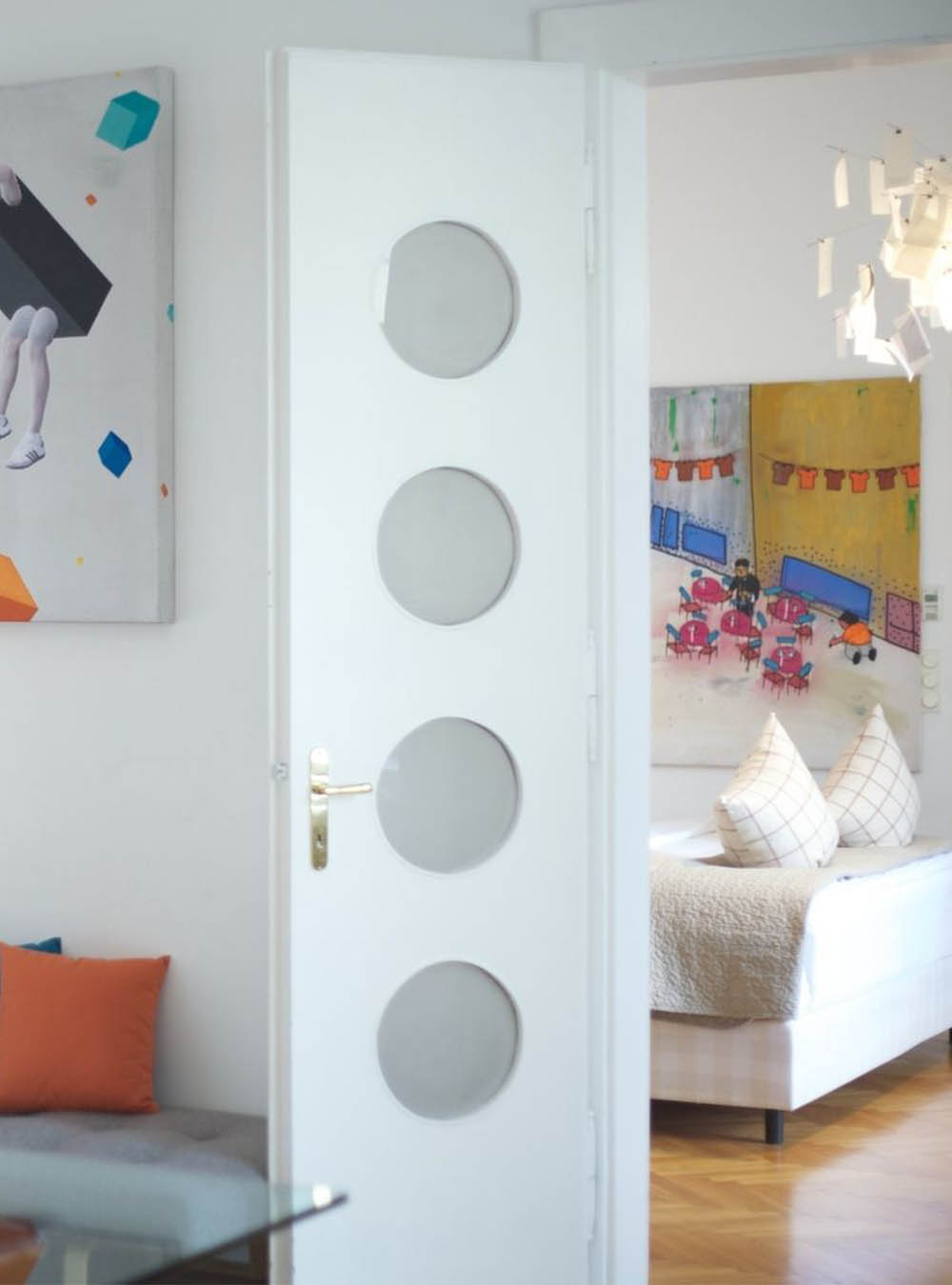 Josef Frank Suite
The show-stopping Suite 78 is an homage to Austrian-Swedish architect and designer Josef Frank, and Swedish studio founder Estrid Ericson – beautifully brought to life by the Svenskt Tenn design team. As one of the foremost figures in early Viennese Modernism before he fled the Nazis to Sweden, Josef Frank started working at Svenskt Tenn in the early 1930s and trailblazed his way to become one of Sweden's most influential print designers. A keen botanist, Frank often favoured florals in his legendary prints – something which Svenskt Tenn leaned into when choosing the fabrics for the lamps, cushions, and other soft furnishings in the suite. A mahogany cabinet has been covered with Frank's leafy Celotocaulis print, and his Primavera pattern covers the bed's statement headboard.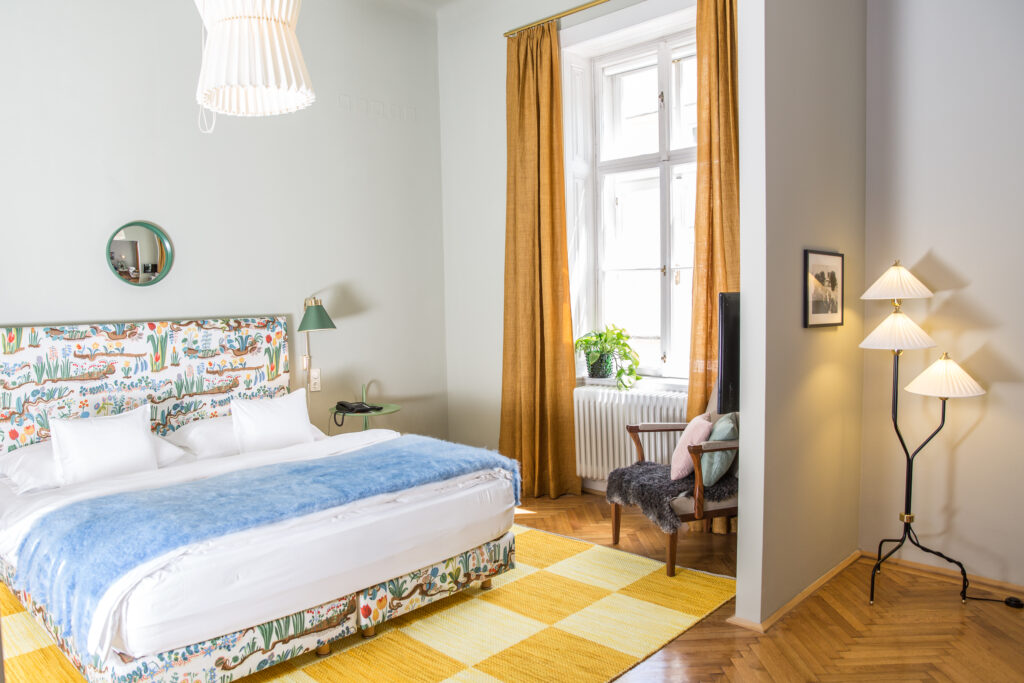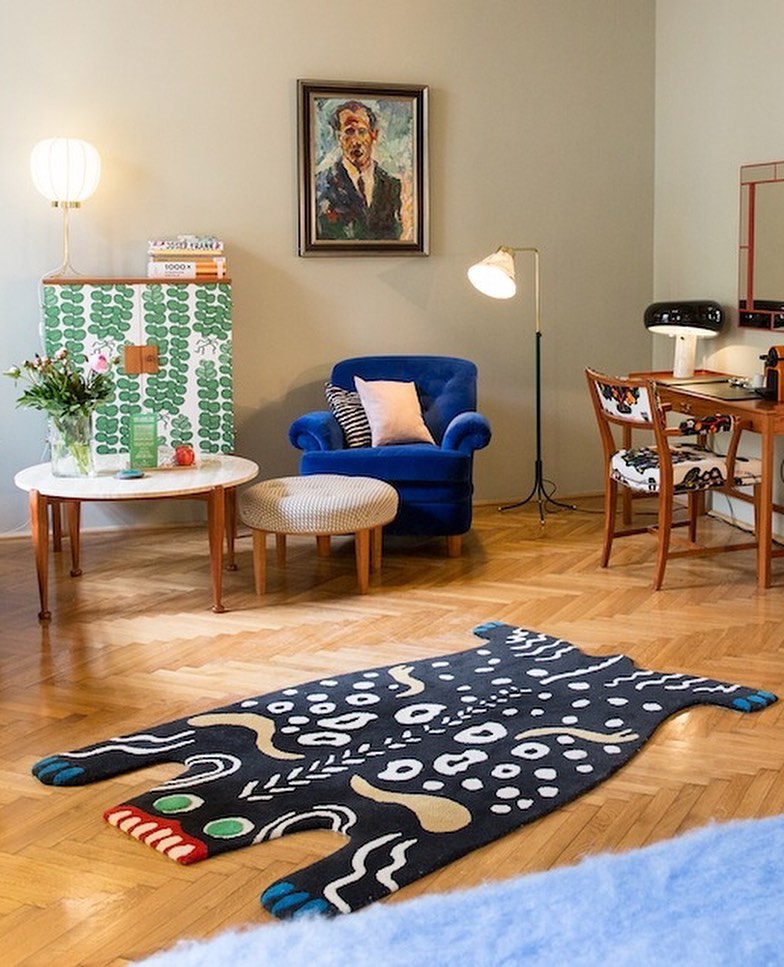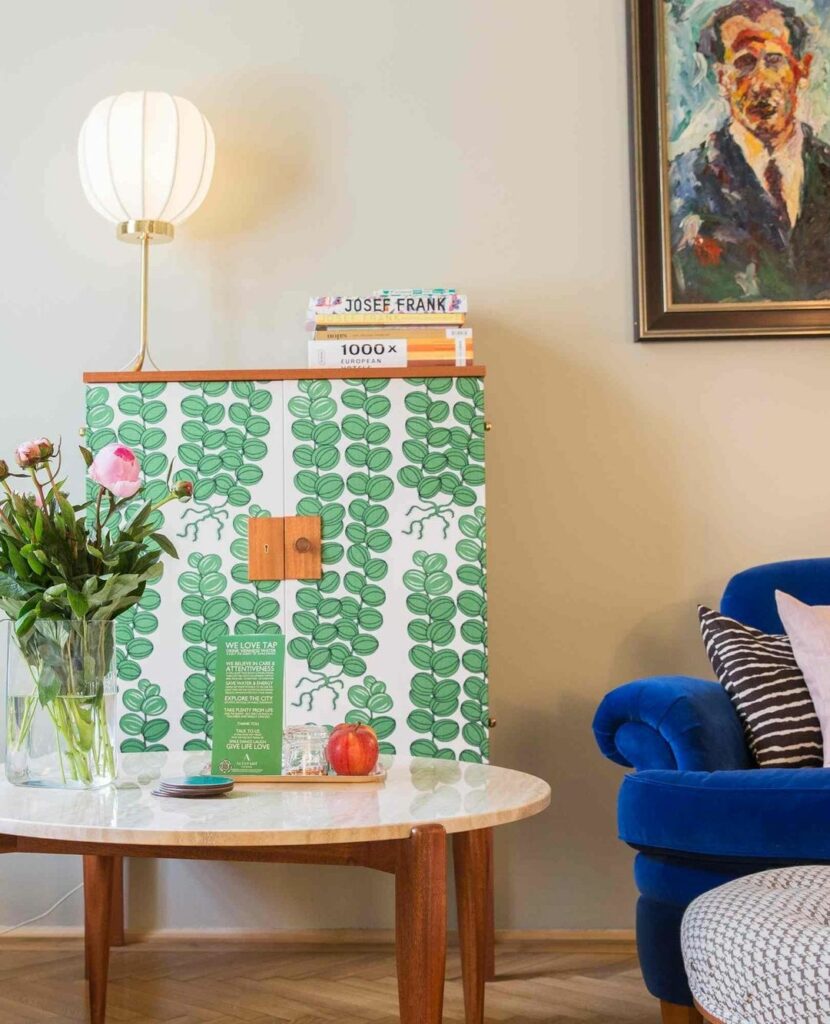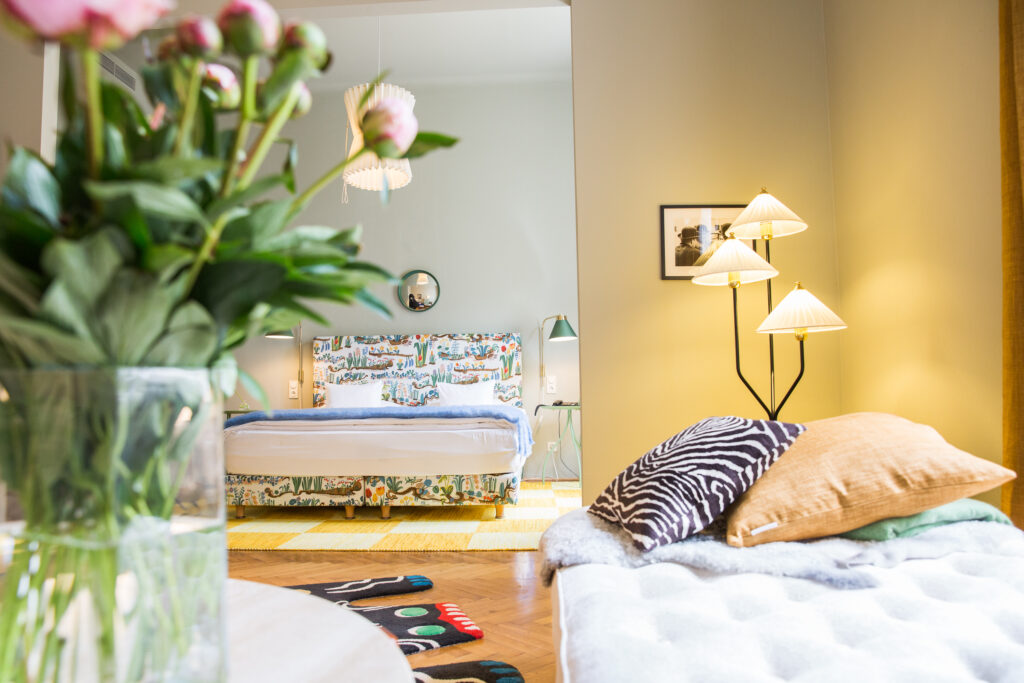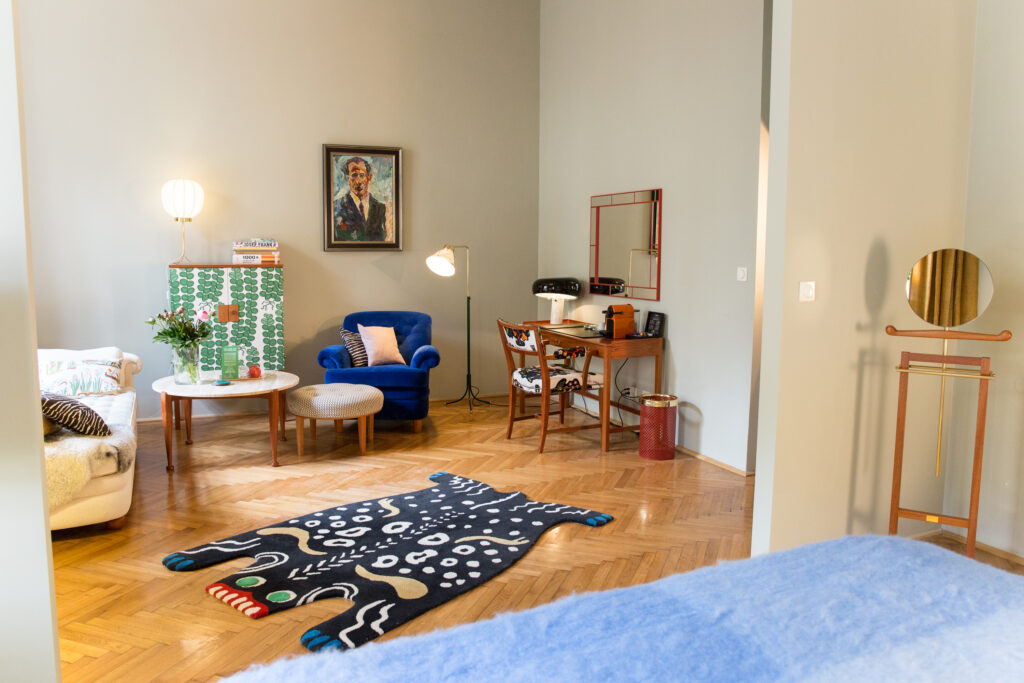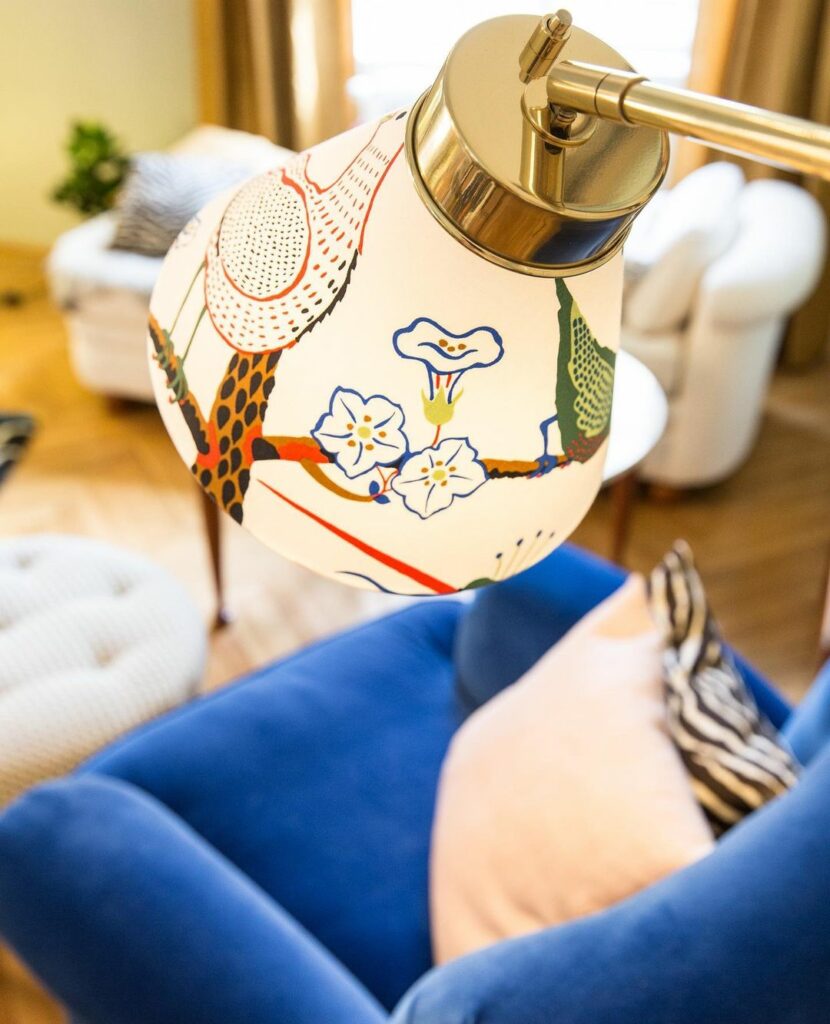 Images by Lisa Kristin Photography