Colourful charm cascades over the Portuguese city of seven hills
Once the centre of the seafaring world, this ancient European capital is steeped in ceramic-sprinkled charm and terracotta-topped character. Sunshine yellow trams trundle up and down the cobbled streets, Douro Valley wine flows freely from mosaic-tiled bohemian bars, and buzzy barrios are filled with the sweet scent of freshly baked pastel de nata – the moreish custard tart you won't be able to get enough of during your stay in Lisbon. The slow flowing waters of the River Tagus wind their way beneath the iconic San Francisco-style bridge, past pastel-coloured buildings and seafood-centric restaurants – stretching towards the Atlantic Ocean which puts this coastal city within easy reach of golden beaches and surfing hot spots.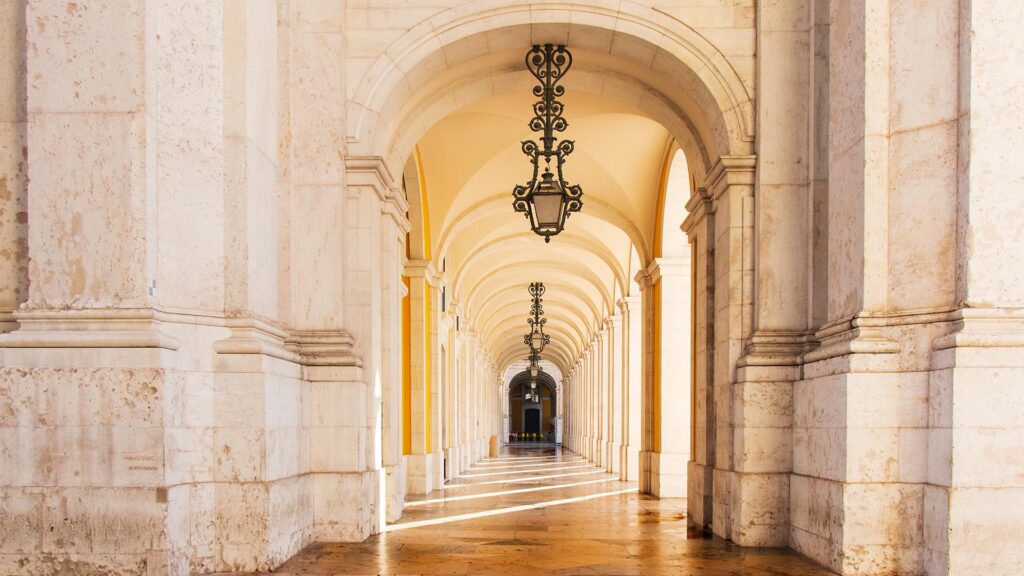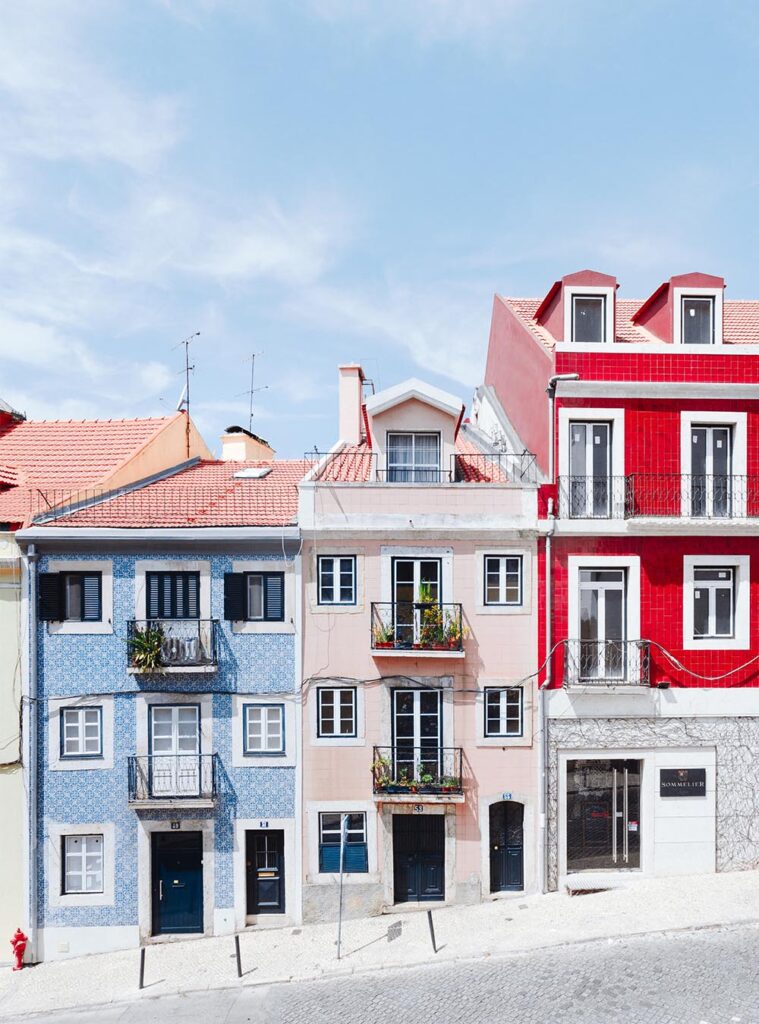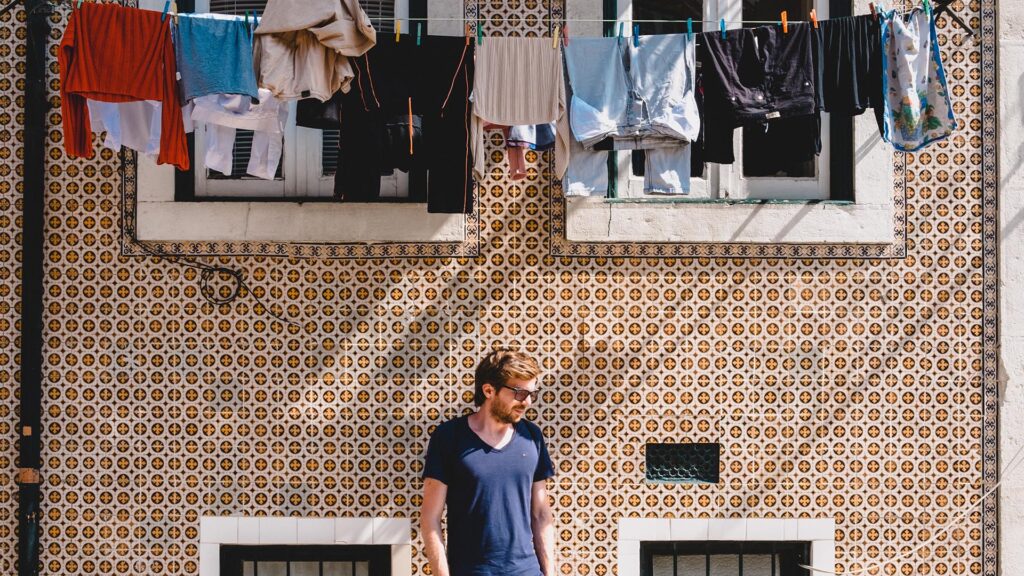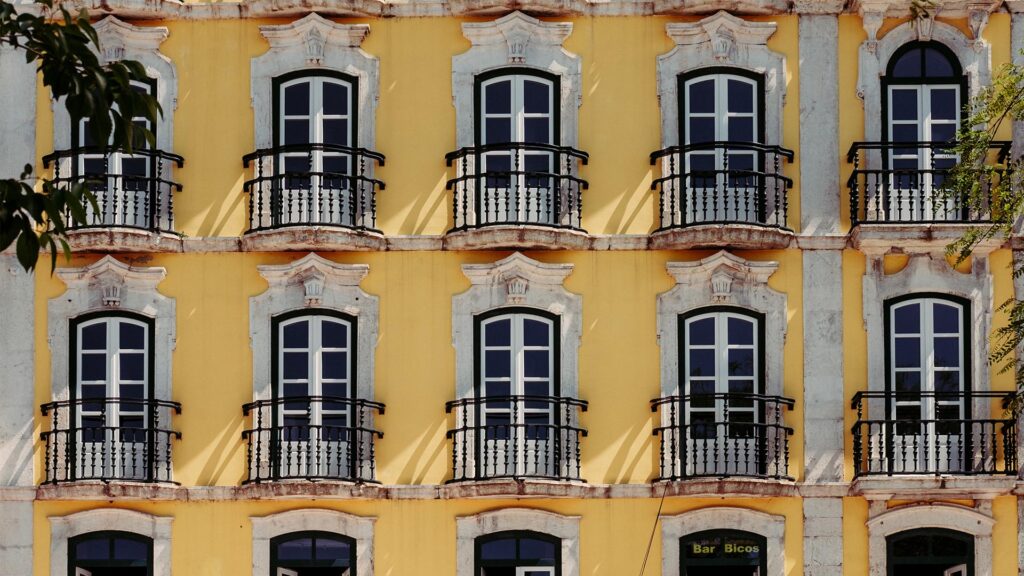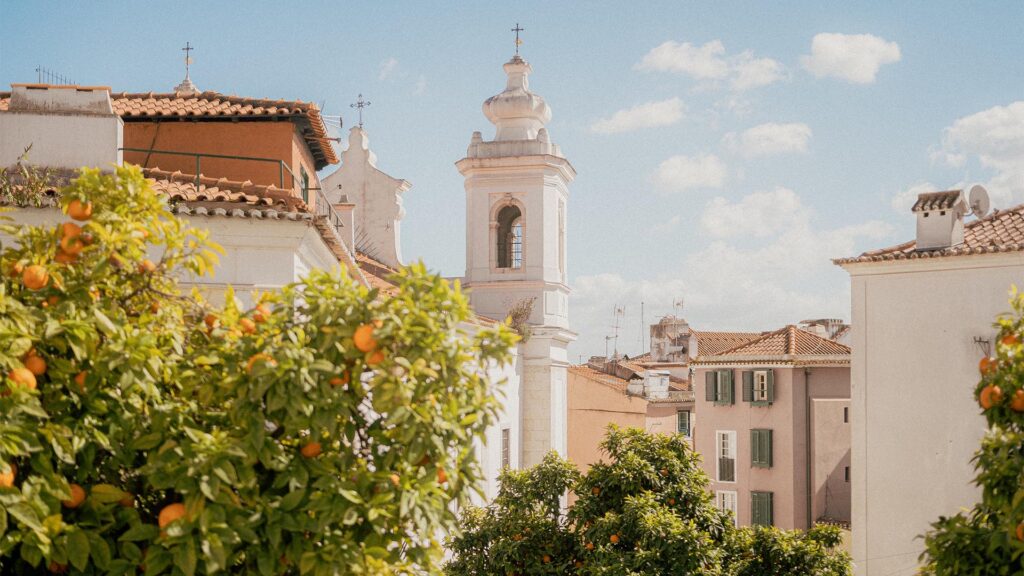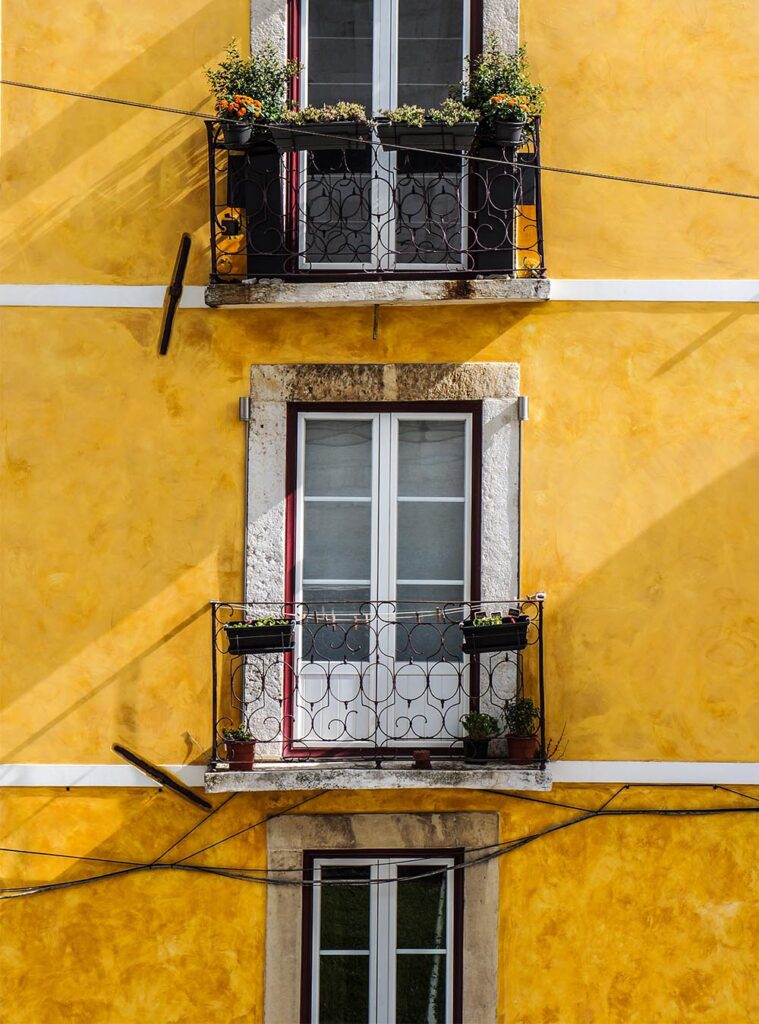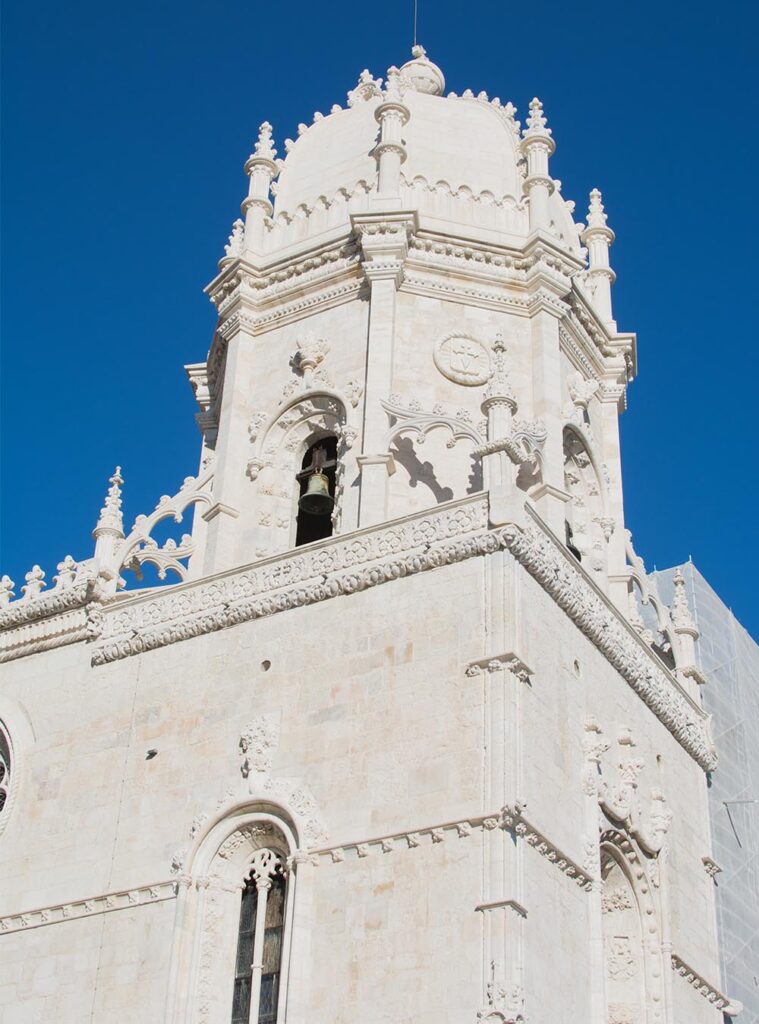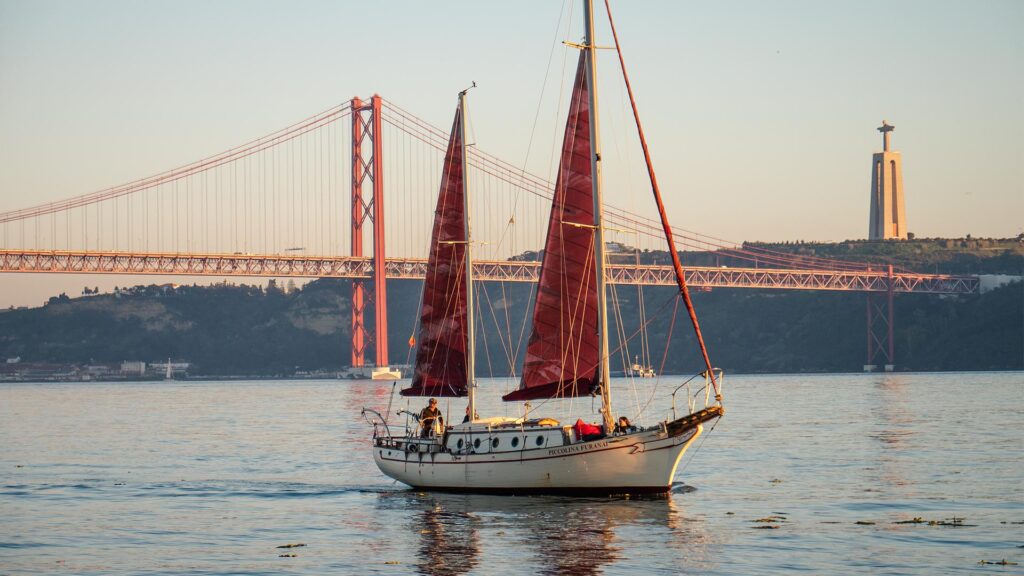 A short round-up of Lisbon's must-see sights…
Castelo de São Jorge: The snaking ramparts of this hilltop fortress have kept watch over the city since the 11th century. Come for the Moorish history, stay for the sweeping views over Lisbon's burnt-red rooftops towards the glittering Tagus.
Mosteiro dos Jerónimos: This UNESCO-listed monastery is a fantastical vision of twisting auger-shell turrets, scalloped arches, towering columns, and mythical creatures in the pretty Belém district.
Sé de Lisboa: Lisbon's cathedral is a 12th-century showstopper of Romanesque style, with its fortress-like façade and rose window.
Tram 28E: Can you really say that you've visited Lisbon without riding its charmingly rickety century-old tram from Praça Martim Moniz to Campo de Ourique?
Alfama: Don your comfiest shoes to navigate the steep, cobblestone streets of this ancient district, which was once a Visigoth town turned sleepy fishing quarter – and is now home to a flourishing creative, artisan community.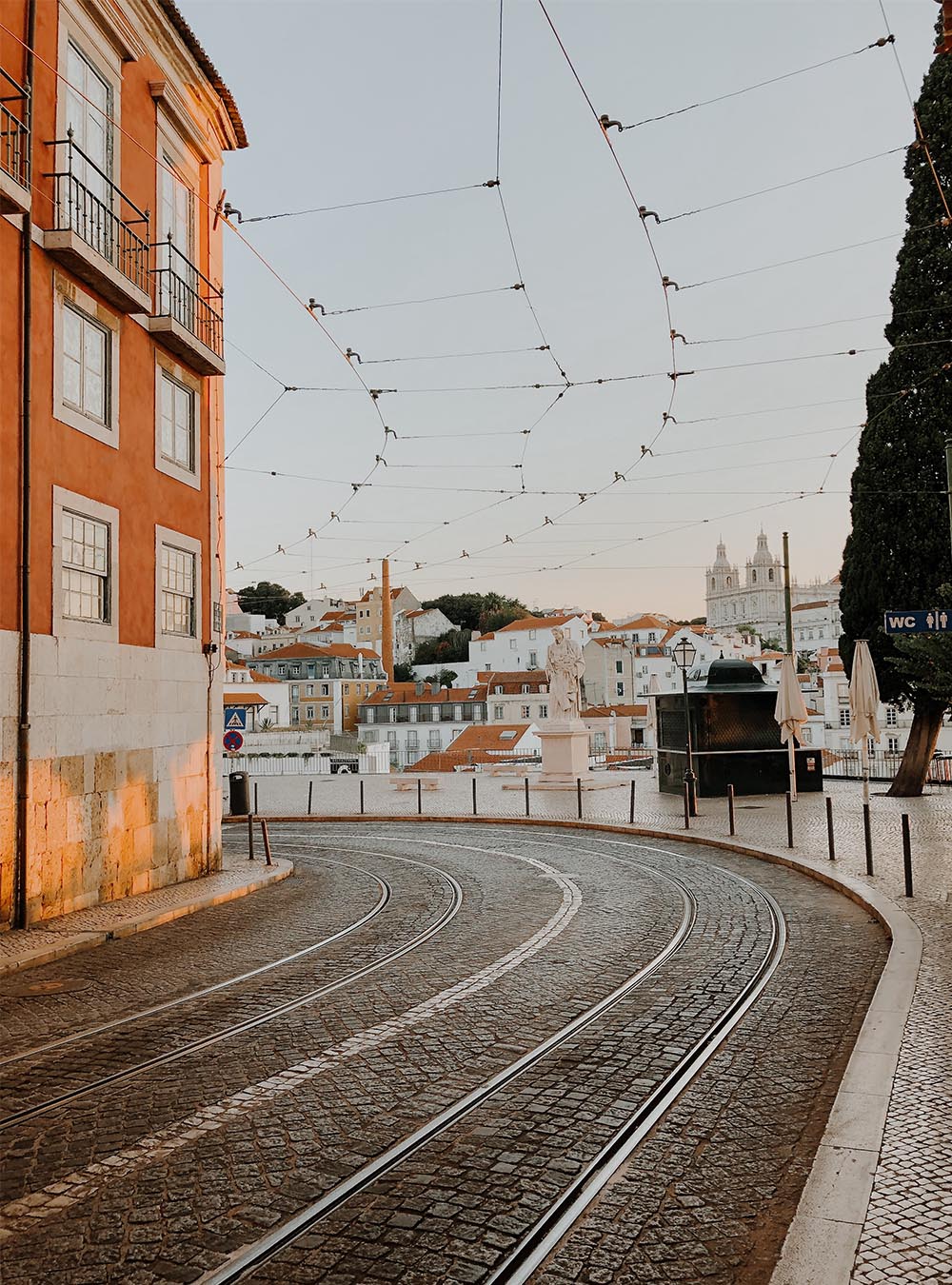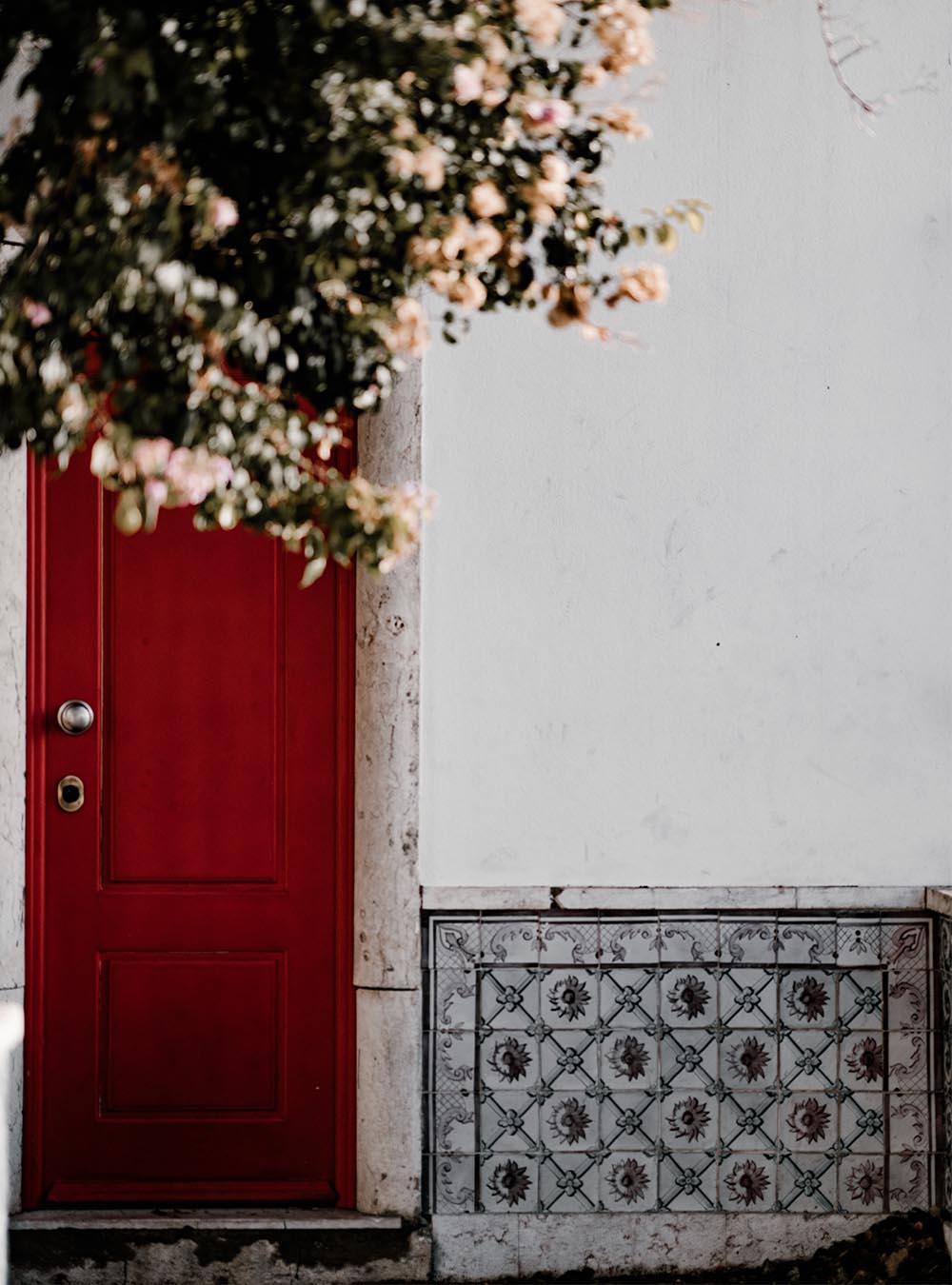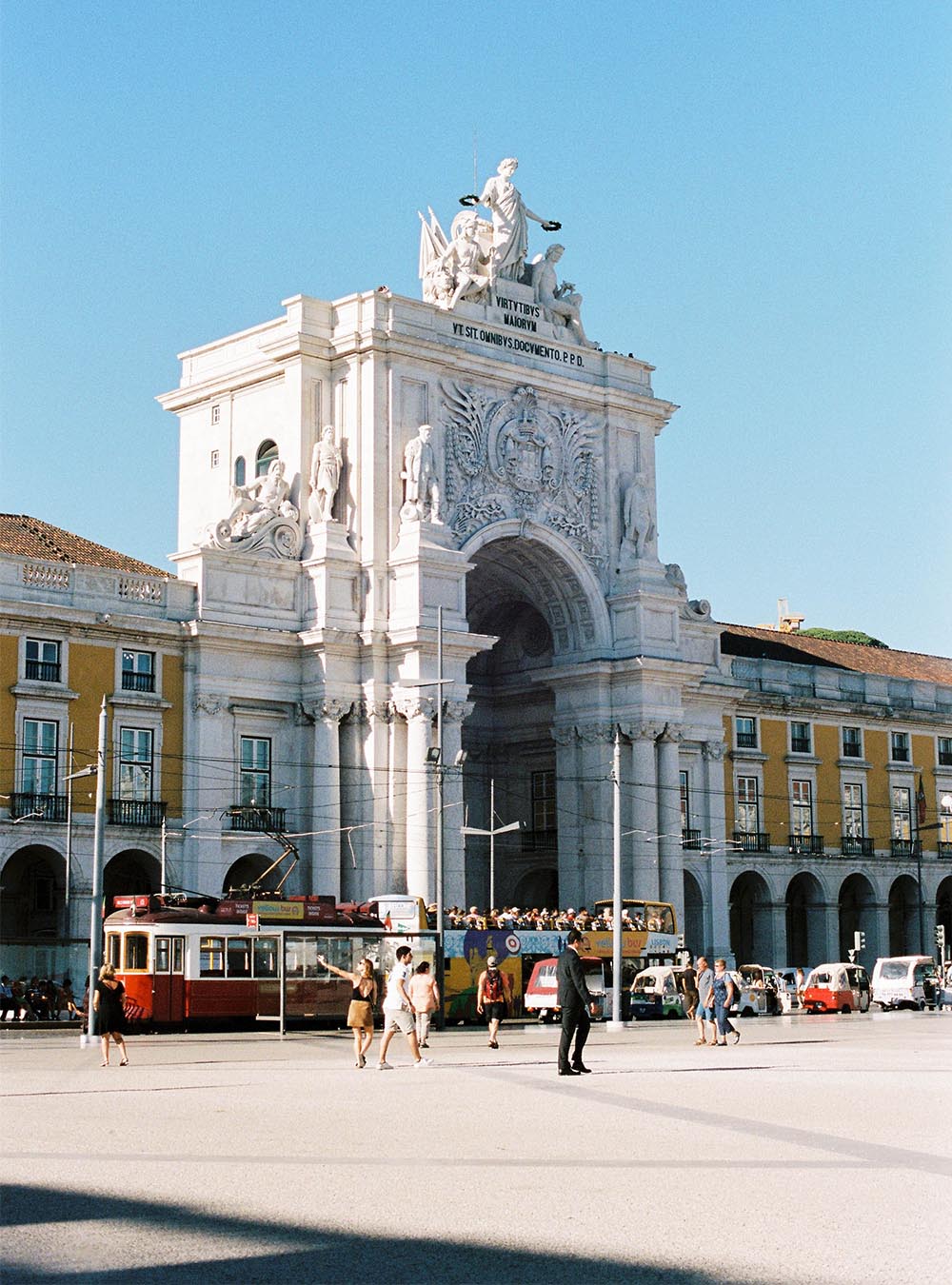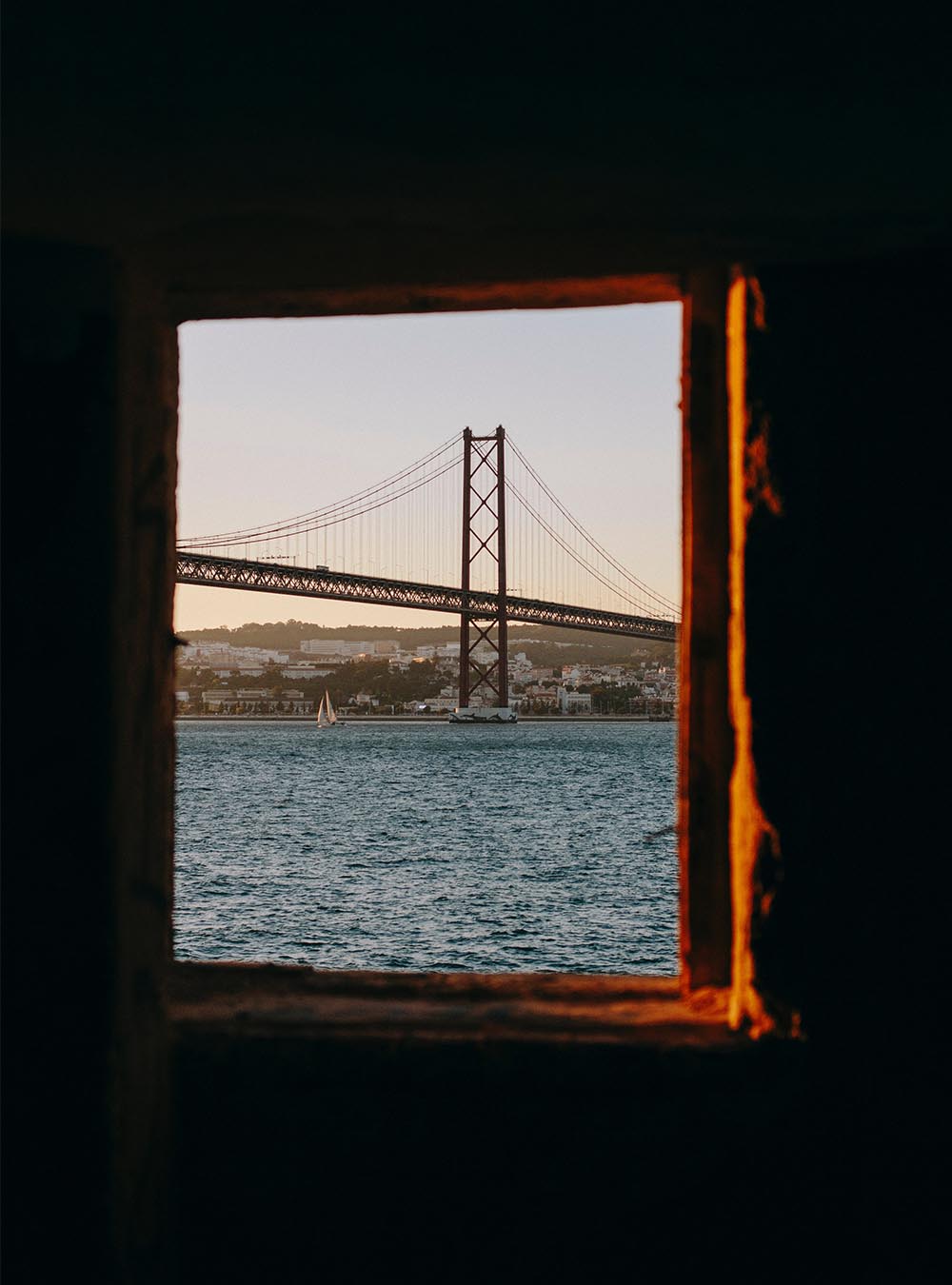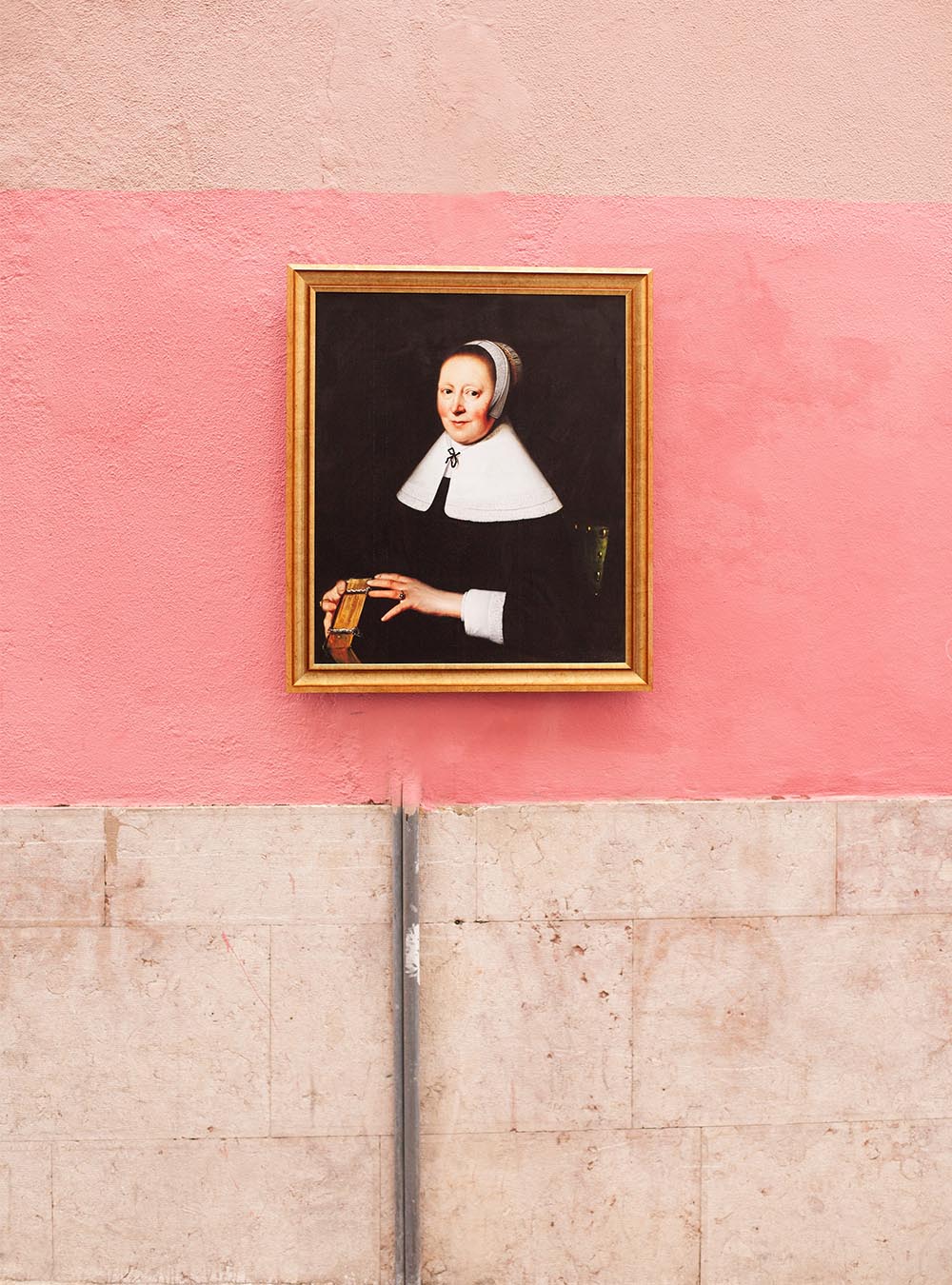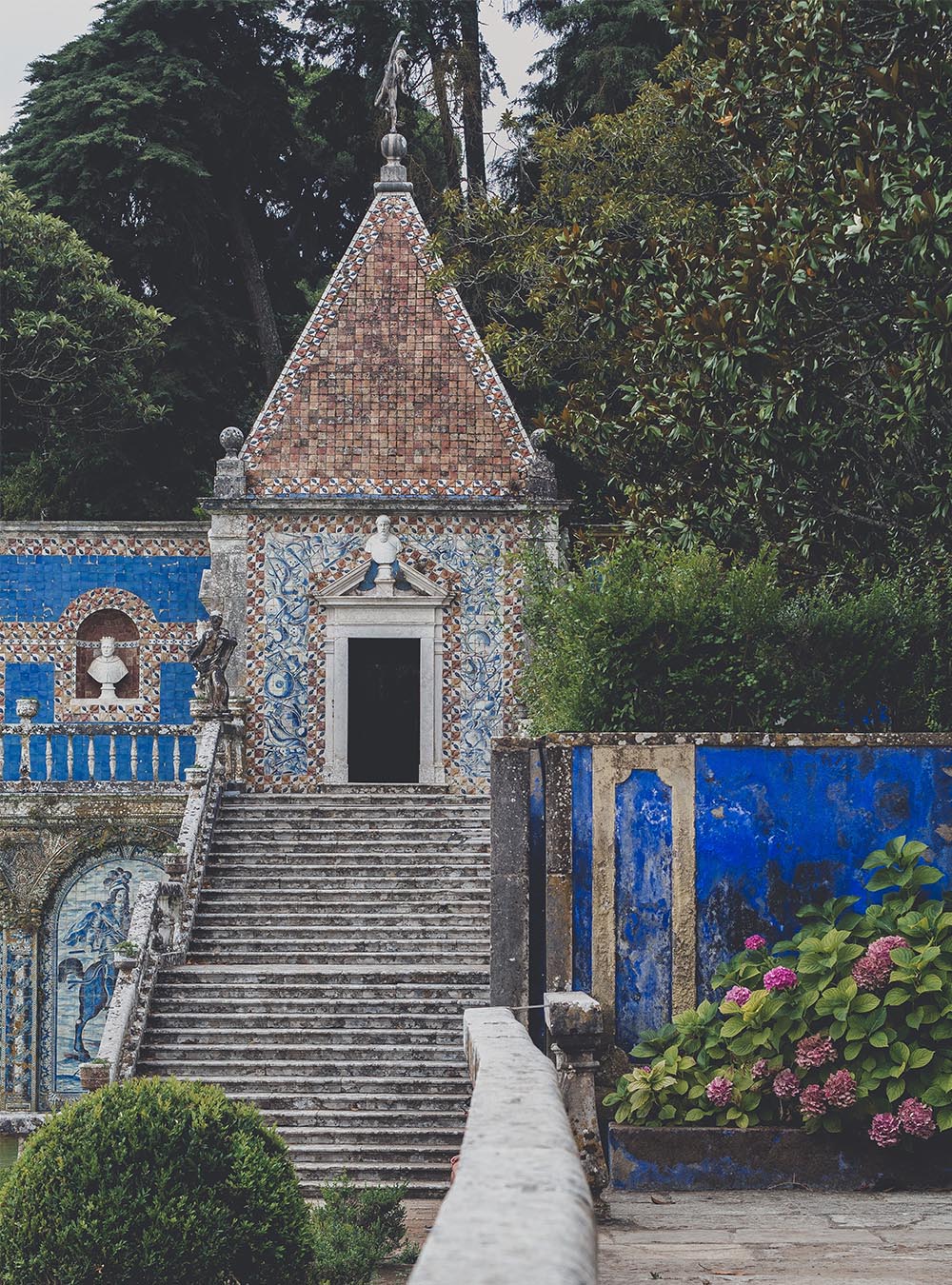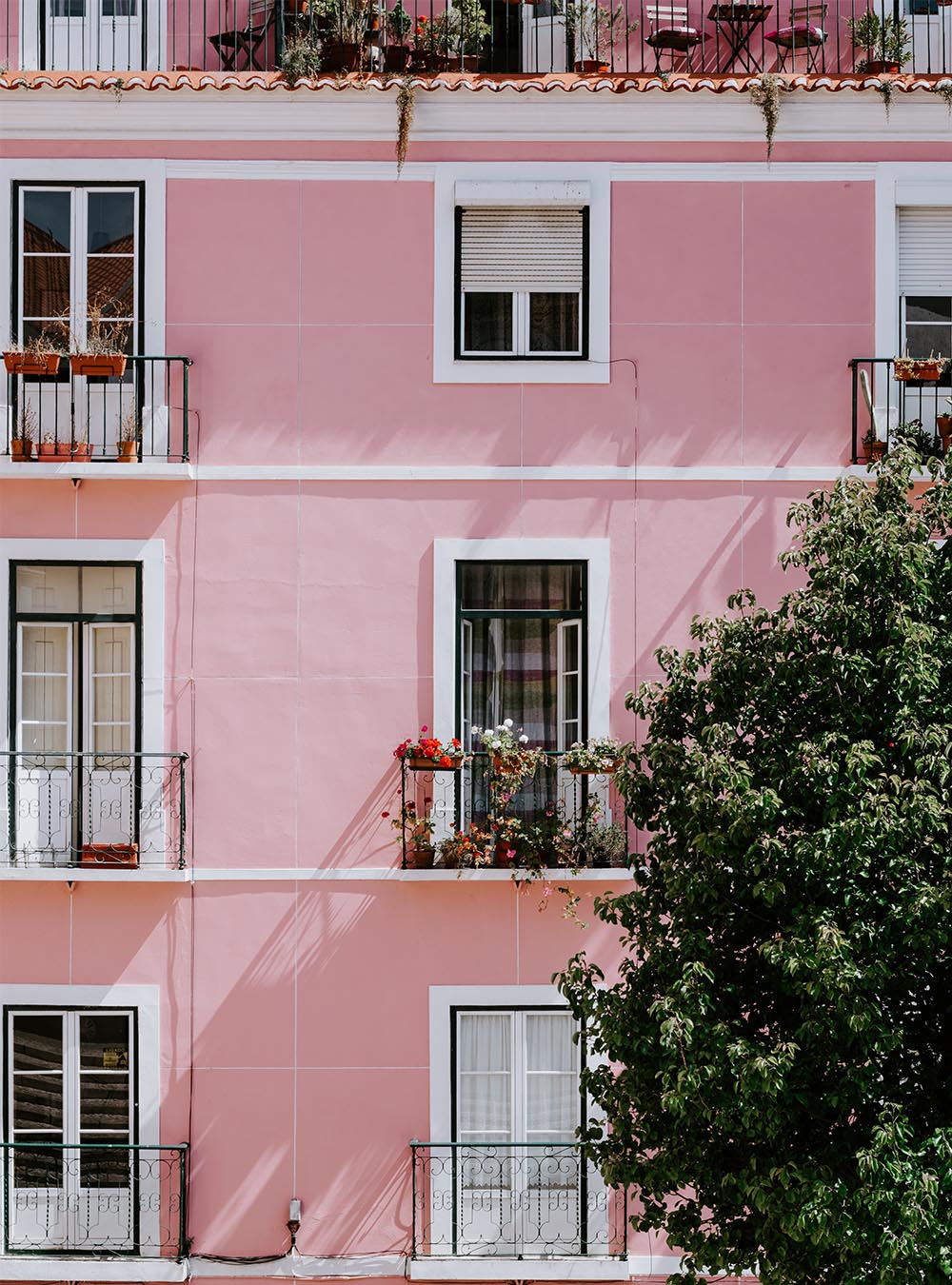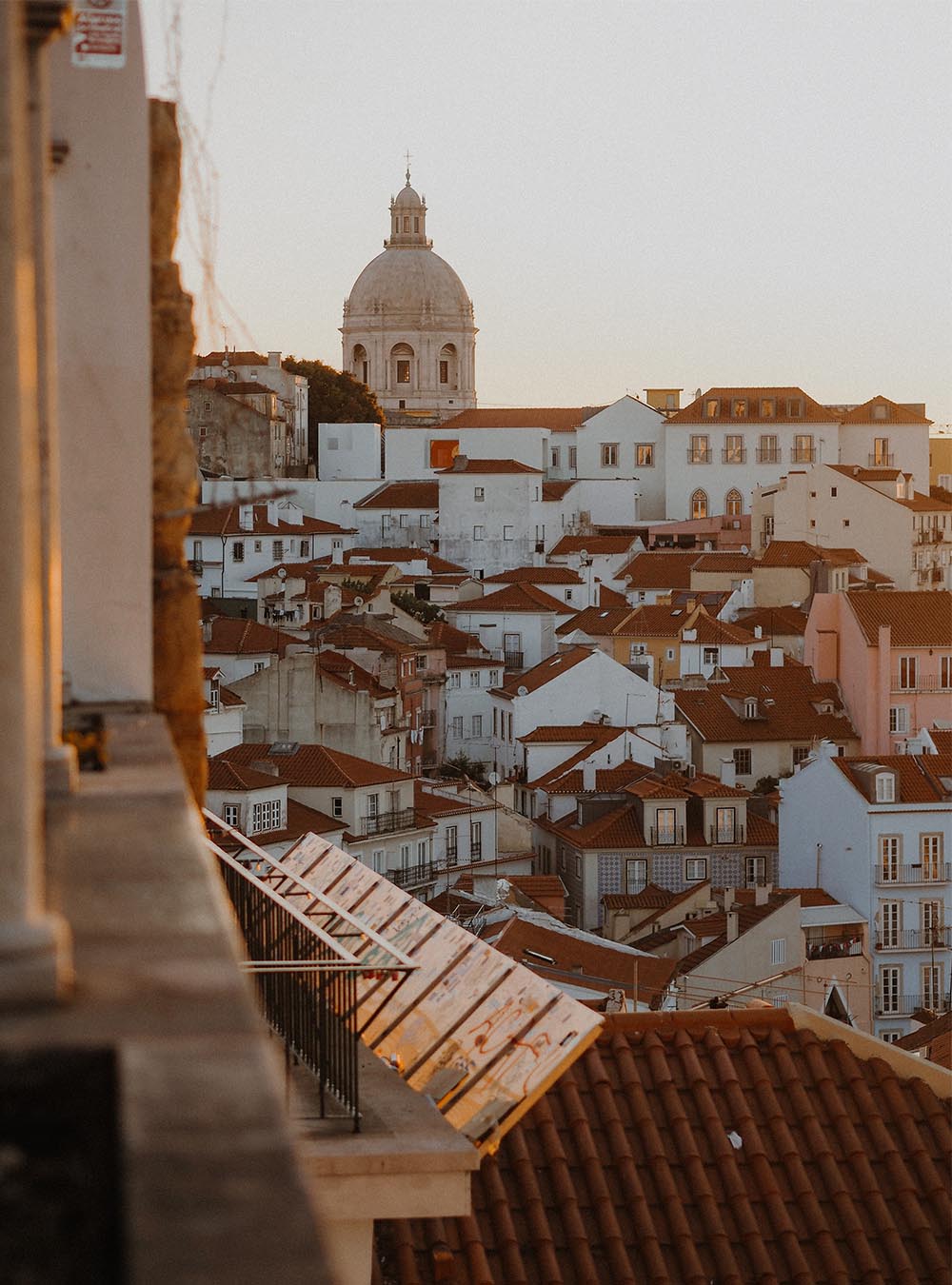 Palácio dos Marqueses de Fronteira: Portuguese tiling meets Italian Renaissance in this 17th-century hunting lodge in the residential neighbourhood of Benfica. The Marqueses de Fronteira are still in residence, and have beautifully maintained the baroque architecture, landscaped gardens, and Knight's Tank.
Praça do Comércio: With the striking statue of Dom José I mounted on his horse Gentil at its centre, trams rattle past the lemon-meringue coloured archways which line this grand riverfront square.
Museu Nacional do Azulejo: The exhibits housed within this 16th-century convent turned hand-painted tile museum display almost every kind of azulejo imaginable.
Basílica da Estrela: An aesthetically-pleasing pink and black marble interior awaits inside the white, curving cupola – along with the twin bell towers which peep out above Lisbon's skyline. Save your strength to climb the dome's 112 stone steps and you'll be rewarded with swoon-worthy views.
Torre de Belém: A marvel of Manueline architecture, this ornately-decorated fort has stood guard over the Tejo Estuary since the 16th century – with North African-inspired watchtowers, filigree detailing, and a stone rhinoceros.
…and a longer look at Lisbon's lesser-known spots
Miradouro da Graça
This scenic spot is a popular local hang-out at sunset for its quaint kiosk café and far-reaching views across Lisbon – bring your camera to this miradouro (look-out) and settle in to the pine-shaded terrace to snap the Tagus, Ponte 25 de Abril, and the hilltop castle. Artists often gather with their easels and sketchbooks to paint this much-loved vista, which was also a favourite haunt of the Portuguese poet Sophia de Mello Breyner Andresen.
LX Factory
The secret has been out for a while amongst the hipster community about this cool, creative complex of industrial warehouses now occupied by trendy eateries, bohemian boutiques, independent bookshops and galleries, and artsy studios. The ever-evolving cultural calendar of live concerts, fashion shows, and film screenings draws an arts-and-design-loving crowd, who like to party late into the night on balmy Lisbon rooftops.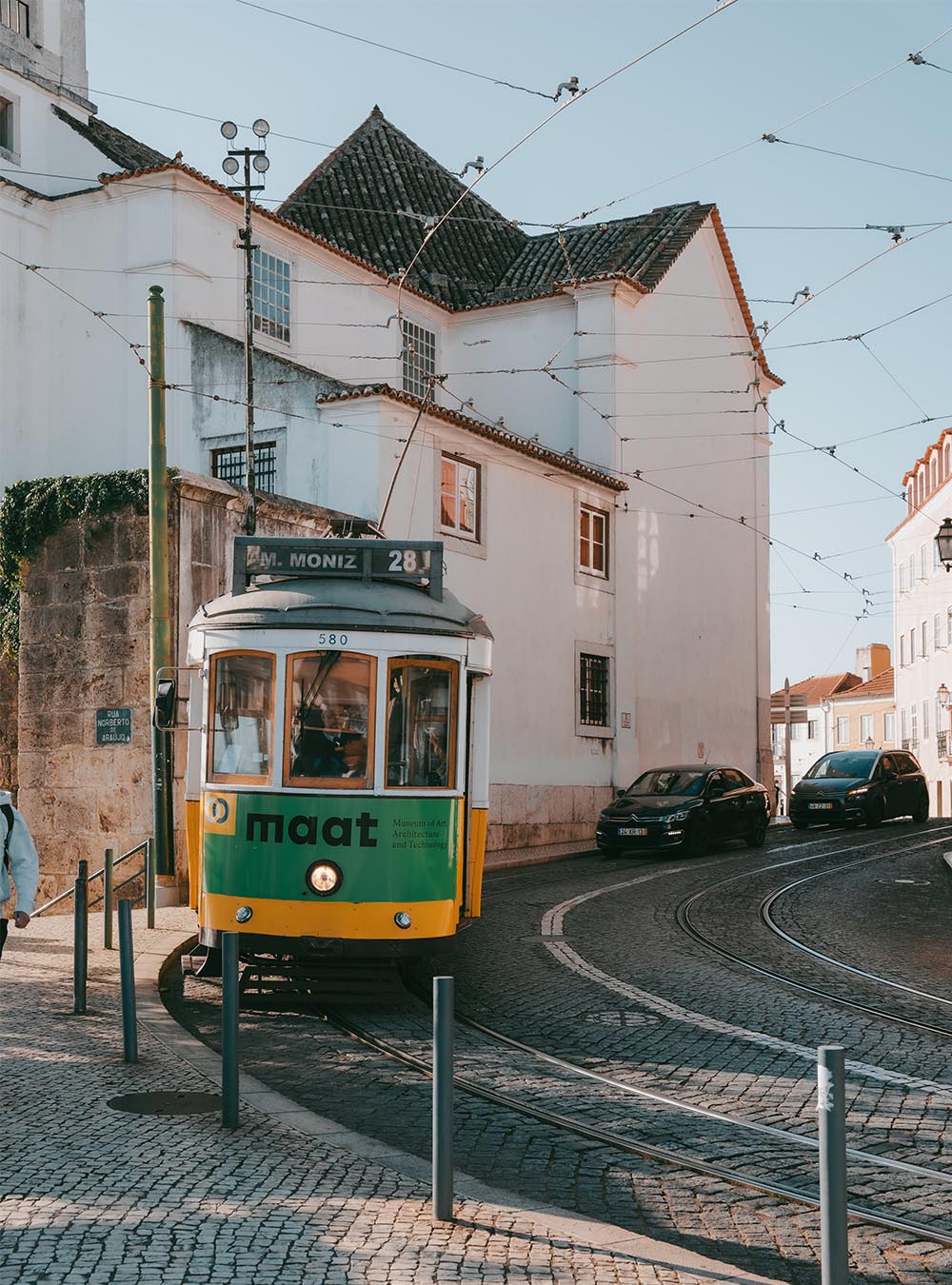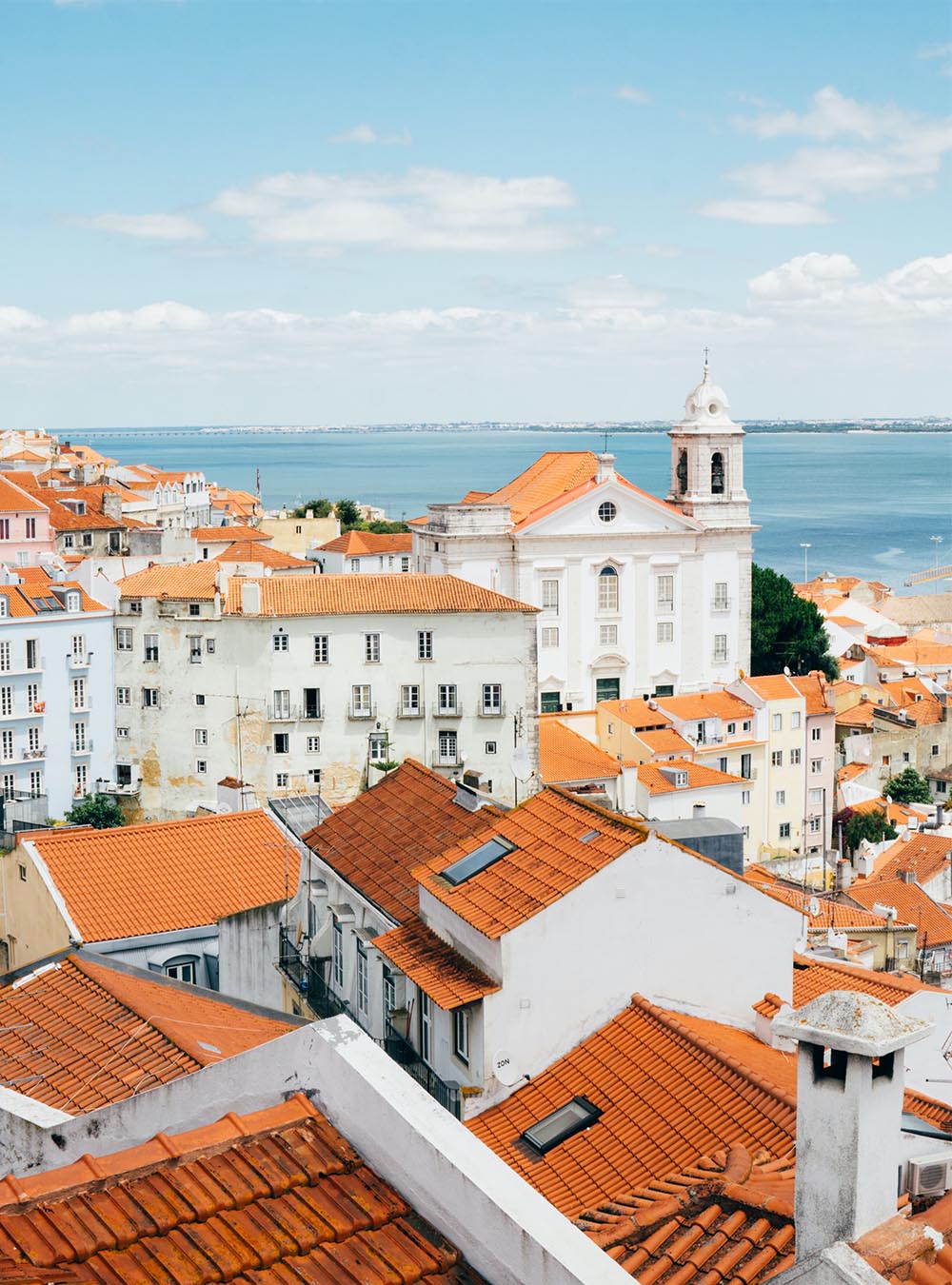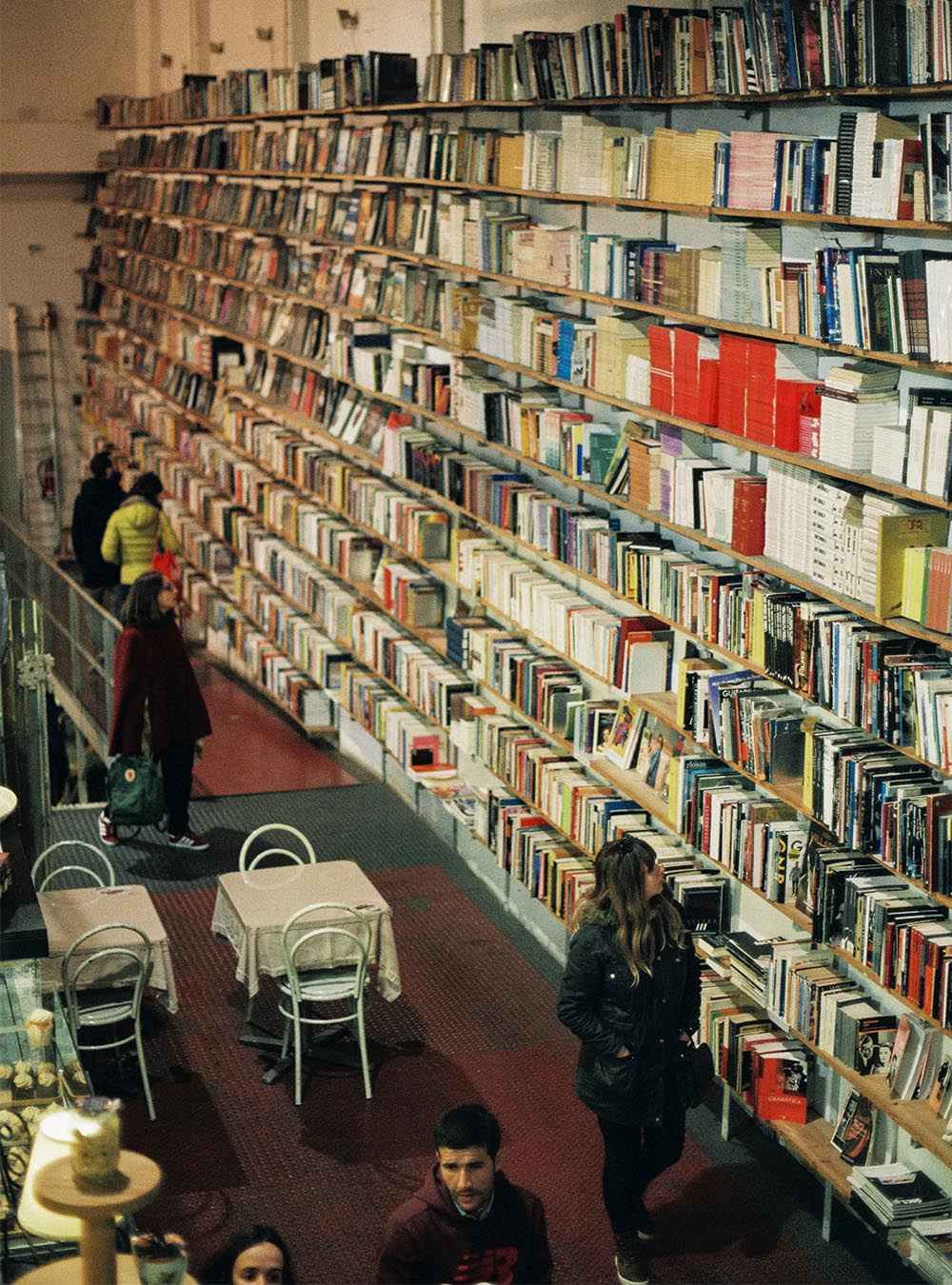 Largo das Portas do Sol
If you're making the uphill climb from the Cathedral to the Castelo de São Jorge, catch your breath at Portas do Sol – a postcard-worthy viewpoint which is perfectly placed in the middle of this well-trodden route. The pastel-painted patchwork of Alfama's red-rooftop jumble can be spotted from this original Moorish gateway, and you can pick out the domes of Santo Estêvão, São Vicente de Fora, and São Miguel churches.
What – and where – to eat in Lisbon
Whisper those three little words – pastel de nata – and you'll soon be in love with Lisbon's baked goods. Though best sampled in its birthplace of Belém (the queues for Pastéis de Belém regularly run down the street), there are plenty of pastelarias (pastry shops) dishing out these egg-based sweet treats. Manteigaria bakes every tart by hand each morning, and hits the not-too-sweet spot when it comes to the creamy, vanilla filling.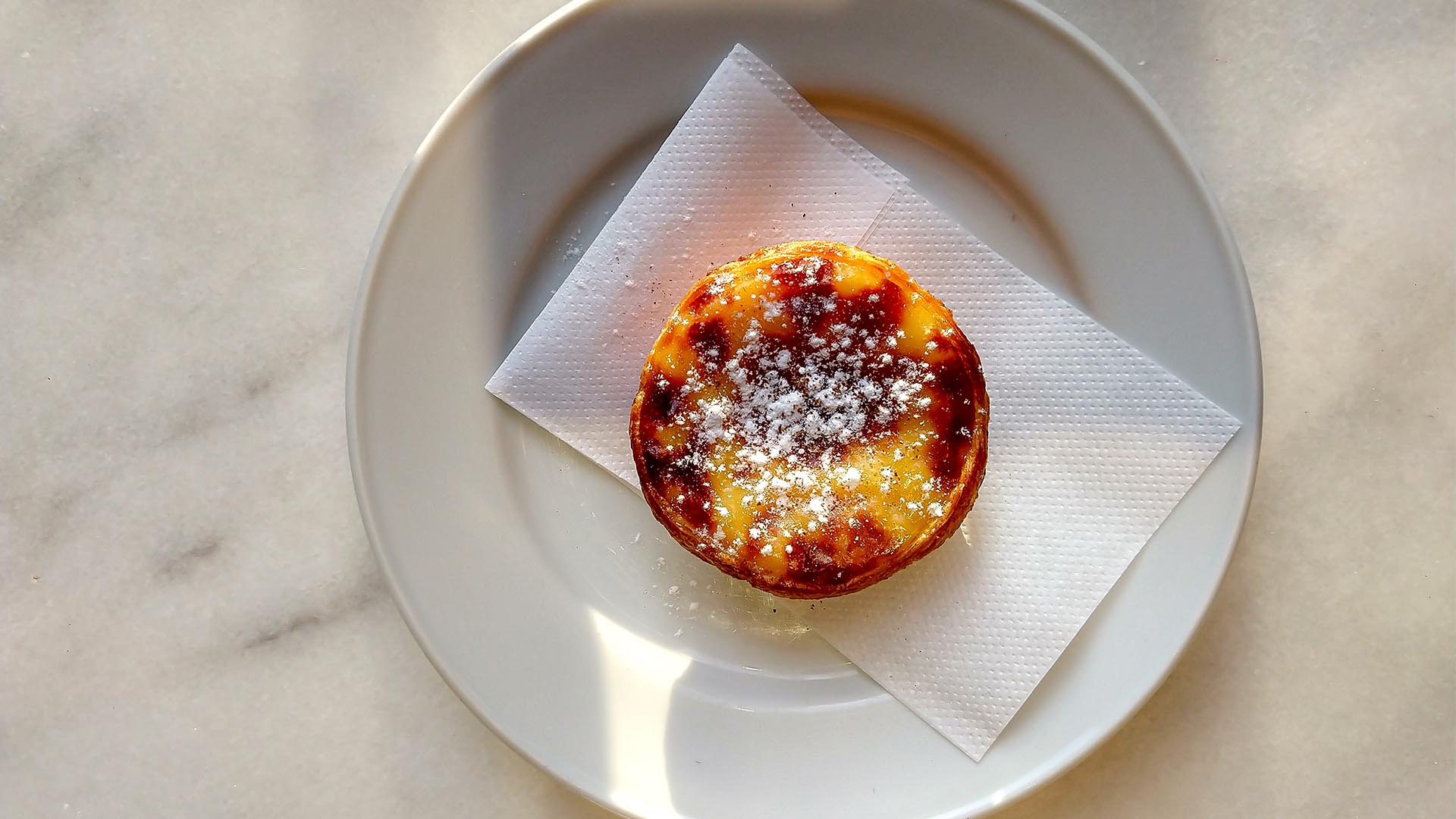 Unsurprisingly, the seafood scene is also strong, with hearty plates of Bacalhau à Brás (shredded salted cod on a bed of potatoes, onions, and eggs with plenty of parsley and garlic), Pastéis de Bacalhau (herby fried fish cakes), and grilled sardines on most waterfront menus – you can also pick up some colourful cans of sardines to take home with you. Street-food wise, you'll want to add bifana (sautéed, marinated pork sandwiches) to your must-try list. Follow the locals to O Velho Eurico, a cosy restaurant on a corner near Castelo de São Jorge for classic Lisbon dishes with a twist in a laid-back setting. Wash all of this down with home-grown wine, Sagres beer, and sour shots of Ginjinha, a Portuguese liqueur infused with Morello cherries and cinnamon.
Where to stay in Lisbon
Verride Palácio de Santa Catarina…This beautifully restored palatial residence sits in the city's trendy Chiado quarter, and every room overlooks the traditional Bica neighbourhood or River Tagus. For the royal treatment, book the Queen's Suite – lavished with original 18th-century Stucco work, custom-made silk de Gournay wallpaper, and a bathroom with blue and white tiles dating from 1901.
Lumiares Hotel and Spa…Panoramically positioned at the top of a hill near the bohemian Bairro Alto district, this chic boutique is home to one of Lisbon's best rooftop bars. Head up to Lumi Rooftop for seasonal nibbles, hibiscus spritzers, and zesty cocktails, before settling into your apartment-style room or unwinding with a bamboo massage.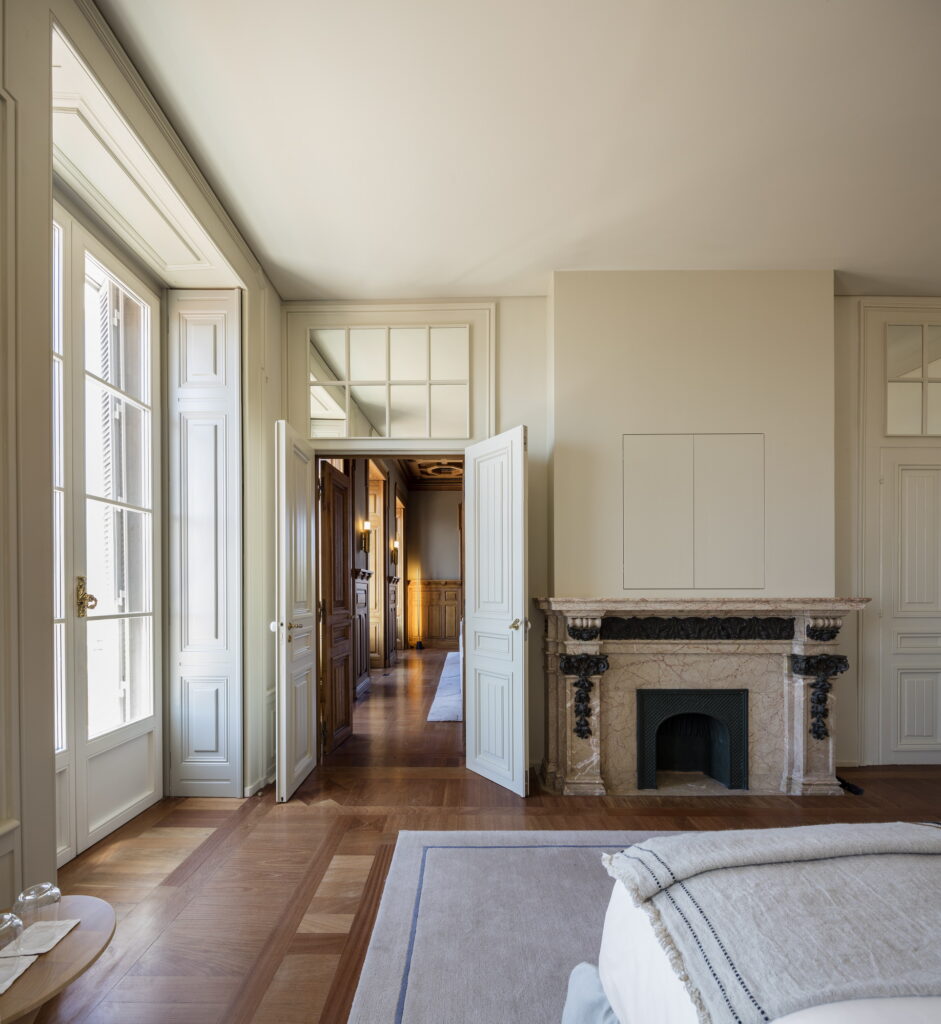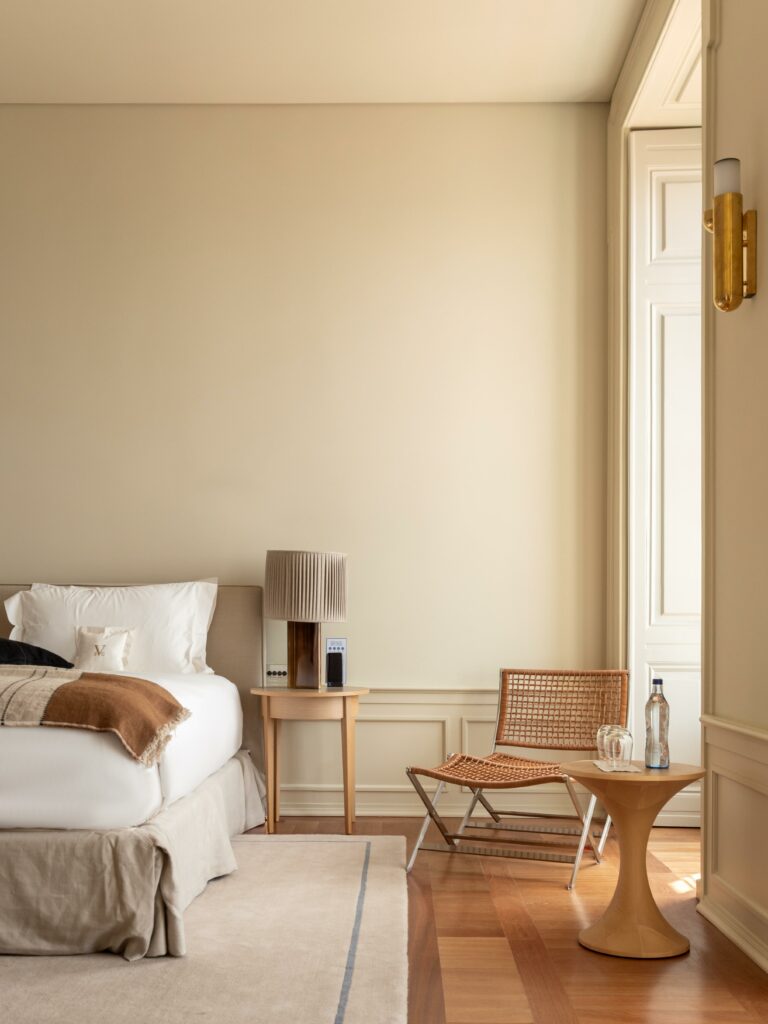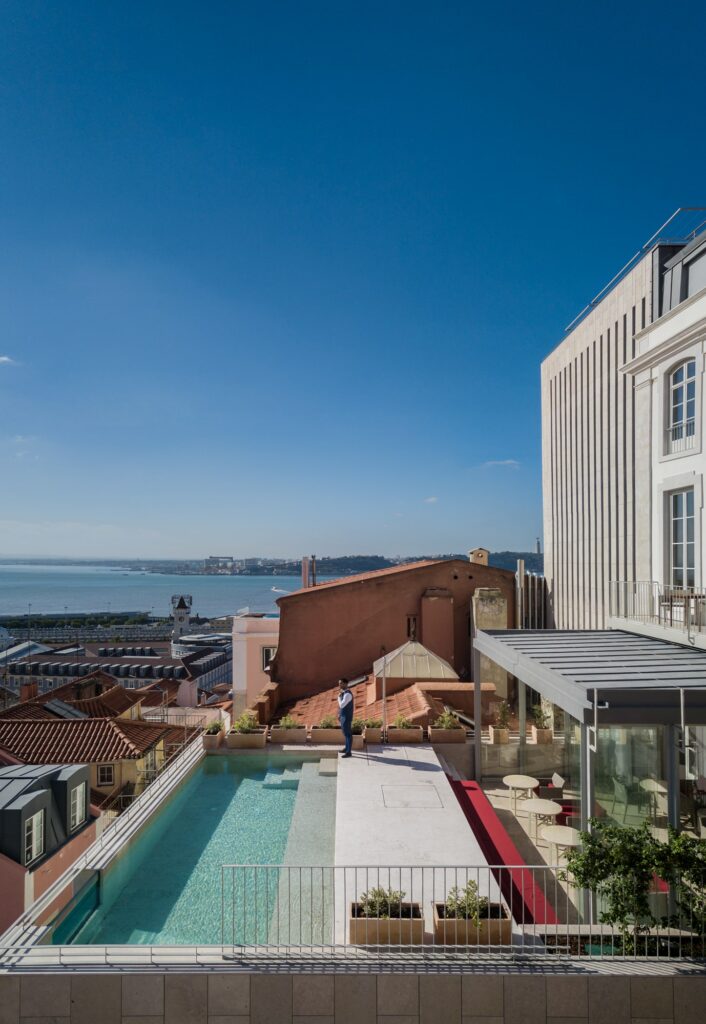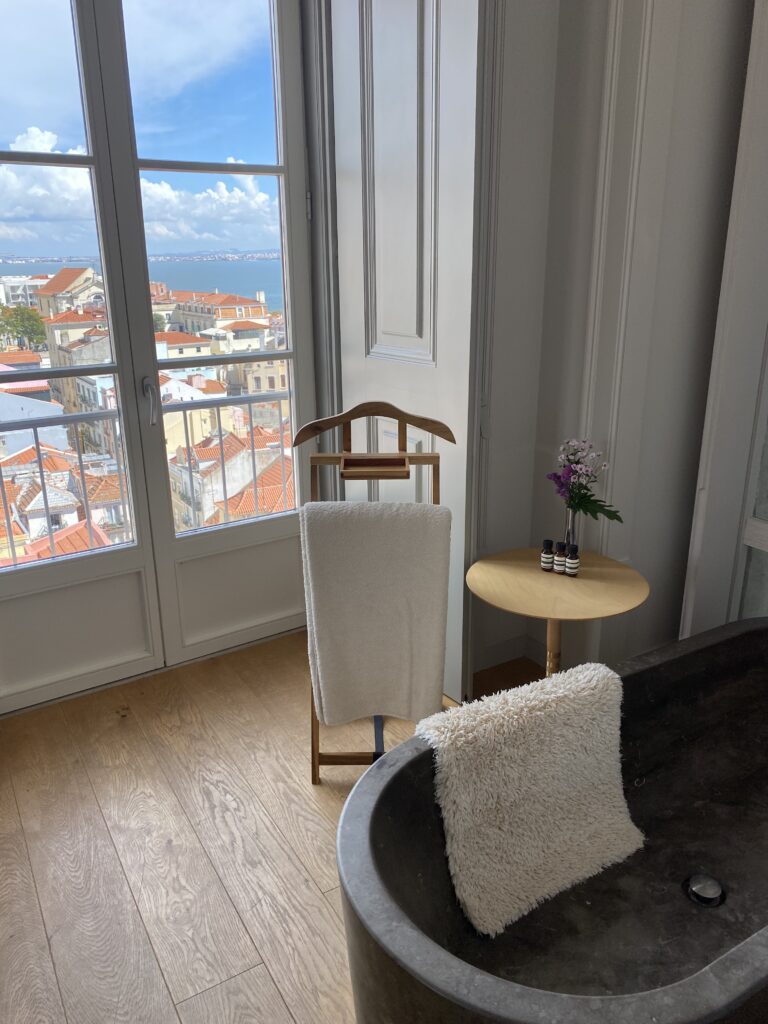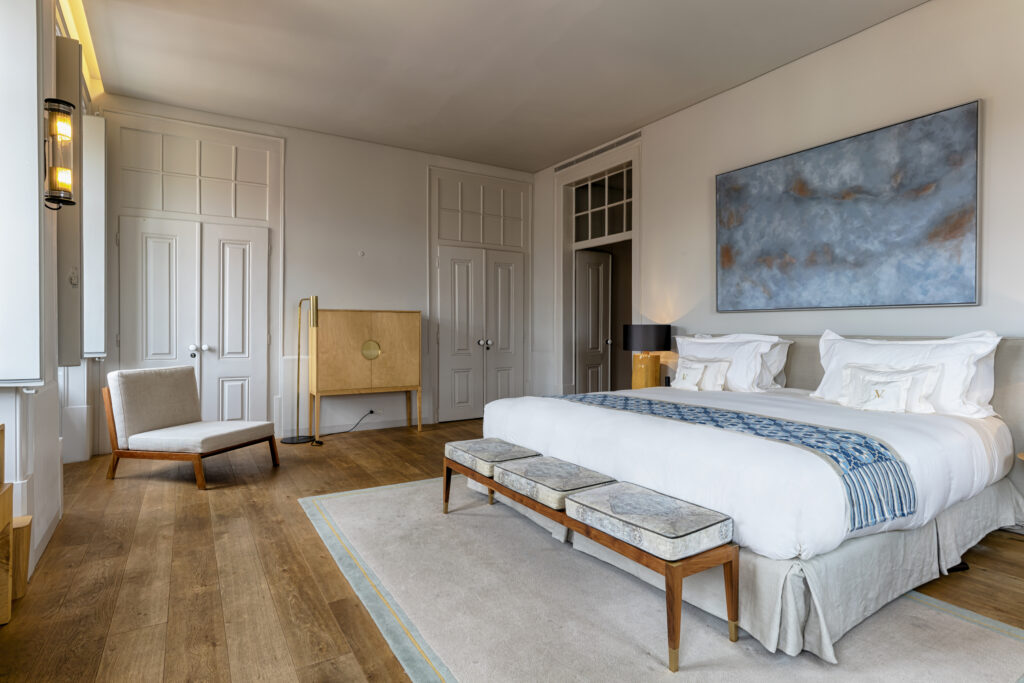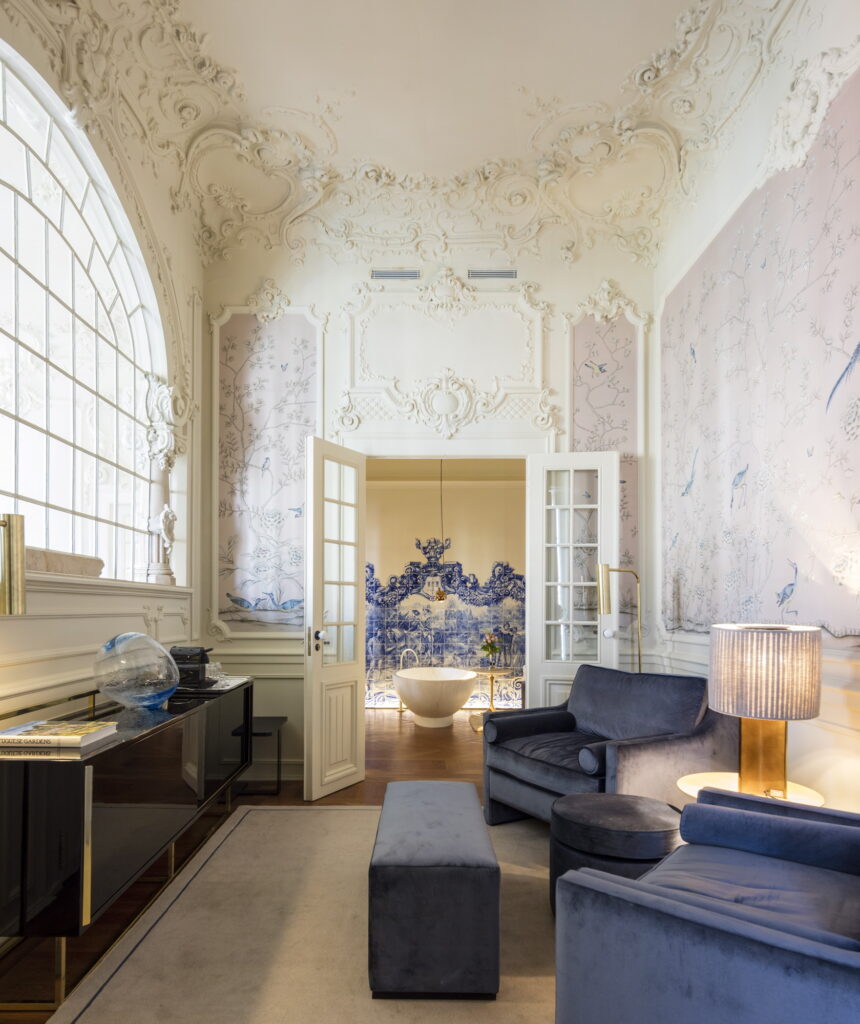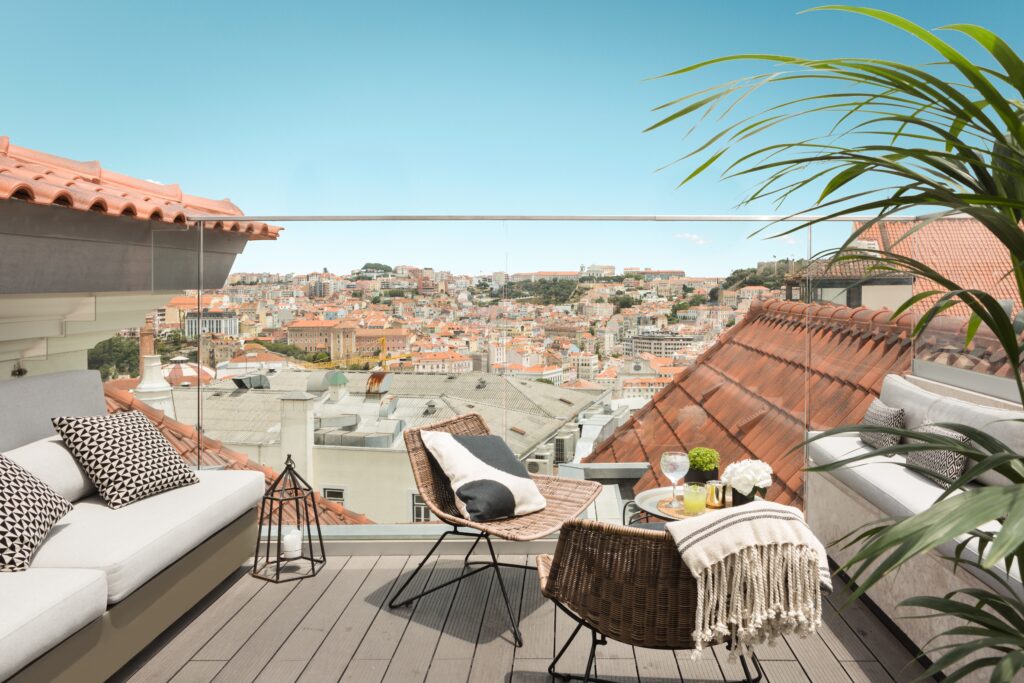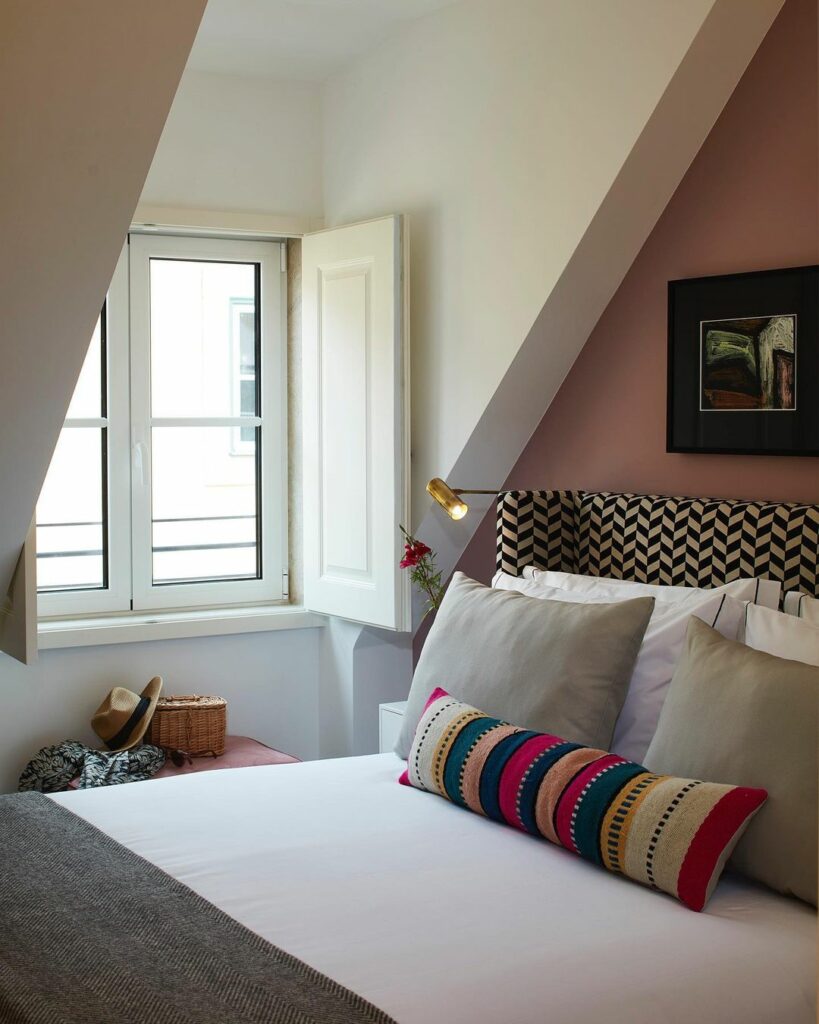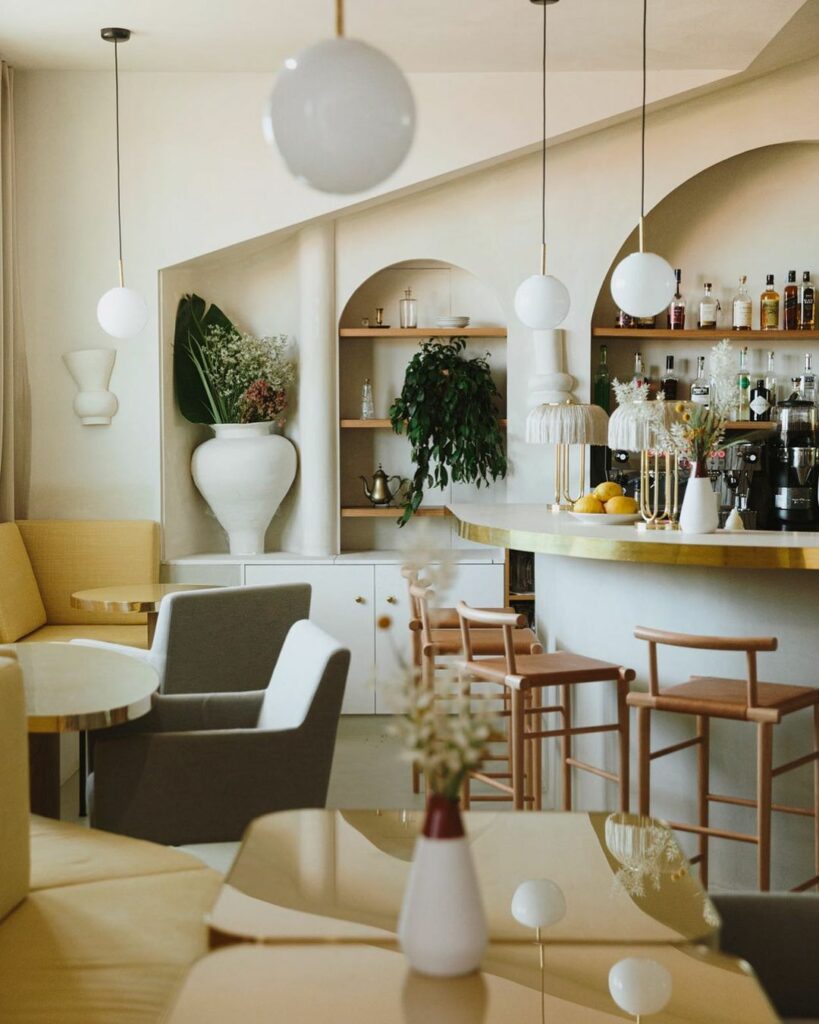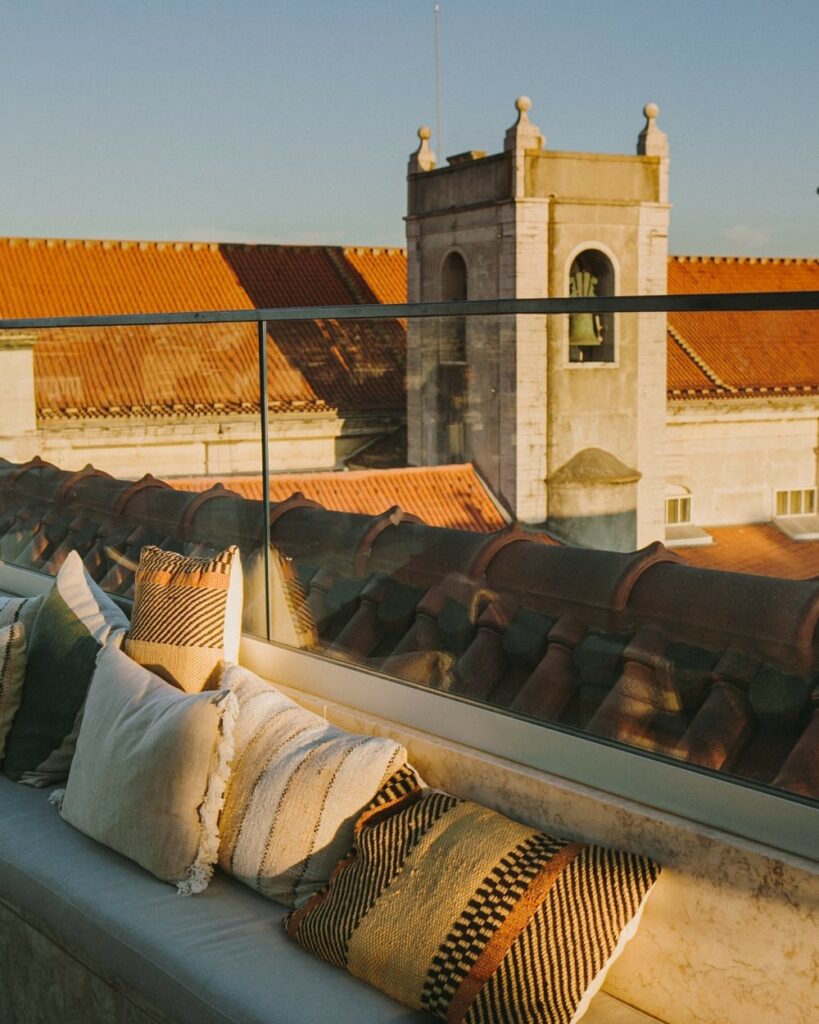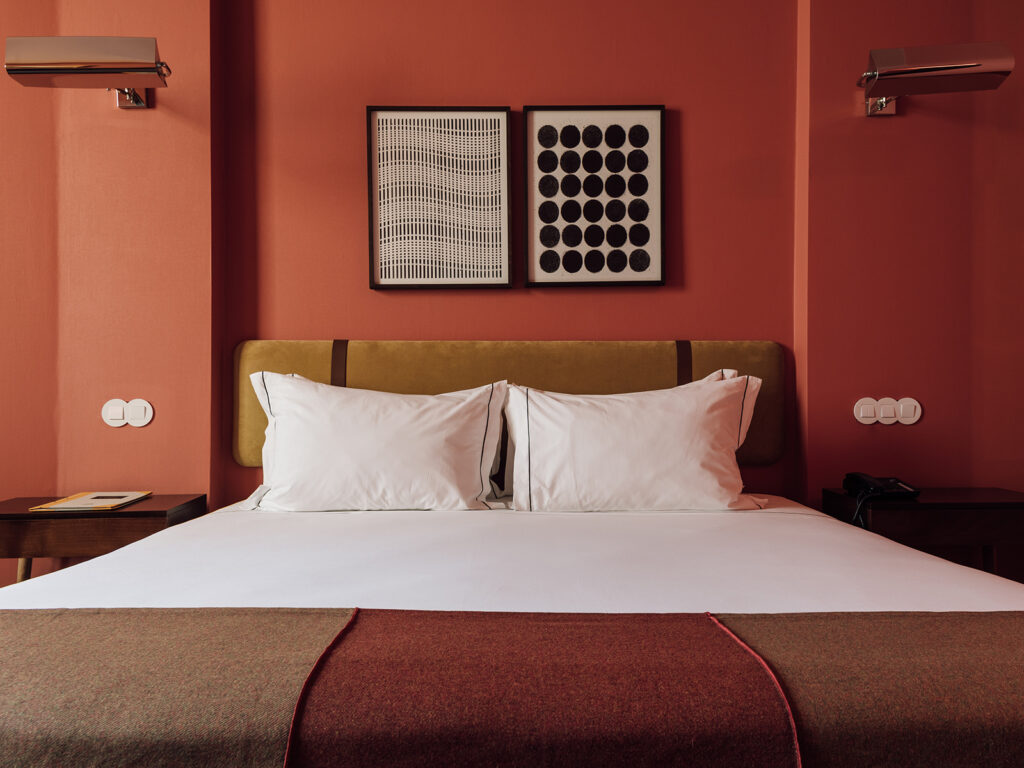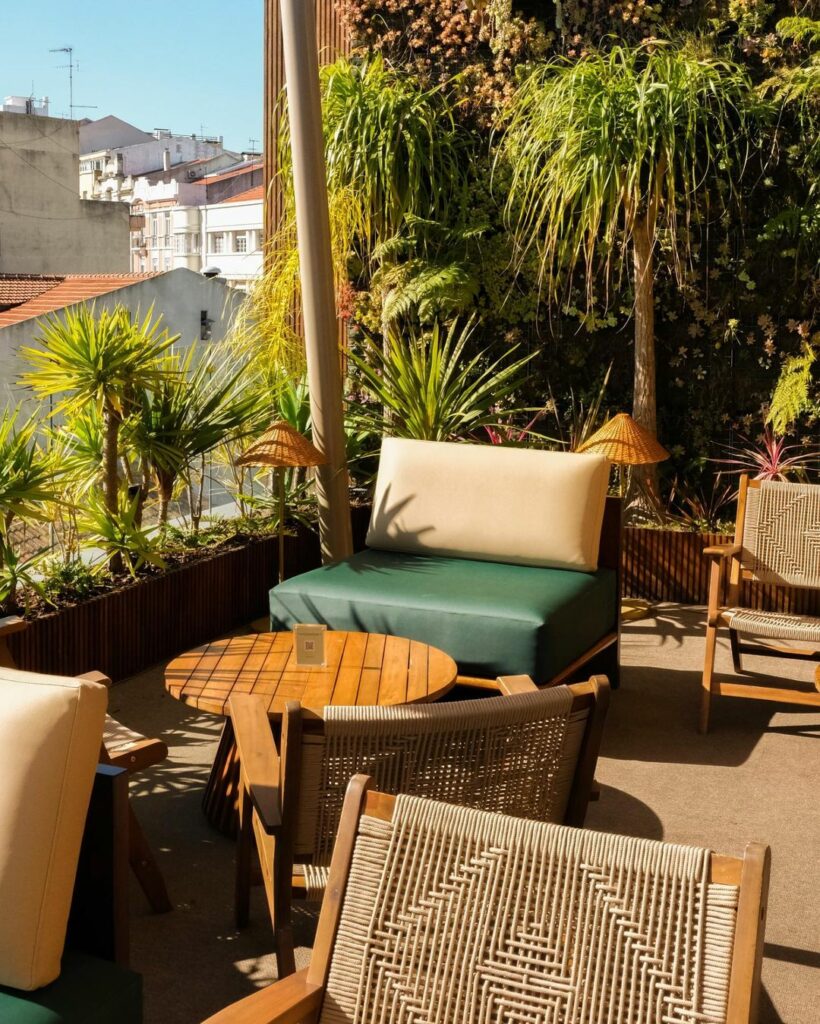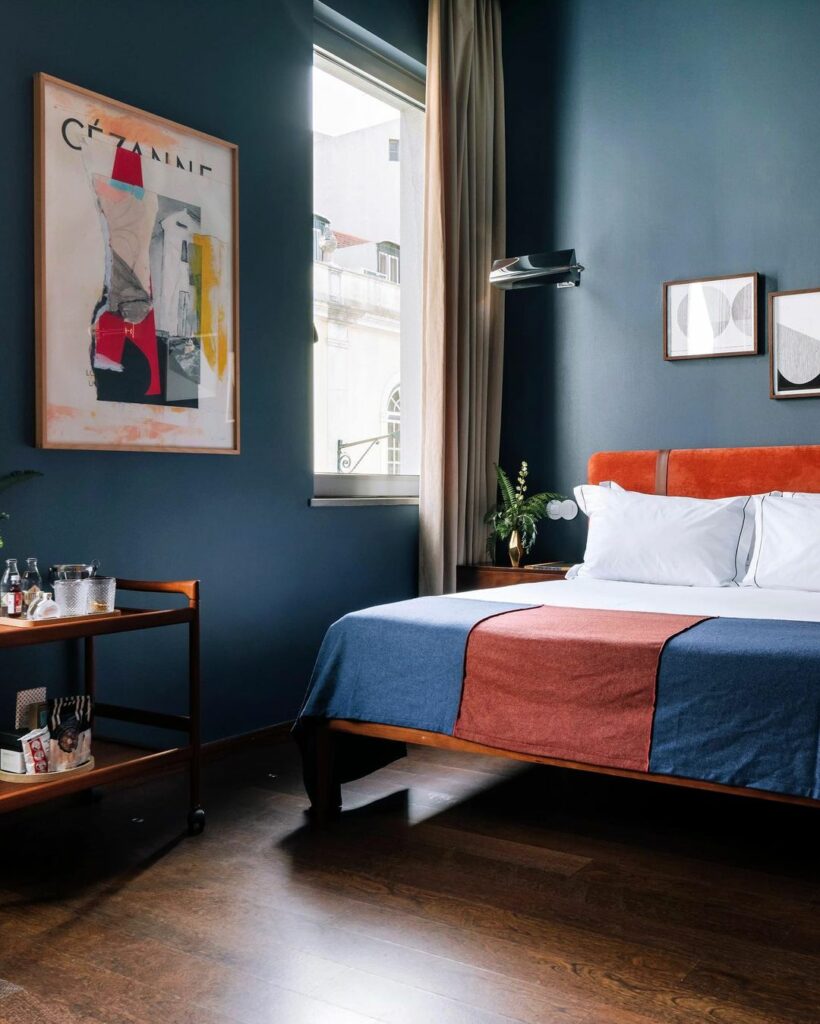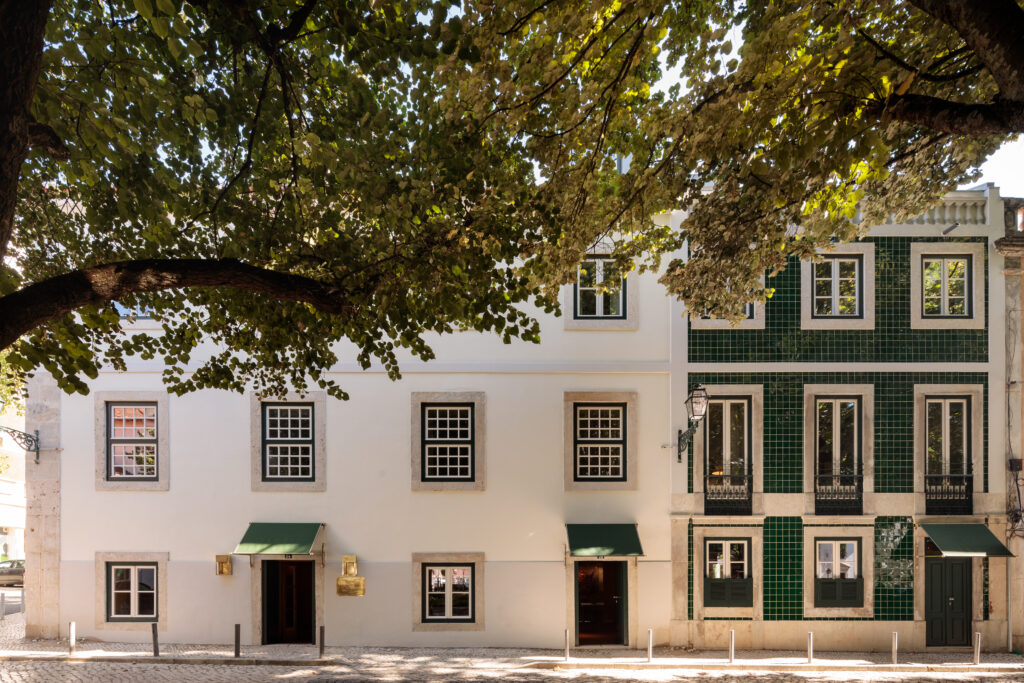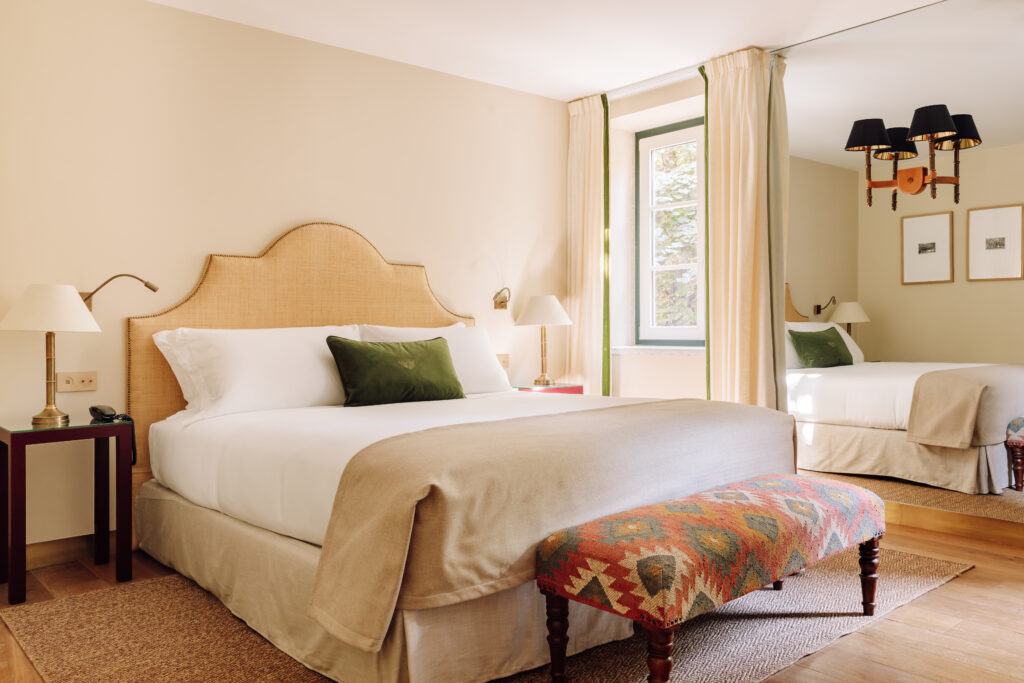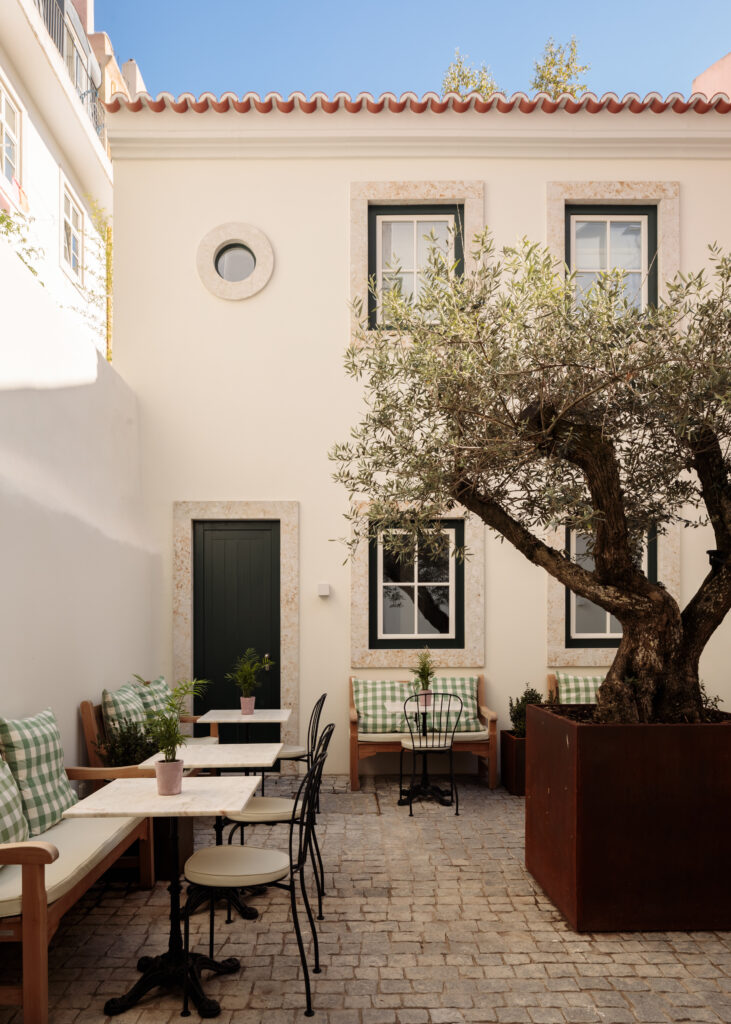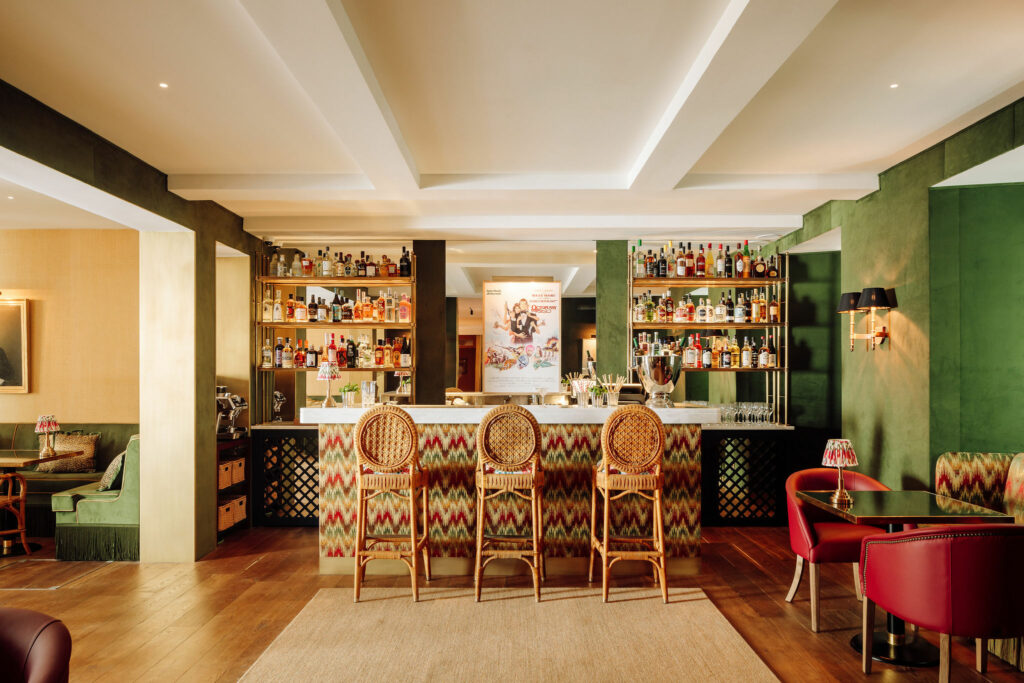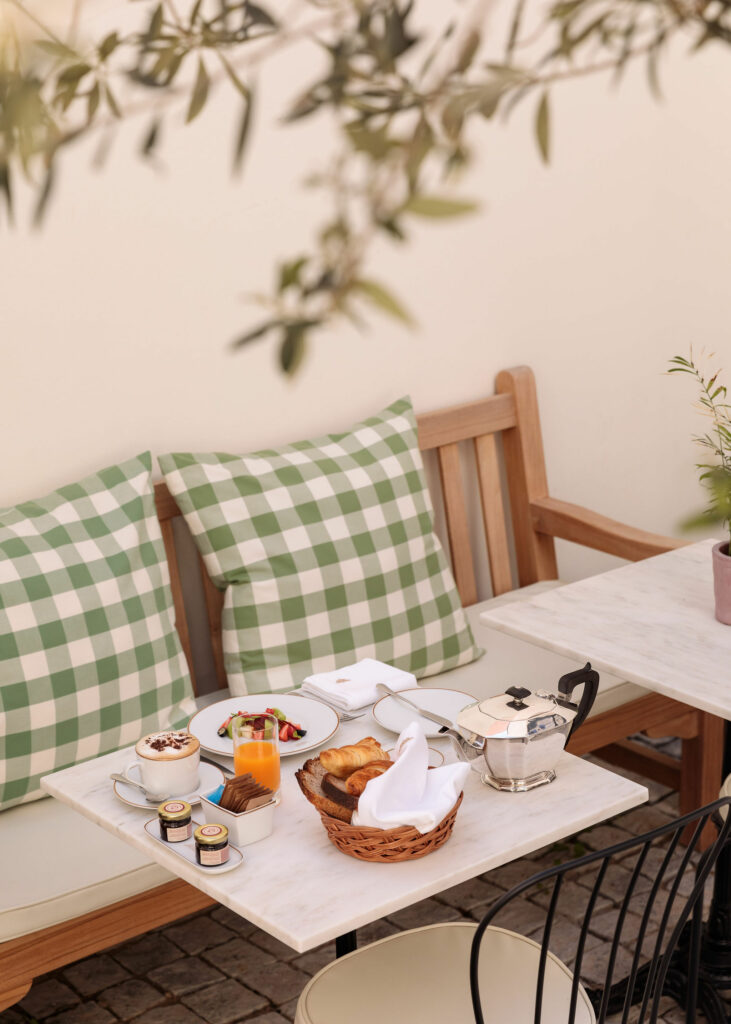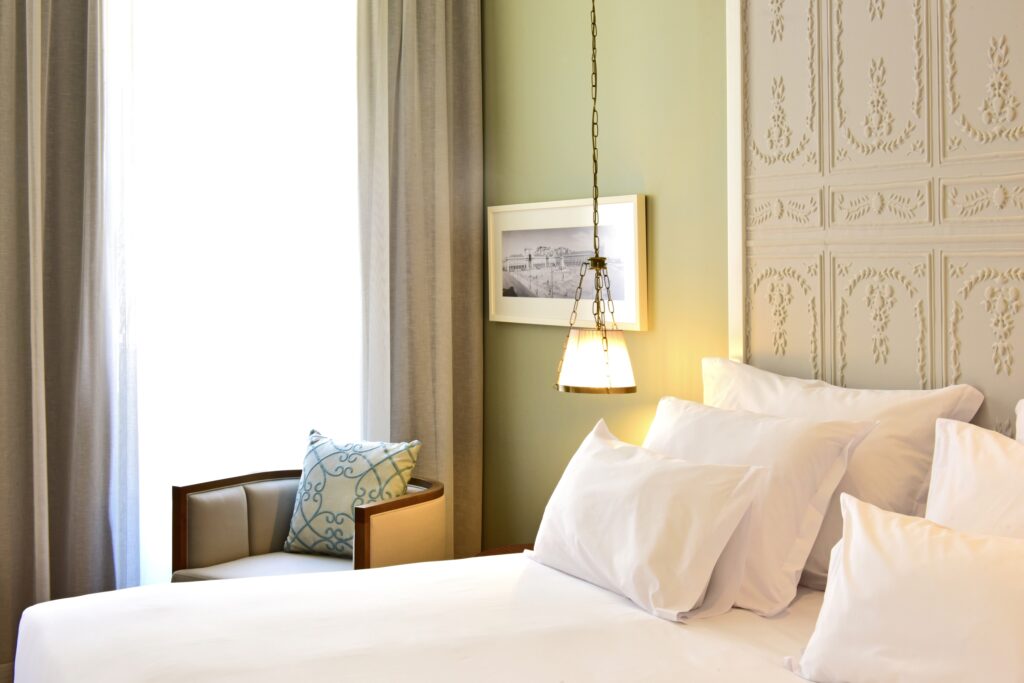 The Vintage Lisbon…Living up to its name, every inch of this design-forward stay celebrates Lisbon's creative talents, from bespoke furniture and local artworks, to mid-century design pieces and a moody mix of Seventies-style colours – all set to the sounds of a vintage record player. Cooling cocktails flow freely from V Rooftop Bar, the smell of perfectly-brewed coffee wafts from The Hangout, and Portuguese plates – from roasted octopus to ceviche – are served on Blue Restaurant's bijou patio with a vertical garden backdrop.
Hotel das Amoreiras… Taking up picture-perfect position on a mulberry tree-filled square, this tranquil retreat is a calming combination of country house meets city chic. A subtle colour palate of green and greiges breathes freshness into the bedrooms, and the grand suites, with elegant mansard roofs, offer soul-stirring views over the vibrant city. The courtyard's terracotta benches are made for slow mornings, sipping your coffee as you plan the day's escapades in the shade of its statement olive tree.
Pousada de Lisboa… Portugal's past echoes from the sunshine yellow façade to the resplendent ballroom of this palatial Lisbon landmark, on the corner of Praça do Comércio. You'll find rooms that are chic and contemporary, with grand windows giving far-reaching city views. If you can draw yourself away from the calm of the courtyard, pool or spa, Lisbon's major sights are within easy reach, including the hip surrounds of the National Museum of Contemporary Art.