A 3-week itinerary from Anguilla to Martinique
White sands, green palms and sapphire waters. You might think that one Caribbean island looks much like another. But hop between two or three and you'll soon notice plenty of differences. From rainforest hikes and sugar-sand strolls in St Kitts and Nevis to Anguilla's ancient history and Martinique's French-inspired elegance, let our itinerary inspire you to cast your net a little further. And book luxury Caribbean hotels with one call to our Travel Advisors.
AT A GLANCE
Independent itinerary for a trip lasting up to three weeks, starting in Nevis (the sister island to St Kitts), moving on to Anguilla, Antigua and ending in Martinique
Spend days unwinding on beaches in barefoot bliss, exploring historic towns and sailing the seas – and nights at specially selected SLH boutique hotels
Highlights include natural wonders in Nevis, sailing in Antigua, and mixing modern beach culture with ancient sites in Anguilla.
START IN STYLE: ST KITTS AND NEVIS
If St Kitts is the languid bigger brother, then Nevis is the chilled-out sibling of these twin islands. A tropical green jewel fringed by sands unspoilt even by flip flop prints, it's just 36-miles around. With a reputation for friendliness, it's a tiny isle packed with charm.
Its monochrome coast makes a striking first impression as volcanic black sand bays contrast with bright white beaches – and cerulean seas. This is the place to kayak and go yachting, cast off on a deep-sea fishing expedition, or scuba dive with Hawksbill Turtles. You'll quickly see why the early Caribs dubbed Nevis 'Land of the Beautiful Waters'.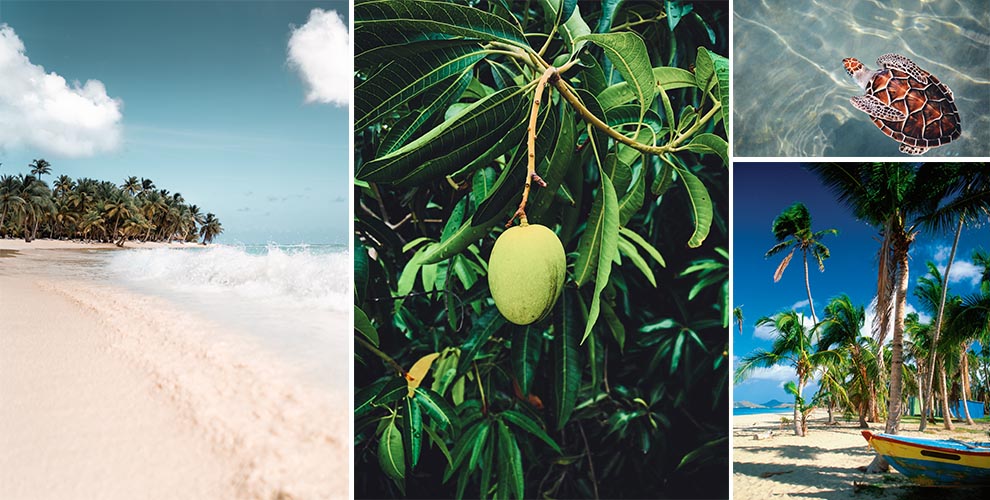 Inland, the Botanical Gardens are a must visit. Butterflies pirouette around fountains, the scent of herbs fills the air and the sound of cascading waterfalls is the only things that punctuates the calm. Those looking for a serious challenge can hike Nevis Peak – or stick to strolling amongst mango trees. And there's a chance to step into the history books with visits to sugar estates, as well as the spots where Horatio Nelson was married and Alexander Hamilton (founding father of the USA) was born.
DROP ANCHOR
Paradise Beach Nevis is a perfectly private all-villa Eden offering whatever-your-whim service. Suggested stay 4 nights
THE ADVENTURE CONTINUES: ANGUILLA
This pocket-sized island is somewhere to immerse yourself in Caribbean culture, past and present. Communities here are close-knit and welcoming, with locals running down-to-earth restaurants and laid-back beach bars – each serving up its own closely-guarded rum punch recipe.
There's plenty of natural beauty and ancient history to experience, too. St. Gerard's church in the island capital, Valley, is known for its mosaic-like stone arches. While in Fountain Cavern National Park you can explore caves that were sacred to the island's first inhabitants, the Amerindian tribes.
IN THE SWING OF THINGS
Stay at The Reef by CuisinArt, a battery-recharging resort with a spa and golf course, on Merrywing Bay. Suggested stay 4-5 nights
THIRD STOP'S A CHARM: ANTIGUA
If Nelson's Nevis connections sparked your interest in all things nautical, you'll love Antigua. Here, 18th-century naval history has given way to a modern sailing scene. A festival atmosphere settles over the island each spring ahead of Antigua Sailing Week and the Classic Yacht Regatta.
Antigua isn't just for sailors though. Diving beneath the surface reveals hard lessons learnt over centuries of seafaring around its cliffs and rocky reefs. Novice SCUBA divers (and even snorkelers) can explore the Sea Terror wreck, with its enormous anchor and ship's wheel surrounded by fish.
If you'd rather stay on dry land, you'll have a beach for every day of the year. Highlights include peaceful Pigeon Point where the sand seems to merge seamlessly with the mirror-flat waters. Or there's Rendezvous Bay near English Harbour, which rewards those who hike down from Fig Tree Hill with space, serenity and sublime sunsets.
DRIFT OFF
The Inn at English Harbour is a beachfront retreat wrapped in its own gardens, just a water-taxi away from yachting hotspot, Nelson's Dockyard. Suggested stay 4-5 nights. 
THE PIÈCE DE RÉSISTANCE: MARTINIQUE
Caribbean warmth meets Parisian cool on Martinique. This alluring island has a dramatic landscape, where jagged peaks give way to secret coves and china white beaches contrast with noir sands. The capital, Fort-de-France, is bustling, with a Gallic spirit. But skip over to the opposite side of the island and you'll discover the Tartane peninsula, an old fishing village where the pace of life slows right down.
This is a place for strolling beneath coconut palms or sinking into sun loungers. For a splash of adventure, go north and hike the rainforests or beach hop your way along the stunning south coast. Back near Tartane, the 17th-century ruins of Chateau Dubac evoke stories of Martinique's past. Bring your camera to capture some of the best views on the island.
GALLIC SPIRIT. CREOLE SOUL.
Reconnect with nature at French Coco, a luxury retreat that blends harmoniously with the lush landscape. Suggested stay 4-5 nights
TRAVEL TIPS
You can fly directly from London to St Kitts and then cross the water to Nevis. Some airlines even include it as a 'stop off' destination en route to bigger Caribbean islands. Then, fly from St Kitts to Anguilla and by charter plane on to Antigua for the next leg of your journey. There are various ways to travel on to Martinique – ask our Voice Reservation Team for details about transport provided by individual hotels.
BOOK YOUR BOUTIQUE HOTELS
To book the hotels on this independent itinerary, get in touch with our Voice Reservation Team on 0800 0482 314 (UK) & 1-877-234-7033 (US). You can find a full list of our dedicated toll-free numbers here. We're ready and waiting to plan luxury adventures 24 hours a day, seven days a week. So whenever inspiration strikes, just get in touch.