This women-run hotel is putting Syros, Greece's arts-and-crafts enclave, on the map for an off-beat creative crowd
Since publishing her literary thriller, celebrated author and economist Oana Aristide turned her multi-faceted mind to reviving a former shipowner's neoclassical mansion on the Cycladic isle of Syros – one of the smallest and most often overlooked Greek islands, with an industrial-meets-artistic edge. With the help of her sister Jasmin, and mother Simona, Oana has put her art, heart, and sustainably-driven soul into Aristide Hotel – a nine-room restoration project with an art gallery, creative workshops, and artist-in-residency programmes.
Past-preserving yet forward-thinking, this plastic-free Considerate Collection member uses solar panels to heat its water, and runs a tree planting project in collaboration with the Cyclades Preservation Fund (to offset the carbon footprint of their guests' travel to the island), alongside other eco-driven initiatives. Great care was taken during the non-invasive refurbishment – and as a nod to Greek cultural heritage, nine different kinds of Greek marble have been used throughout the interiors, which draw on the earthier tones of the island's wilder, northern side rather than the typical Cycladic blue-and-white colour palette. Local textile factory tours, pottery workshops, vineyard visits, Cycladic cooking classes, and herb foraging expeditions with the hotel chef are just some of the many experiences on offer which immerse guests in the island's natural beauty and creative community.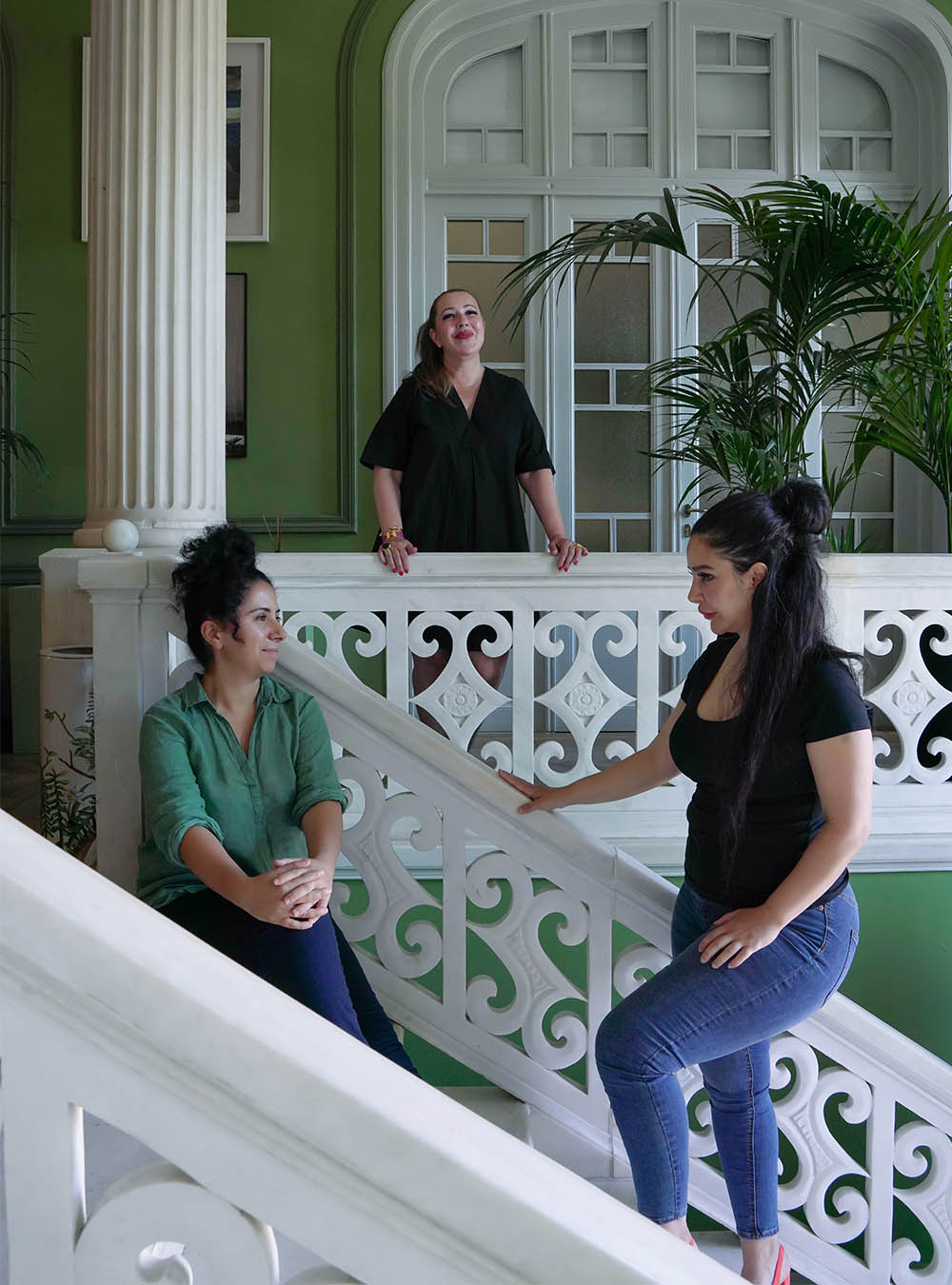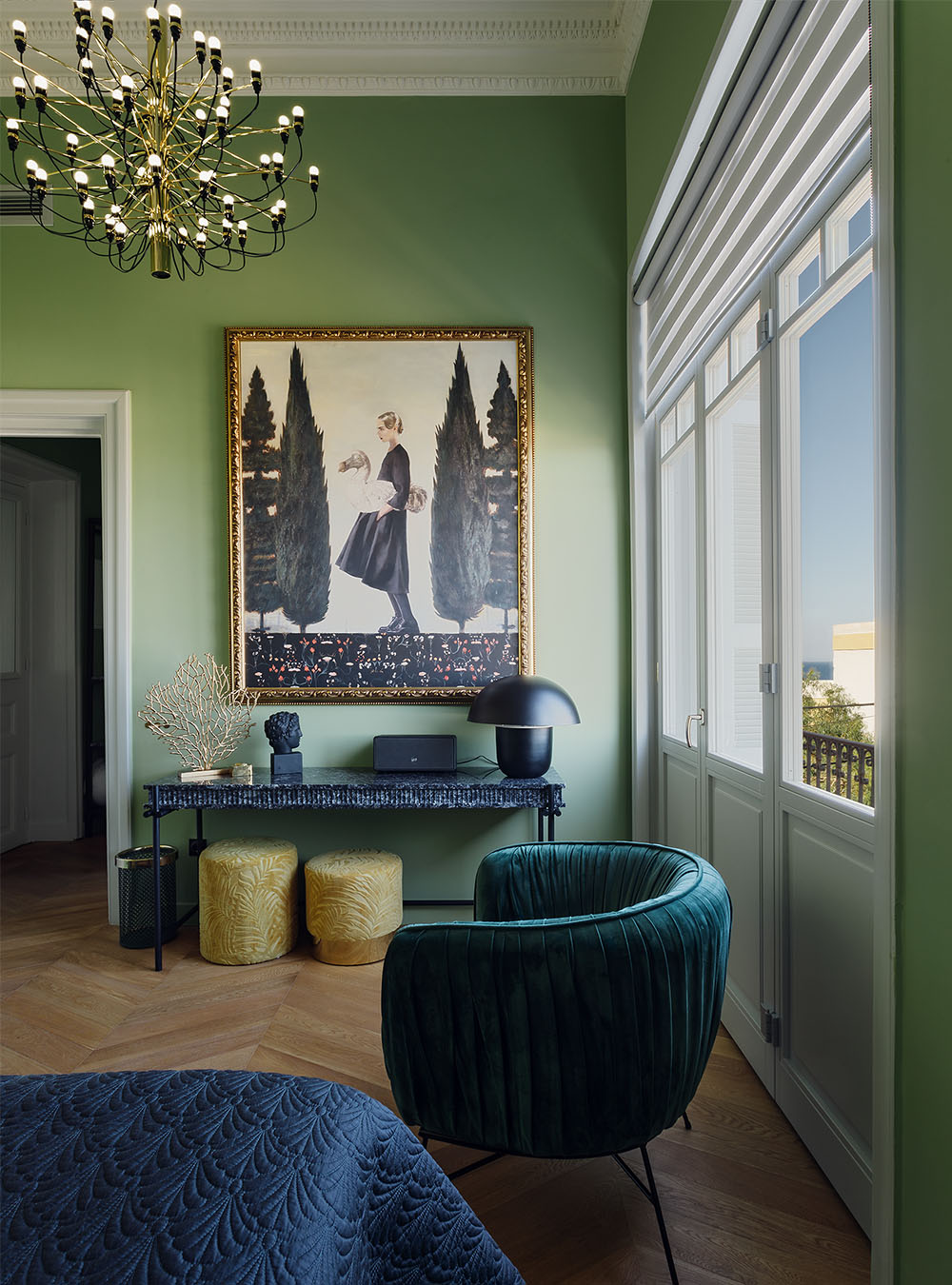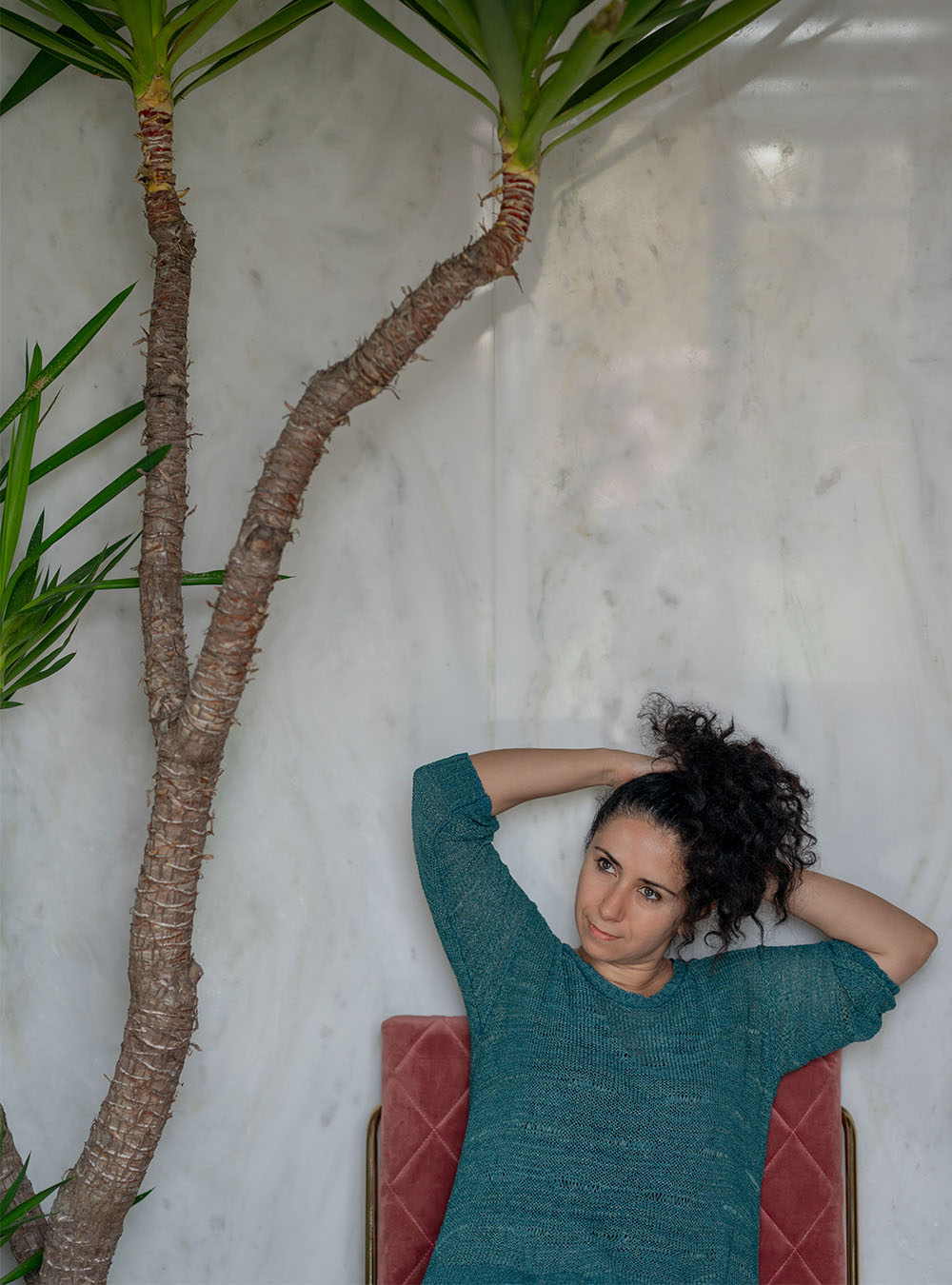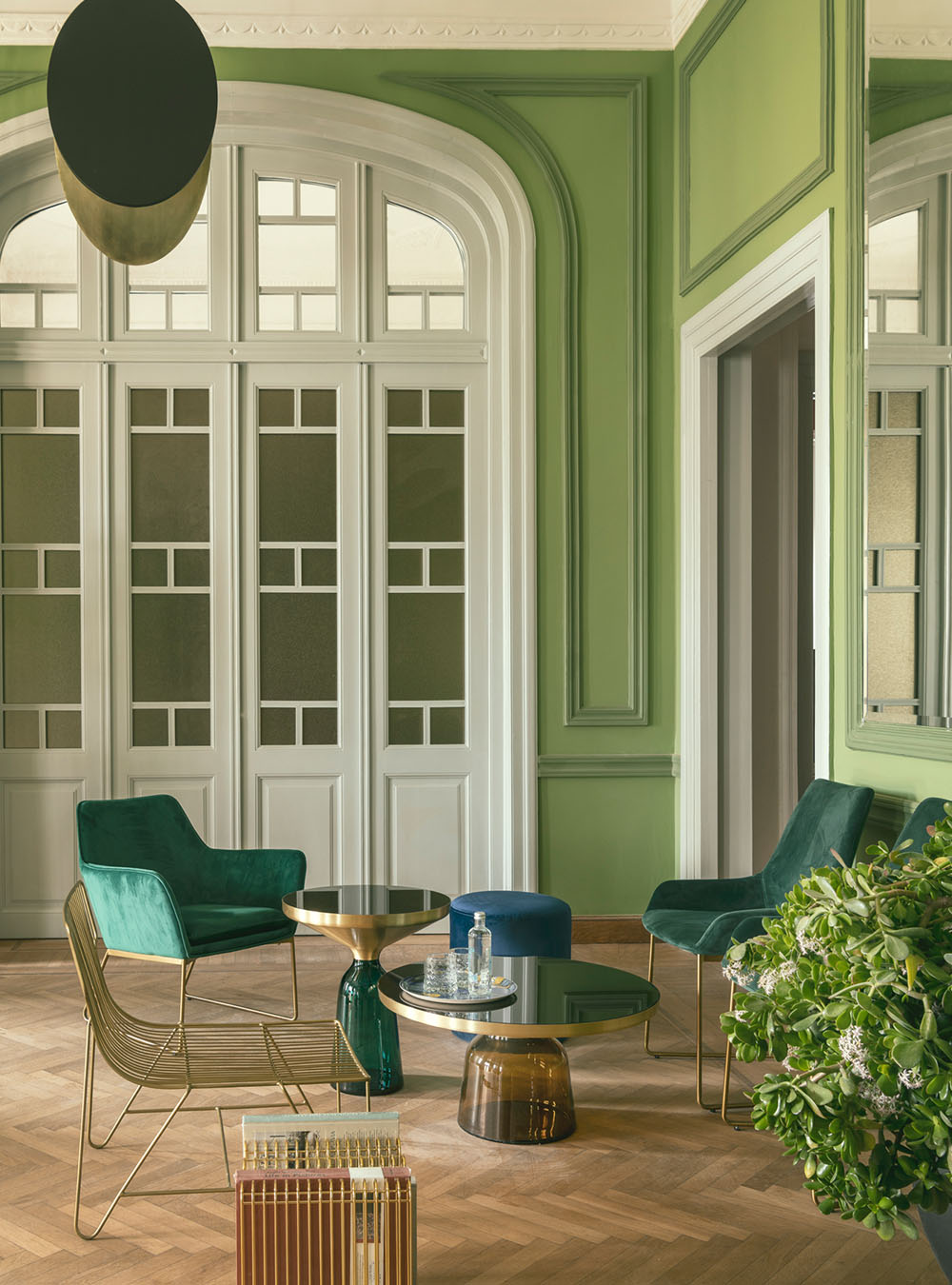 What does being 'independently minded' as a hotel owner mean to you?
Mainly, it allows us to do exactly what we like. We knew we would only ever create one hotel in our lives, so it had to be a project we would love and be proud of, and that means 'imagining' it from the start. We did not feel we had to second-guess the preferences of some target market, or to implement someone else's business plan, but simply to stay true to our vision. We also had financial freedom in the sense that ultimately we had the freedom to fail. On paper, our project looked terrible at the beginning — too small a hotel, too upmarket for an island that's off-the-beaten-track, too unusual in terms of design and concept. It's not just that we were turning our noses up at the idea of a hotel chain — equally, no chain would have had us at the time.
My favourite analogy for what we tried to achieve is with art: the most successful works are a combination of basic elements that we are familiar with and new, surprising ones. The idea is for our guests to feel that they are in very good hands, but to still experience surprise. Chain hotels mean chain decisions, whereas with an independent hotel every tiny detail has behind it a separate decision, a separate little thought.
"The hotel reflects many of the things that we are passionate about: design, art, good food, the environment. We also have our own idea about what constitutes good service, and the main thing we look for in staff is that they are nice people. Not obsequious, not servile, not aloof or pompous: nice people.
What was the inspiration behind the hotel, and where do you continue to find sources of inspiration?
The house itself and the island were the main sources of inspiration: Hermoupolis is a cultural treasure-trove, which has stood as the mercantile and cultural capital of Greece for almost a century. The house is representative of that era, built by refugees-turned-successful industrialists in neoclassical style and using the most modern techniques available. There's something highly aspirational about Hermoupolis, and it was obvious to us that we had to try hard in order to do the place justice.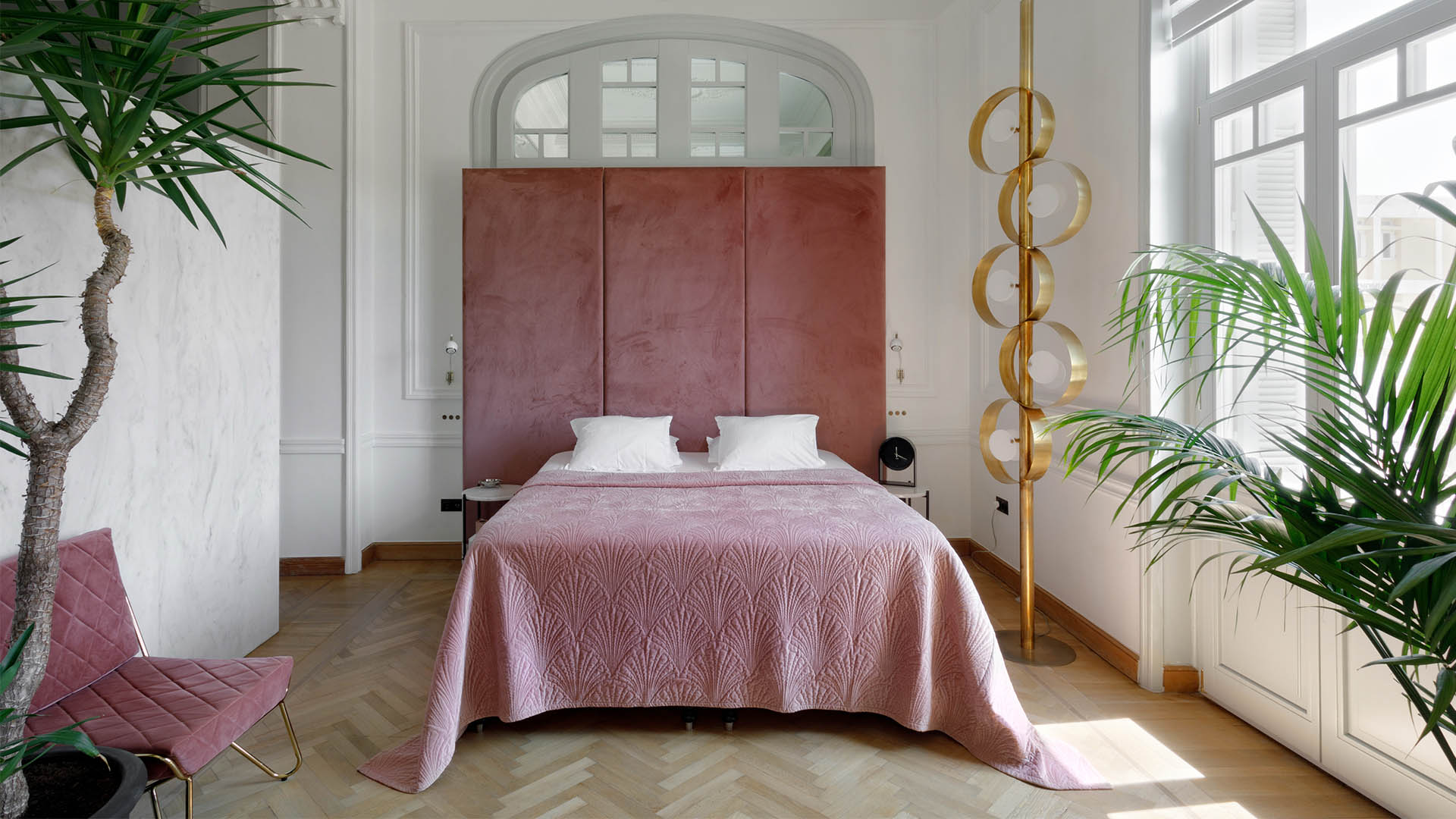 The other elements that helped us decide were the art deco features (the house was one of the last neoclassical houses to be built in Greece and therefore has some art deco elements) and the fact that there was none of the old furniture left, allowing us to start from scratch in terms of the decoration. We had as a guiding principle the idea that whatever we do, we would only use 'real' materials: marble is marble, wood is wood, brass is brass. Again, the house itself was inspiring in this sense — during the renovation, over and over we had the occasion to marvel at how well it was built, how uncompromising the decision to build the best possible house. It would have been out of the question for us to restore it to a middling standard. Finally, we dared use bold colours because we felt both the public spaces and the rooms are spacious enough for it not to become overwhelming.
How do you think your hotel stands apart from other luxury hotels?
We hope it feels like being welcomed into a friend's home, that it's more personal than a hotel and doesn't feel commercial. The fact that we're on an island that has avoided mass tourism to date is also helpful in that sense. We hope it shows that we put the same care into the hotel as we would have into our own home. For instance, one aspect that is usually neglected in hotels is the bathroom. But guests love a good bathroom, particularly women. Because we tried to avoid dividing the original rooms, many of our bathrooms are the size of an actual room, with windows and high-ceilings, and their design was approached with the same care and attention as the other spaces. When it comes to bathroom amenities, we have tried to cover everything from eye cream to pumice stones, tampons to face masks, hair straighteners to ring holders.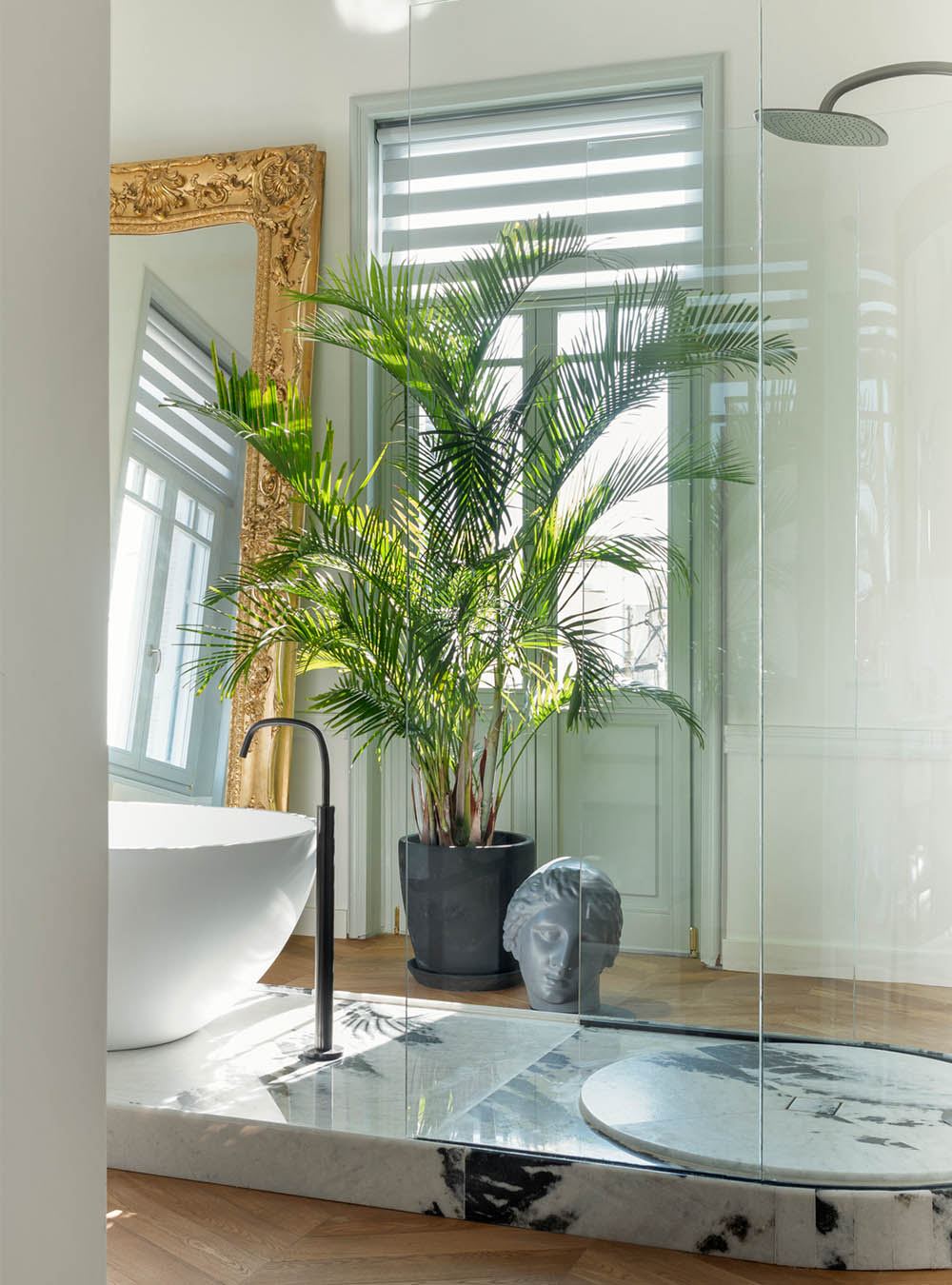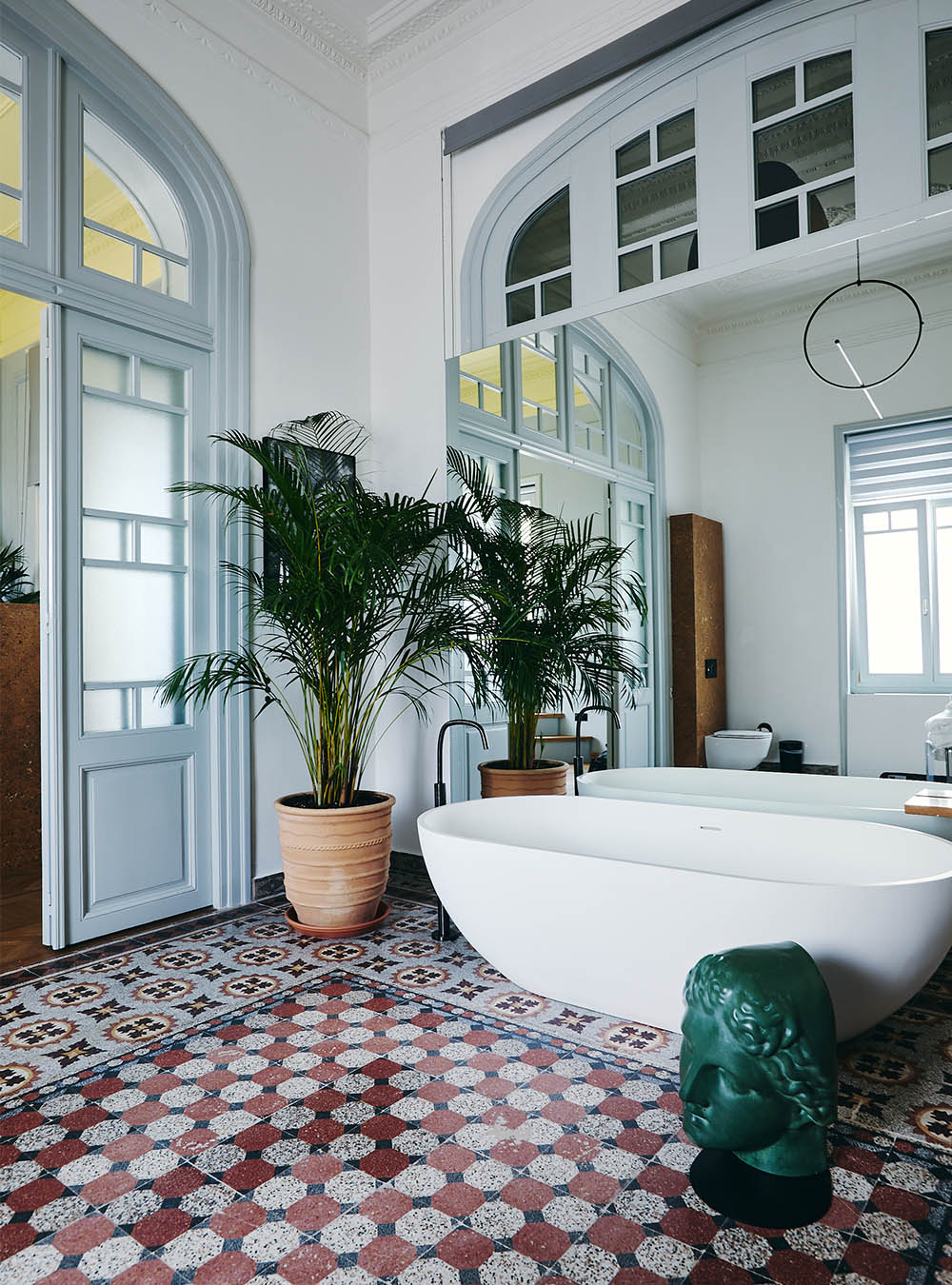 Soak up Syros from the show-stopping bathrooms at Aristide Hotel.
We also put huge effort into employing locals and in retaining staff. The aim is to have zero staff turnover (since the last season we only lost one member of staff). We feel it's essential for the hotel that staff are not foreign to the island and that they care for the hotel enough to return to it year after year.
If you only had 24 hours to get a taste for your hotel experience, what would you recommend a guest must do?
The perfect day starts with an early swim at the 'urban' beach just beneath the hotel in Vaporia. The backdrop of the neoclassical architecture is glorious, and in combination with the clear water and the quiet time of day, it is something special. Some days, an elderly man who whiles the hours away on the jetty will play a wonderfully tranquil piece by Hatzidakis that for us has become the epitome of a morning swim in Greece.
After that, back to the hotel for a Cycladic breakfast. These islands are generally arid and treeless, so our breakfast garden with its big trees is a real oasis. We serve 'the classics', but we encourage guests to try some of the many local specialties, like local cheese with caper jam, loukaniko omelette or our version of dakos.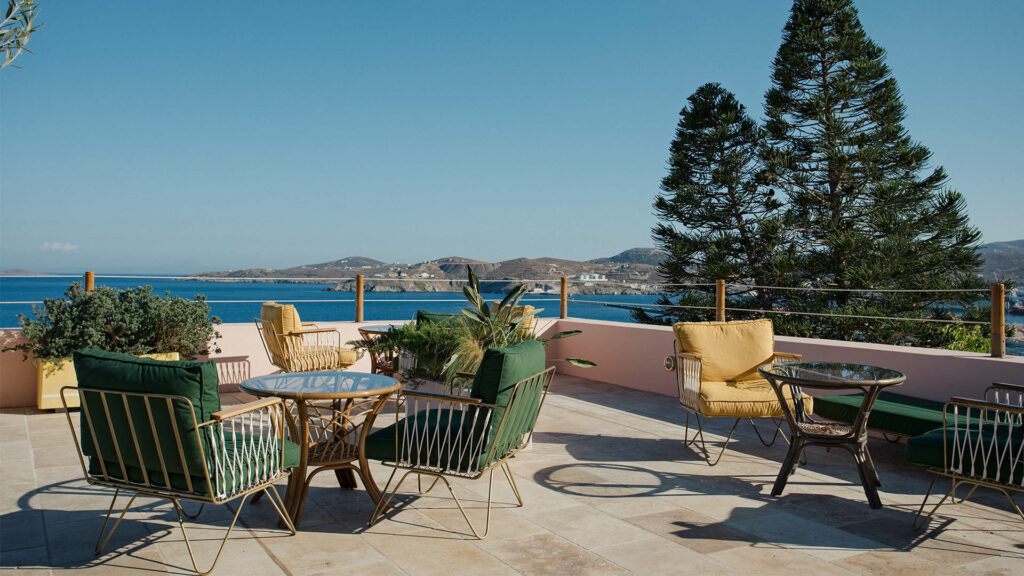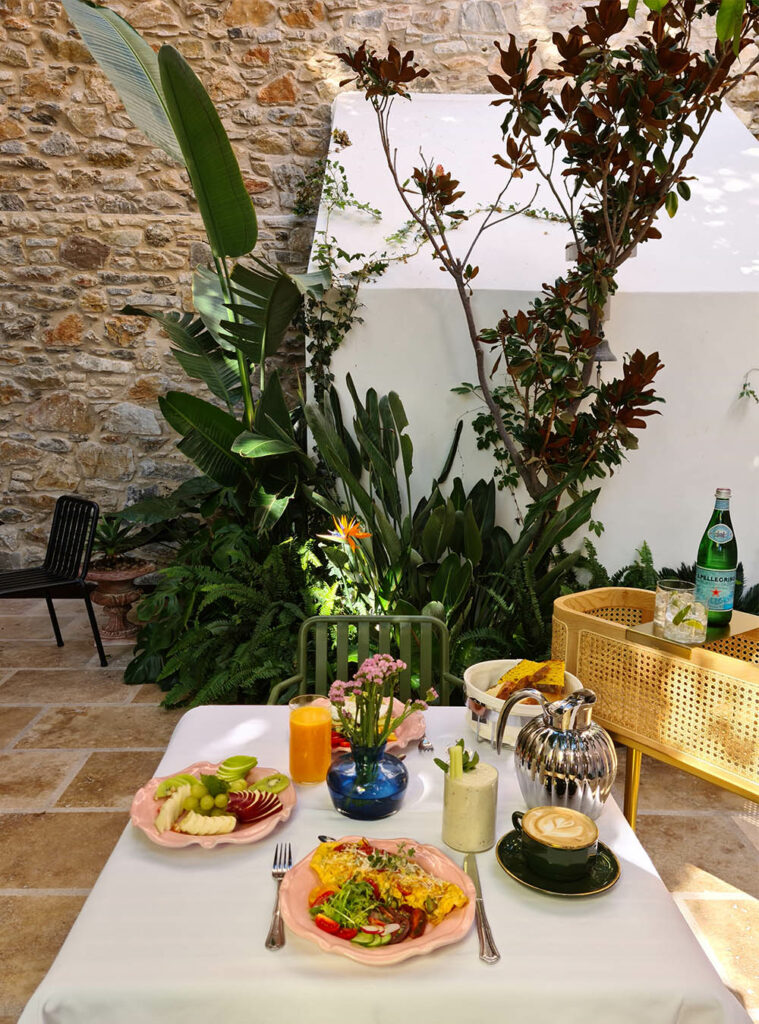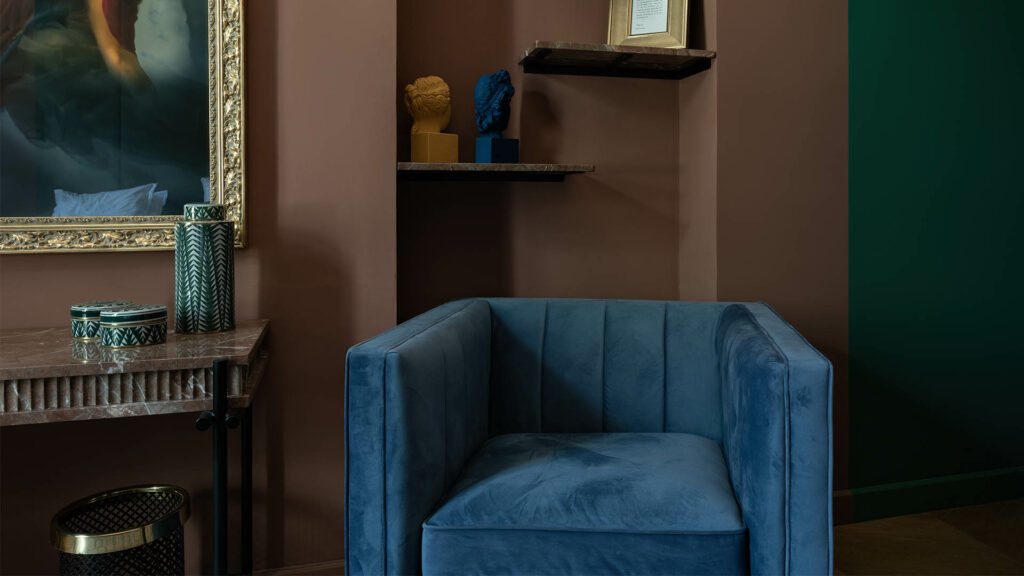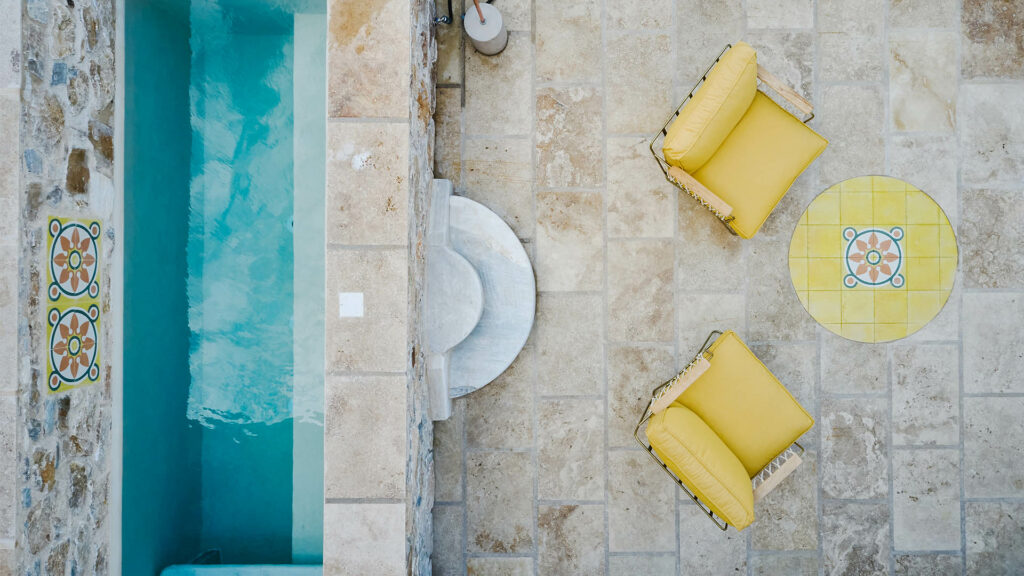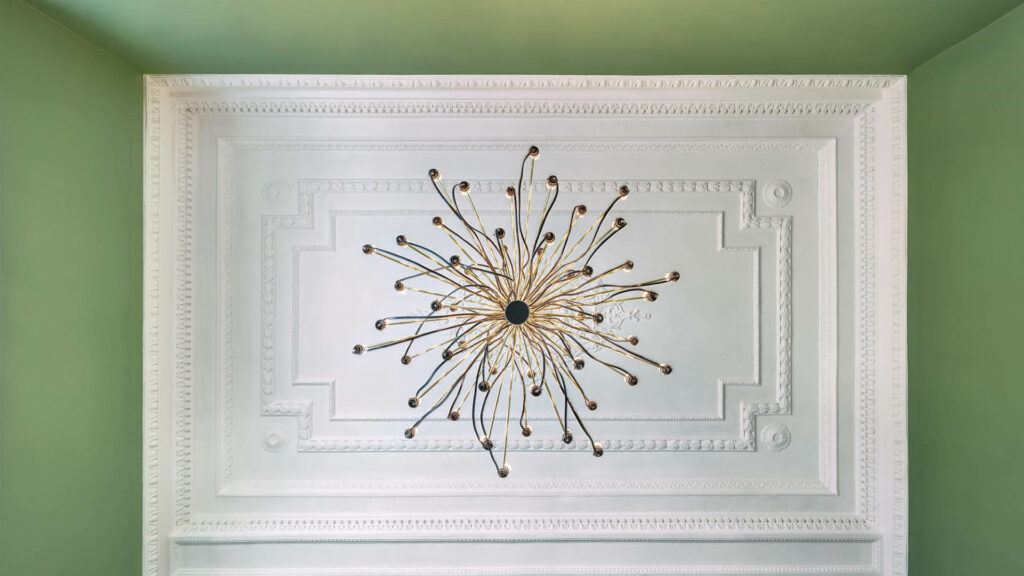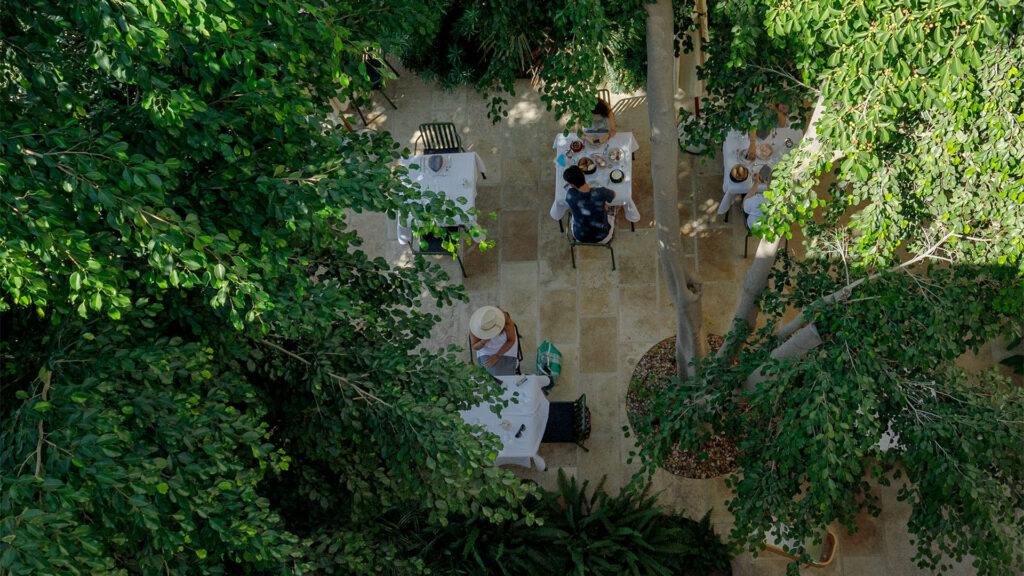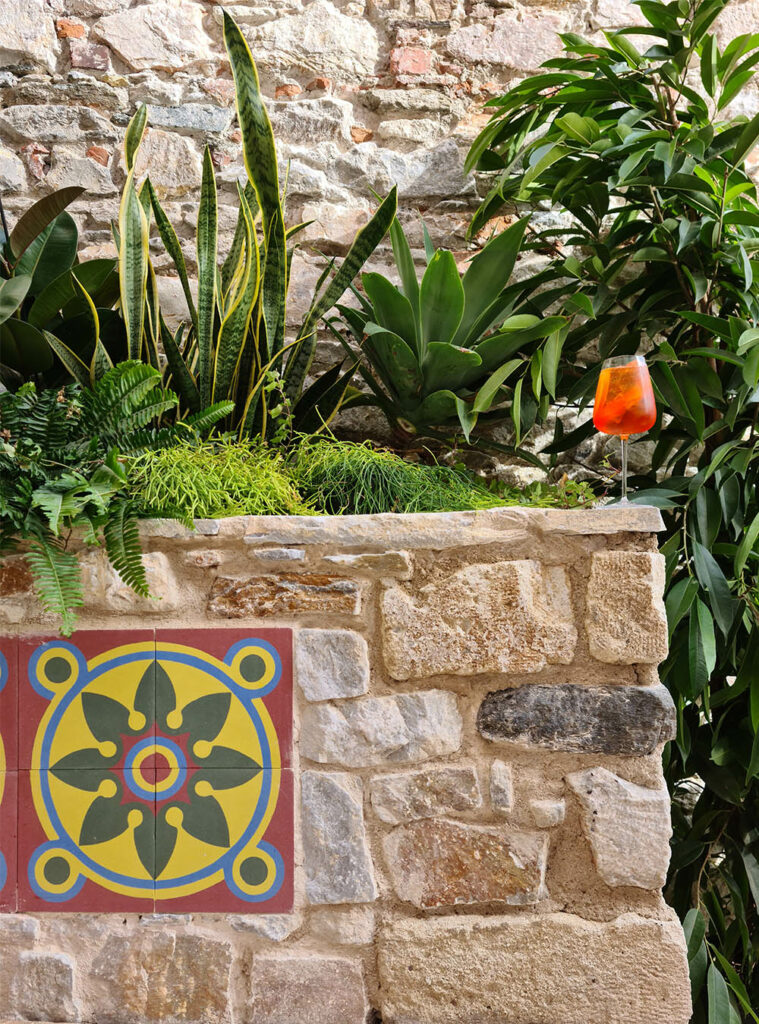 Our guests tend to spend at least one evening at our rooftop bar and restaurant. The best time is early evening, before sunset — the view over the Aegean is simply breathtaking. We have tried to create a relaxed atmosphere (for instance, the seating is Honoré's uber-comfortable vintage Croisette armchairs), where guests can decide on the spot if they just want to challenge our bartender for the perfect cocktail, or to sample our dinner menu.
How would you describe your own perfect luxury experience?
Tough question, but here are some thoughts. The main thing would be trusting the host. Trust – or lack thereof – emanates from everything, from the care we see has been put into the design, to the choice of staff. And being welcomed and treated agreeably rather than with over-the-top servility. Generally, we like to feel we're in a good friend's beautiful home. We like to see that there's thought behind everything and that the thought is towards making the particular thing good, rather than ticking a box.
"We prefer to see the odd creative mistakes than endless safe bets.
Do you have a vision for the future of the hotel?
The main development will be in the direction of being eco-conscious. It is simply impossible to carry on being wasteful, to have all those plastic bottles and packages, meat-heavy menus (the list goes on). Responsible luxury must become the norm. The other aspect that is changing is increasing demand for original experiences, for hotels that are their own place and are not trying to emulate anything else. One thing we have noticed is that there is a 'typical' Aristide Hotel guest. We don't receive a random sample of luxury travellers – we are very happy with the guests we attract, and hope this continues.