The Winners
Mirror, mirror on the wall, which is the best of them all? When we look in the mirror, we see over 500 independently minded and luxurious hotels in more than 80 countries staring back at us. The whole notion of choosing the very best of the best makes us cower in fear, as each of our properties makes up a piece of the SLH machine, offering unrivalled experiences and unforgettable holidays.
But there must be a winner! And last week, CEO Filip Boyen announced the top prizes at the SLH Conference in California, with Dormy House Hotel in the UK triumphing. Described as "very nearly perfect", this country house in the Cotswold was celebrated for its all-round excellence. The property is also noted for its quintessential British vibe, which includes roaring log fires, long, cosy dinners and a beautiful countryside landscape.
An extra 12 hotels also came away with top prizes, so here's a quick breakdown of some of SLH's top picks:
akyra Manor Chiang Mai in Thailand received the Love of Local award based on its 'give back' policy, working with the local community not only to source products but also assisting local schools.
Nobu Hotel Ibiza Bay (below) was crowned as the outstanding newcomer of the year, not only for its focus on top notch food and its celebrated design, but for being the first luxury SLH hotel in Ibiza.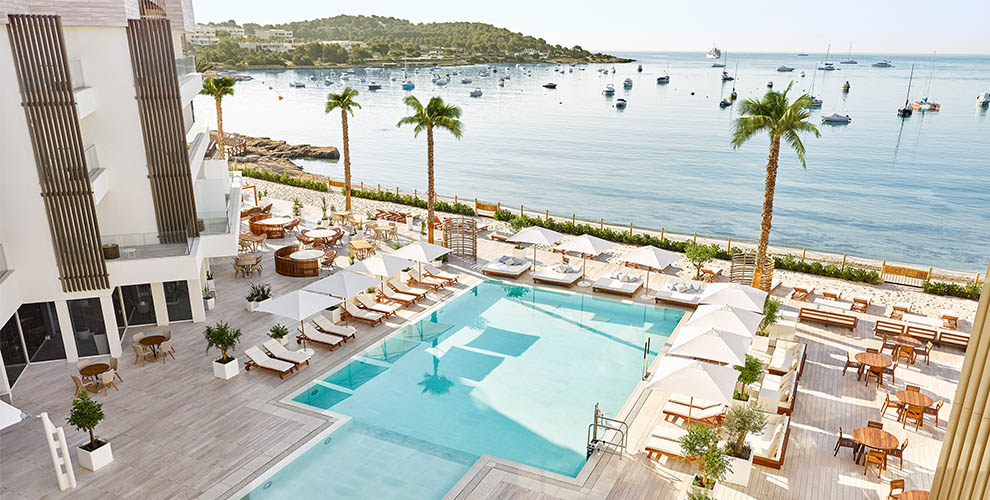 Giovanni Sanchez, a waiter at The Arch London's Hunter 486 restaurant was awarded the Hotel Hero award, thanks to his bespoke and consistent excellence, extensively acknowledged by both colleagues and guests.
The Owl and the Pussycat Hotel in Sri Lanka received the Most Instagrammable award based on its daily posts of an imaginary travel journal that travels into the nonsensical world of Edward Lear.
Grand Hôtel du Palais Royal in Paris was awarded Best Hotel Video for a 'work of art' featuring Royal Swedish Ballet dancer Casia Vengoecha.
Boyen says SLH is the bona fide curators of the very best small luxury hotel experiences in the world, and that each of the winners embodies the SLH ethos. "We are delighted to recognise these exceptional hotels that showcase our independently minded ethos in such a variety of creative, classy and culturally-relevant ways."
Here's a full list of this year's winners and nominees.
Shortlisted Finalists – Flemings London (UK); Ca'Sagredo Hotel (Italy)
Shortlisted Finalists – Pangkor Laut Resort (Malaysia); Twinpalms Phuket (Thailand)
Shortlisted Finalists – Castello di Velona (Italy); Les Sources de Caudalie (France)
Shortlisted Finalists – Sikelia (Italy); La Zebra (Mexico)
Mystery Inspectors' Excellence Award – Casas Del XVI (Dominican Republic)
Shortlisted Finalists – Baros Maldives (Maldives), Dormy House Hotel (UK)
Shortlisted Finalists – Hannah Roberts, Foxhill Manor (UK); Suphamat Namwongphrom, akyra Manor Chiang Mai (Thailand)
Shortlisted Finalists – The Betsy South Beach (USA); Pangulasian Island Resort (Philippines)
Shortlisted Finalists – The Iroquois New York (USA); Baros Maldives (Maldives)
Shortlisted Finalists – Hotel Pashmina Le Refuge (France); Canaves Oia (Greece)
Most Instagrammable – Owl and The Pussycat Hotel (Sri Lanka)
Shortlisted Finalists – Canaves Oia (Greece); Nobu Hotel Ibiza Bay (Spain)
Shortlisted Finalists – Baros Maldives (Maldives); Ca'Sagredo Hotel (Italy)
Shortlisted Finalists – Aleenta Resort and Spa Phuket (Thailand); Baros Maldives (Maldives)