Travel inspired tips to bring to the table for all your spring and summer celebrations
T he days are slowly but surely getting longer and lighter, which means leisurely lunches and late suppers are coming back into season. With Easter just around the corner, and in the build up to Bank Holiday weekends, we've got party-planning on our minds, with swoon-worthy table settings to match straight from some of the most stylish hotel restaurants in the world.
1. Quinta da Comporta – Wellness Boutique Resort, Comporta – Portugal
An idyll wrapped in rice fields and palm trees, Quinta da Comporta – Wellness Boutique Resort oozes a luxurious beach hut feel, with rustic-style furniture drawn from a natural colour palette of sun-bleached woods and sandy soft furnishings. Larger suites come with their own dining areas, which are styled simply yet effectively with sea green ceramics and soft white place settings. If you're short on time but looking to add some detail to your table, gather some foliage from your garden and sprinkle some sprigs between the dinnerware – just remember to trim any stems and spikes.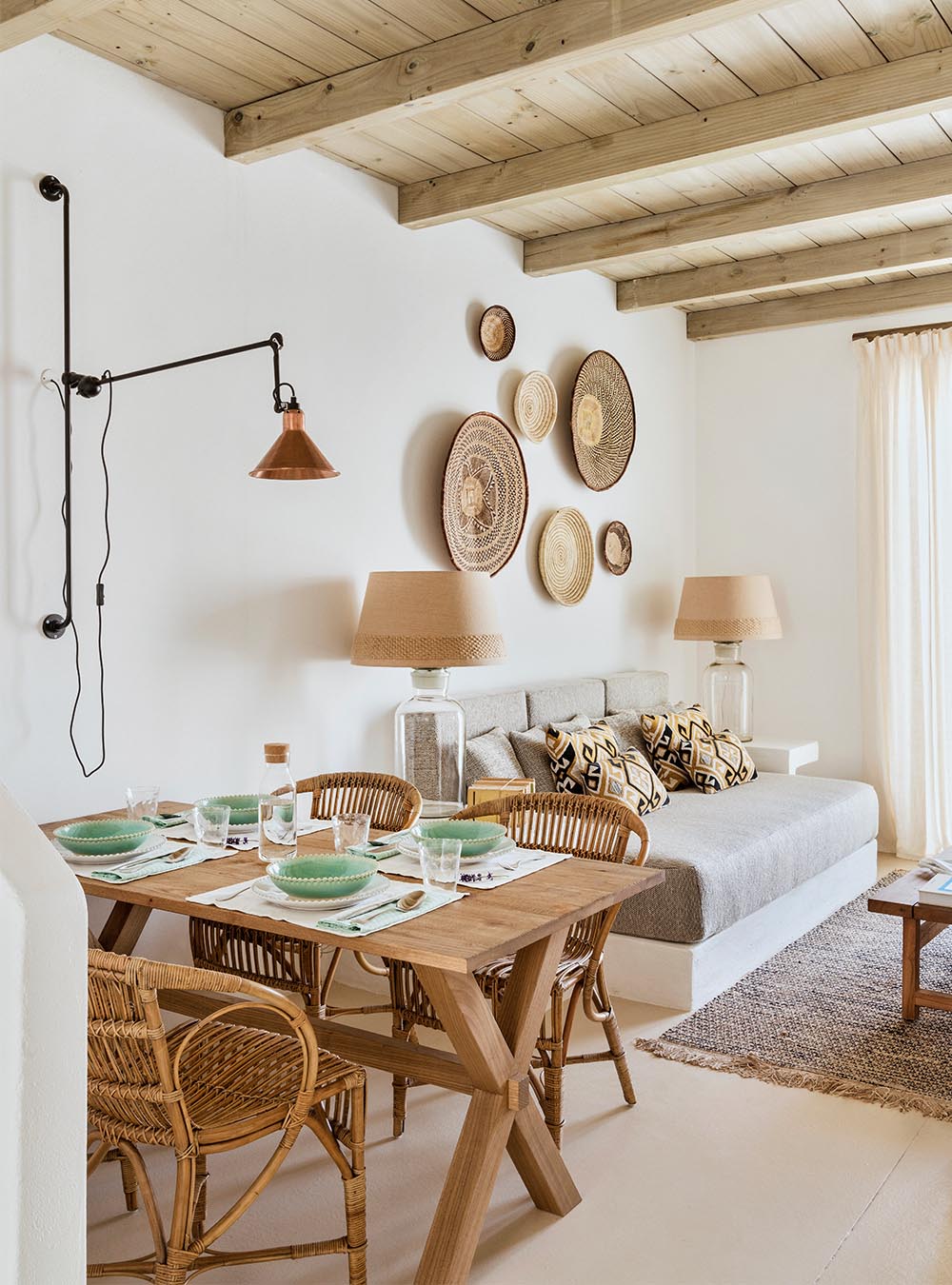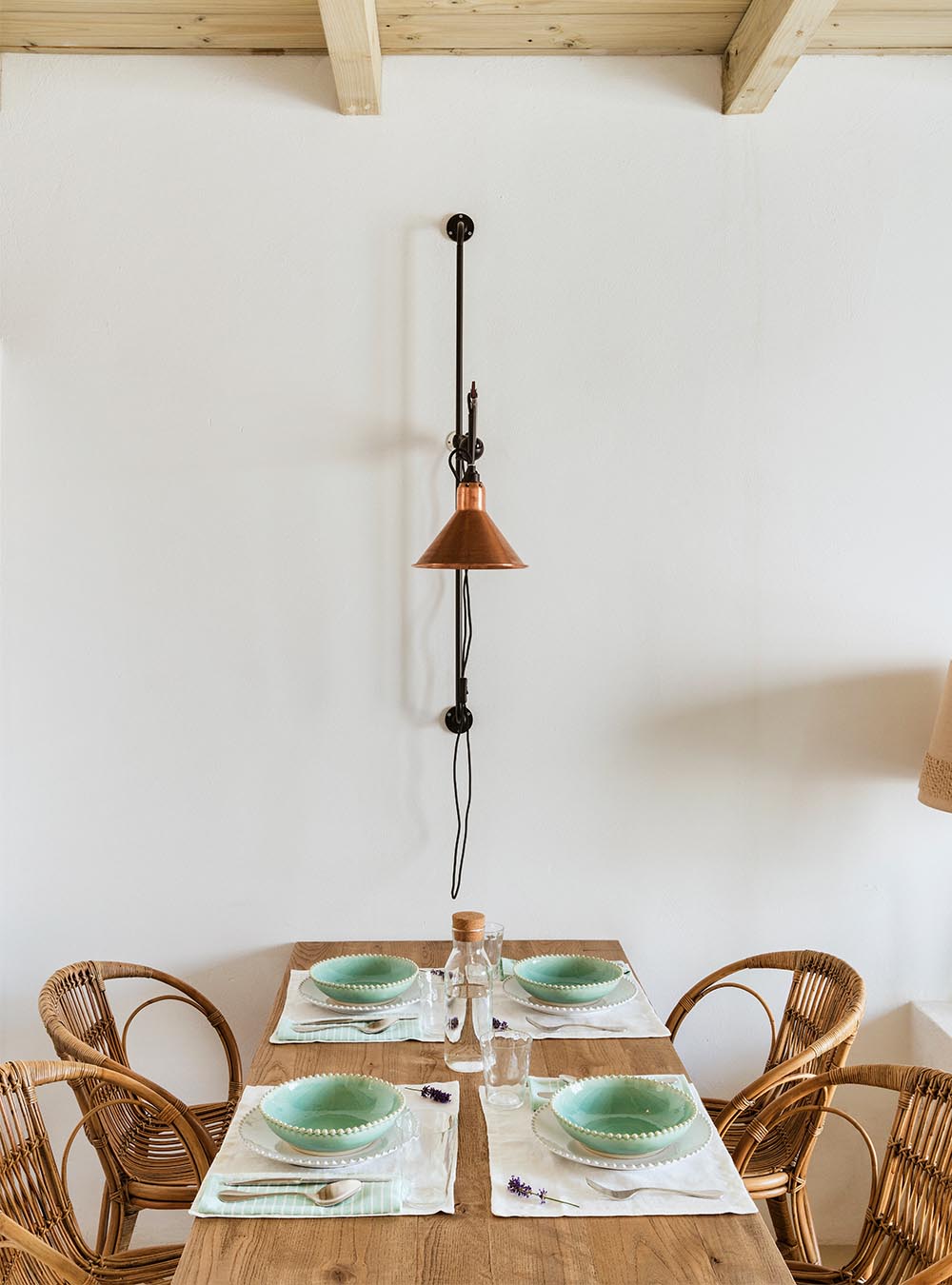 2. Gecko Hotel & Beach Club, Formentera – Spain
Lazy days are calling at Gecko Hotel & Beach Club, a toes-in-the-sand resort in chilled-out Formentera. Just-caught seafood is served at the open-air, barefoot restaurant, alongside sublime sea views – think fresh ceviche, tartar, and lobster with generous squeezes of lemon (leave the segments in for a splash of colour and extra zest). Serve your larger dishes in the pot they were cooked in and let your guests help themselves, which adds to the fun of any casual get-together. Striped table runners and linen in blue and white create a chic coastal palette, which can be layered or styled individually for a less-is-more vibe.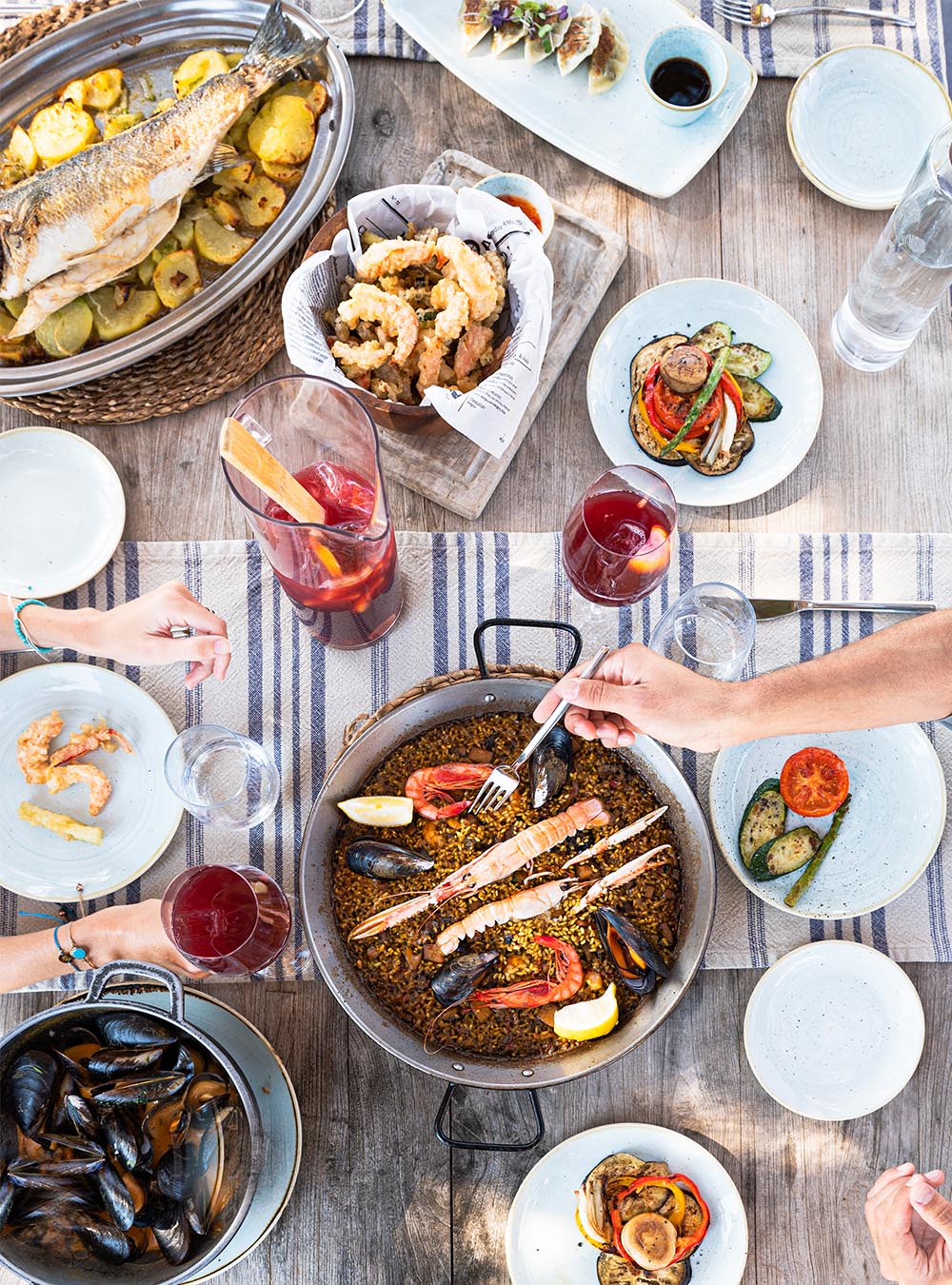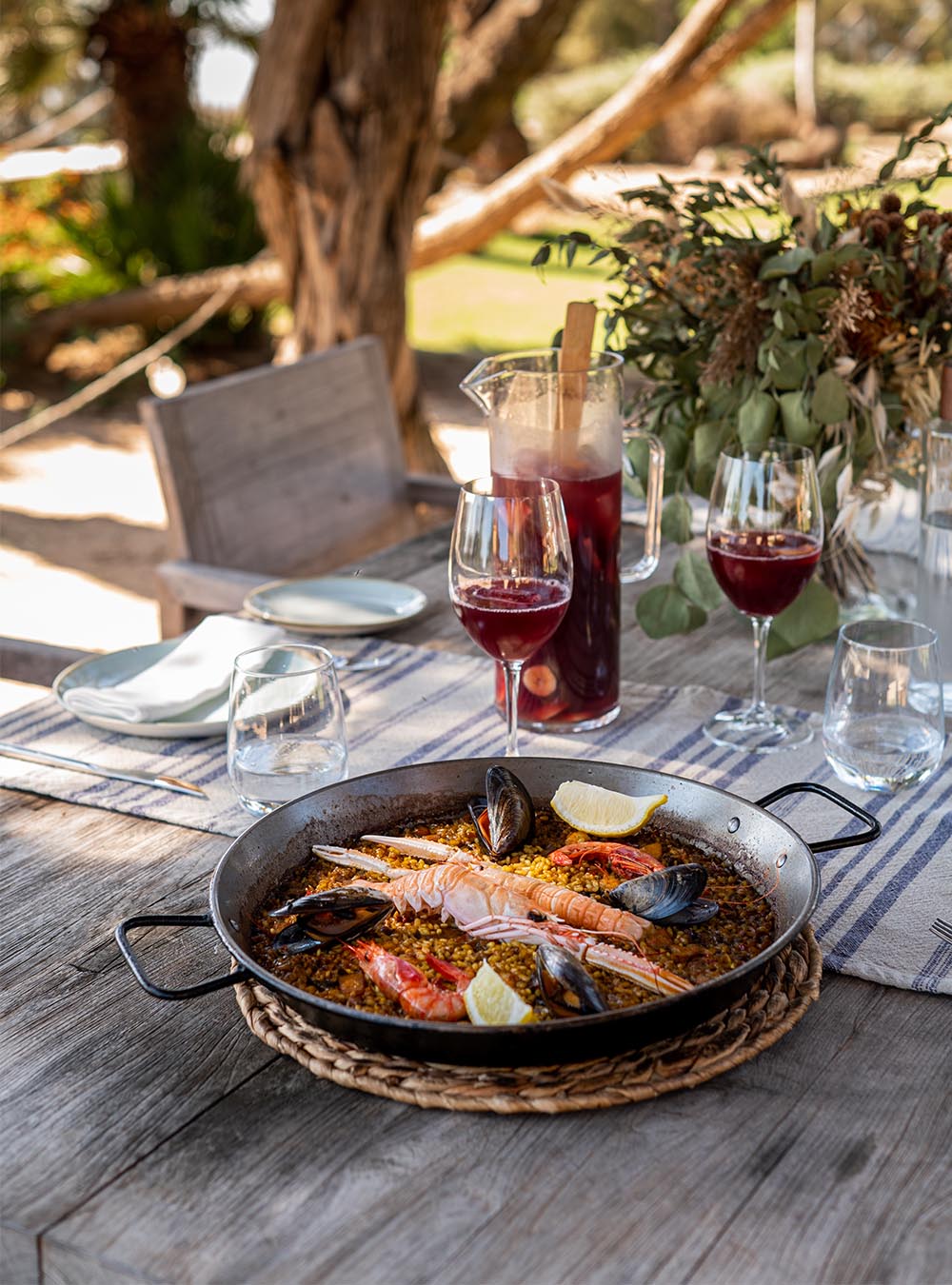 3. Can Ferrereta, Mallorca – Spain
Tucked away in one of Mallorca's most undiscovered and beautiful spots, Can Ferrereta cleverly blends minimalism with the rustic throughout its carefully curated interiors. The result? An effortlessly pared-back aesthetic in calming shades and neutral tones. Take note from the property's elegant Ocre restaurant, which balances darker dinnerware for a touch of the dramatic with exposed wooden tabletops and woven placemats, keeping the glassware simple and sleek. Crack open the candlesticks to add some height to your table, and don't be afraid of some asymmetry for a more laid-back look.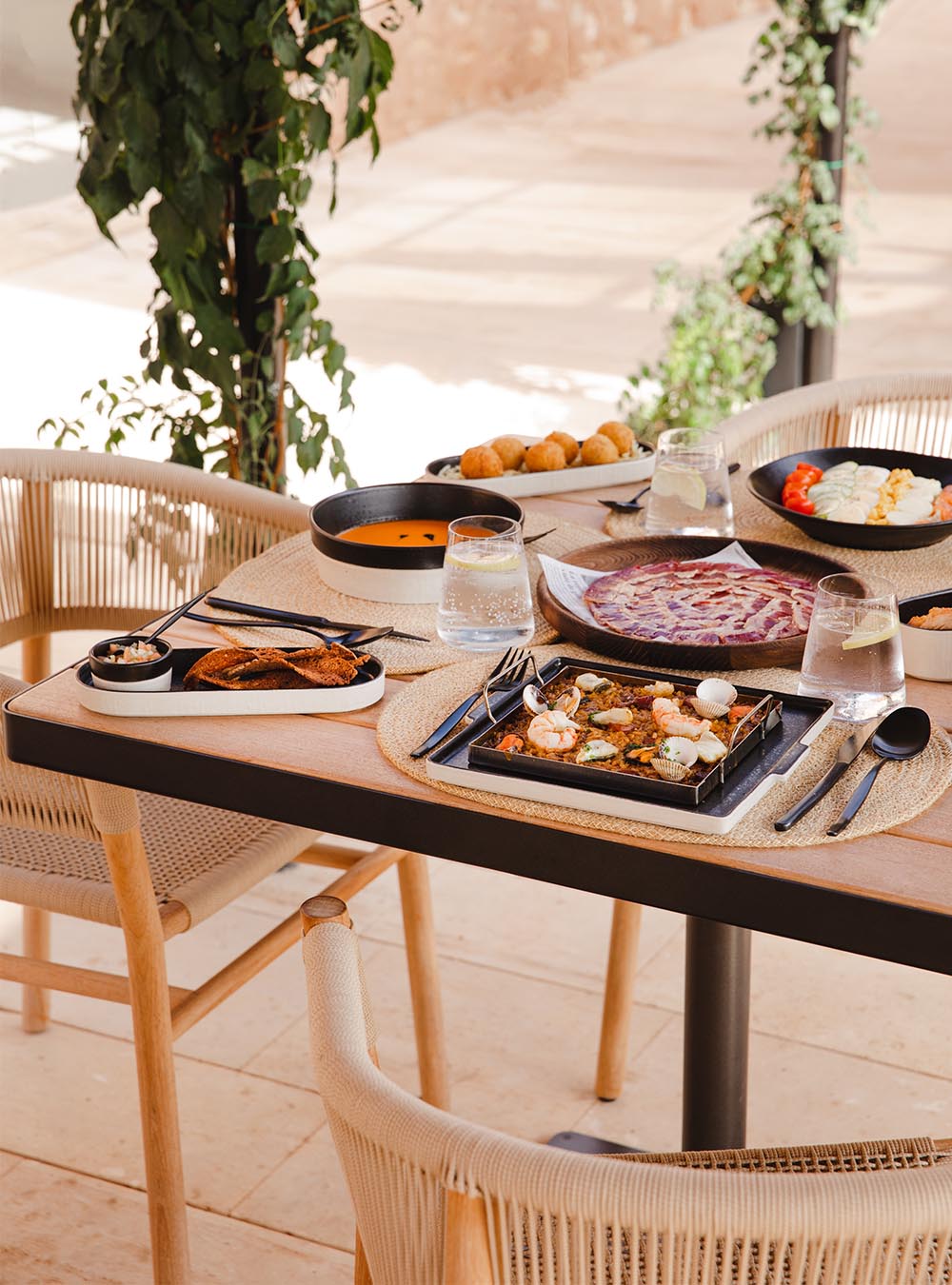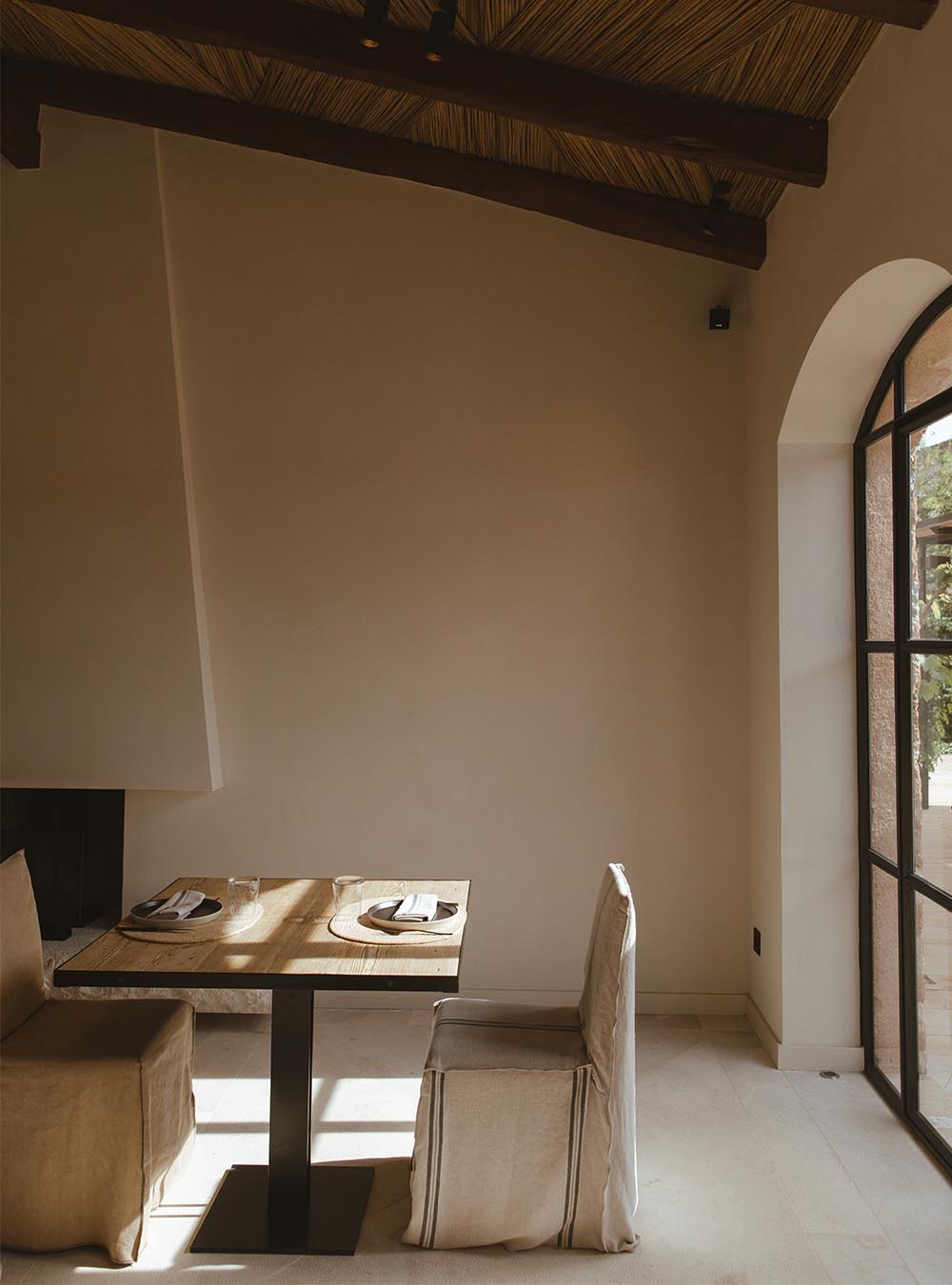 4. Nobu Hotel Ibiza Bay, Ibiza – Spain
Home to not one, but two sought-after restaurants – the Mediterranean-inspired chiringuito concept Chambao, and the sushi-serving Japanese fusion Nobu – Nobu Hotel Ibiza Bay is the place to dine, dip, and dance on the White Isle. Never underestimate the power of sleek, white ceramics – this can make more colourful cuisine really pop. Round tables can require a bit more creativity when it comes to placement of dishes and decorative bits, but they lend themselves better to getting every guest involved in the conversation. Scatter your smaller plates while keeping the larger dishes as centrepieces in their own right.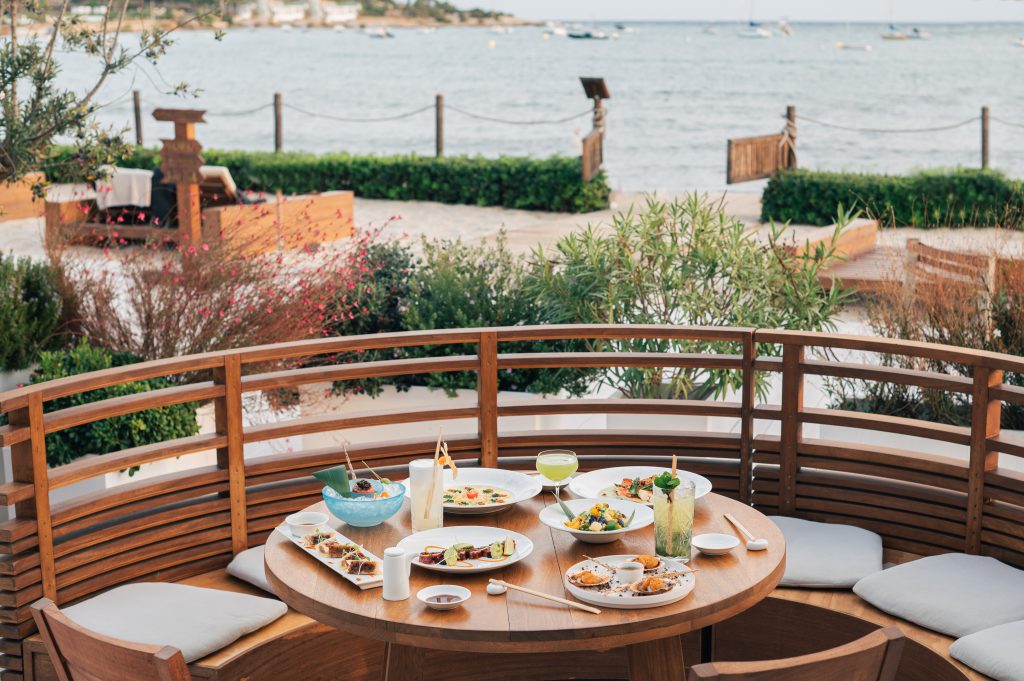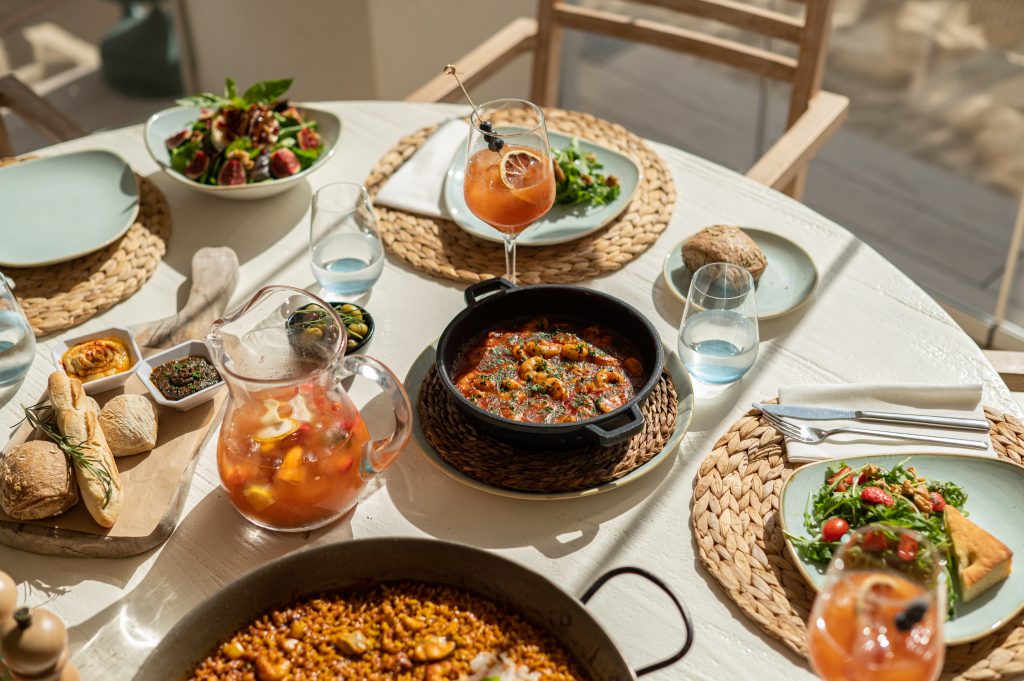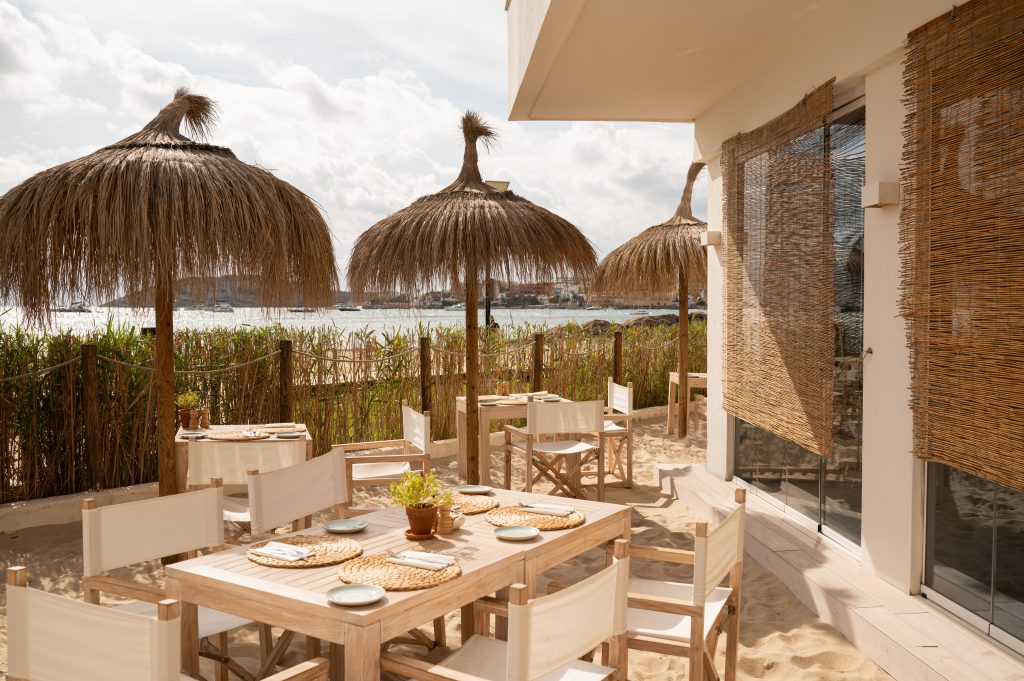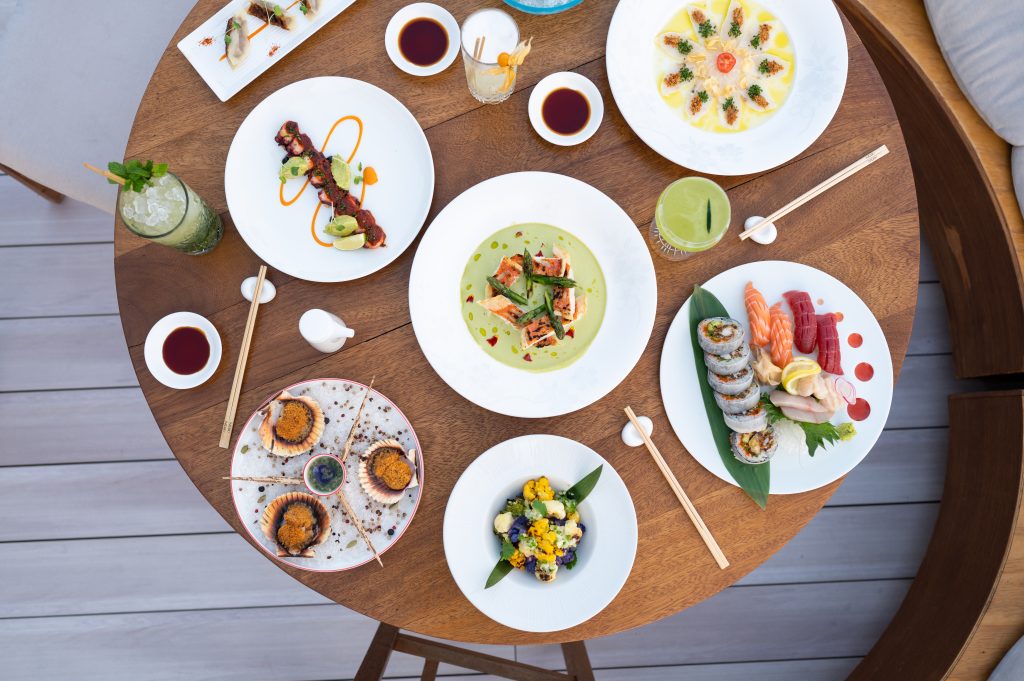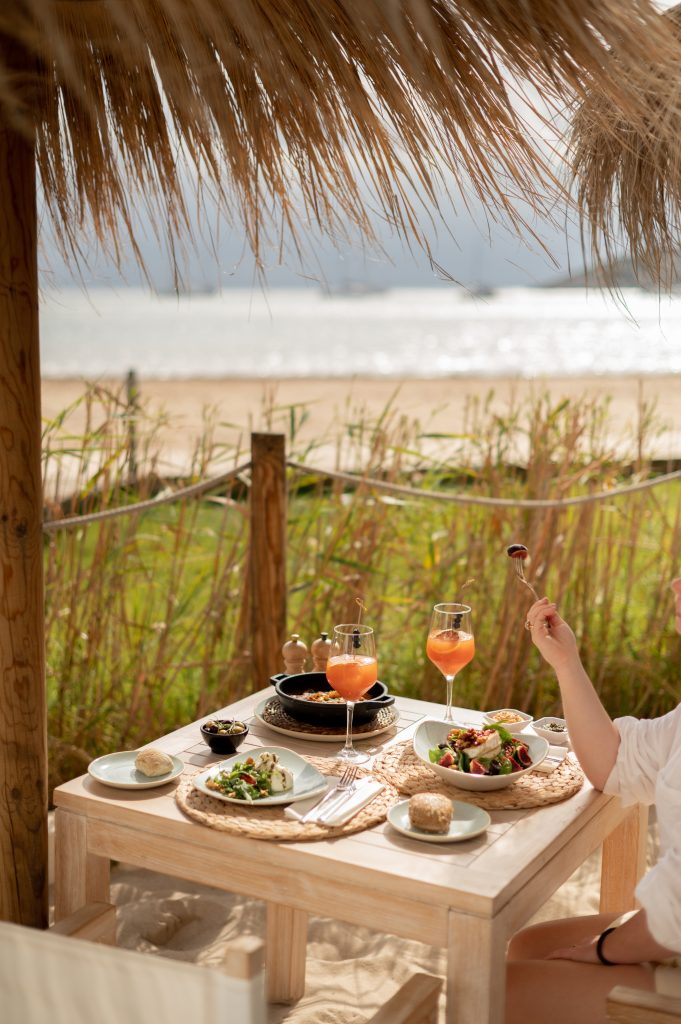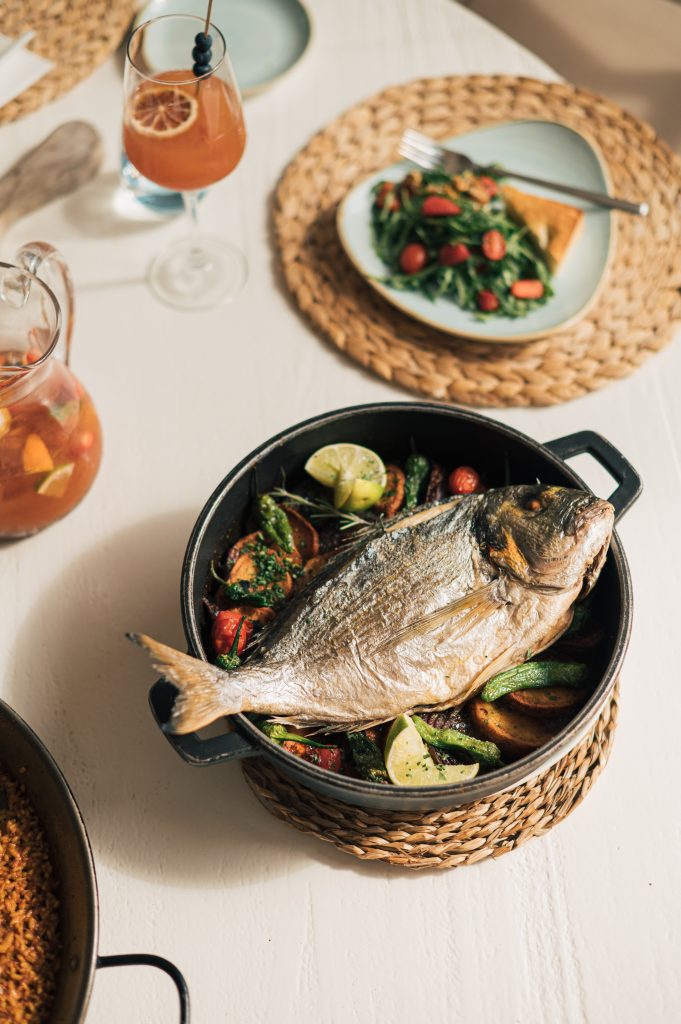 5. Mezzanine, Tulum – Mexico
A small and perfectly formed retreat set just steps from Tulum's sandy shore, Mezzanine is where margaritas flow and hammocks sway to the sound of crashing waves. When you're hungry, snack on zingy ceviche and quesadillas from the beach menu, or tuck into a full menu of authentic Thai cuisine – washed down with a cocktail or two. Opt for bamboo dinnerware for a bohemian look (with eco-friendly benefits!) and non-matching rattan bread baskets to hold your sides. For a more sociable way of serving sharing plates, simply place everything in the middle of the table and encourage guests to dive in.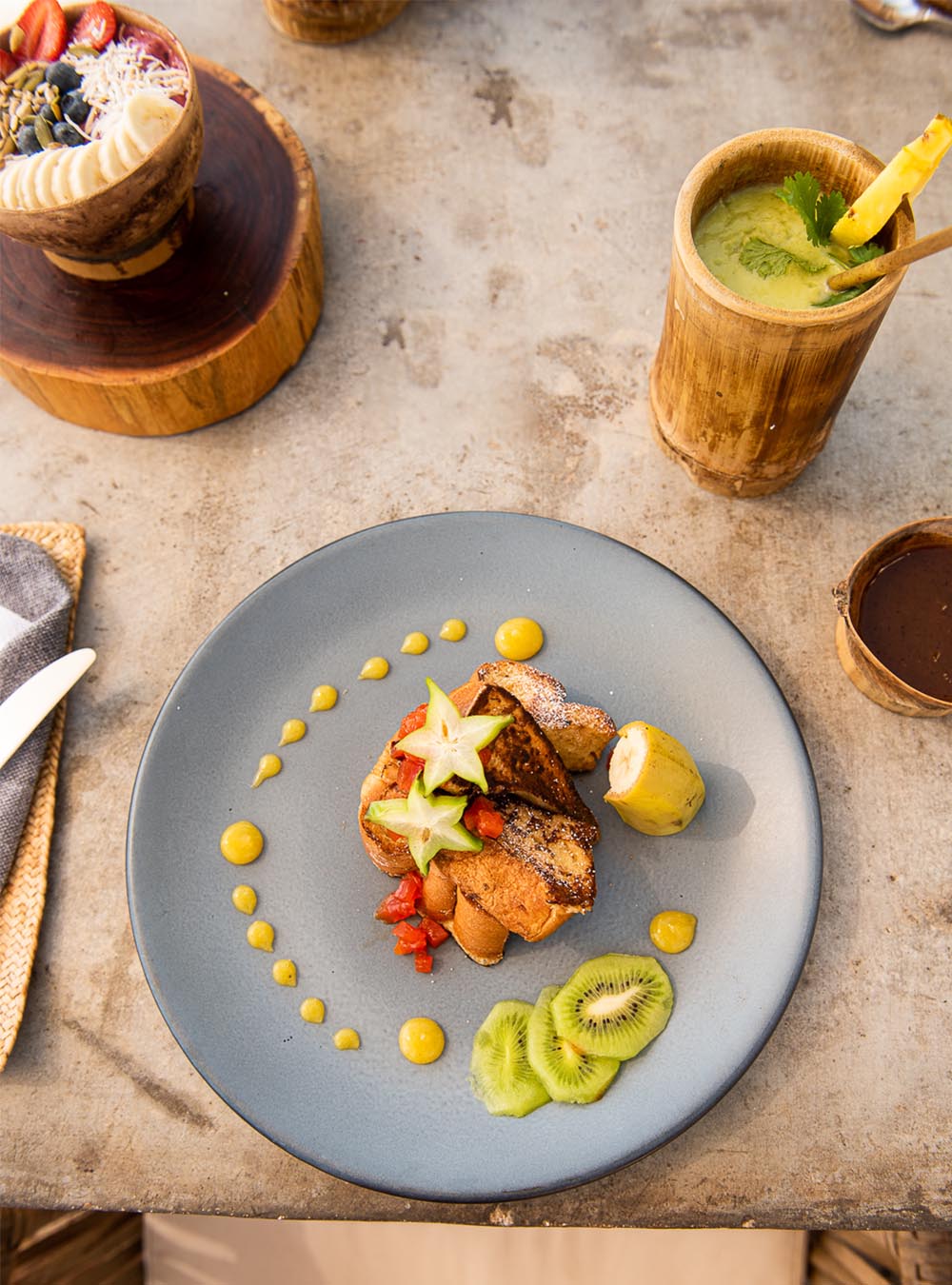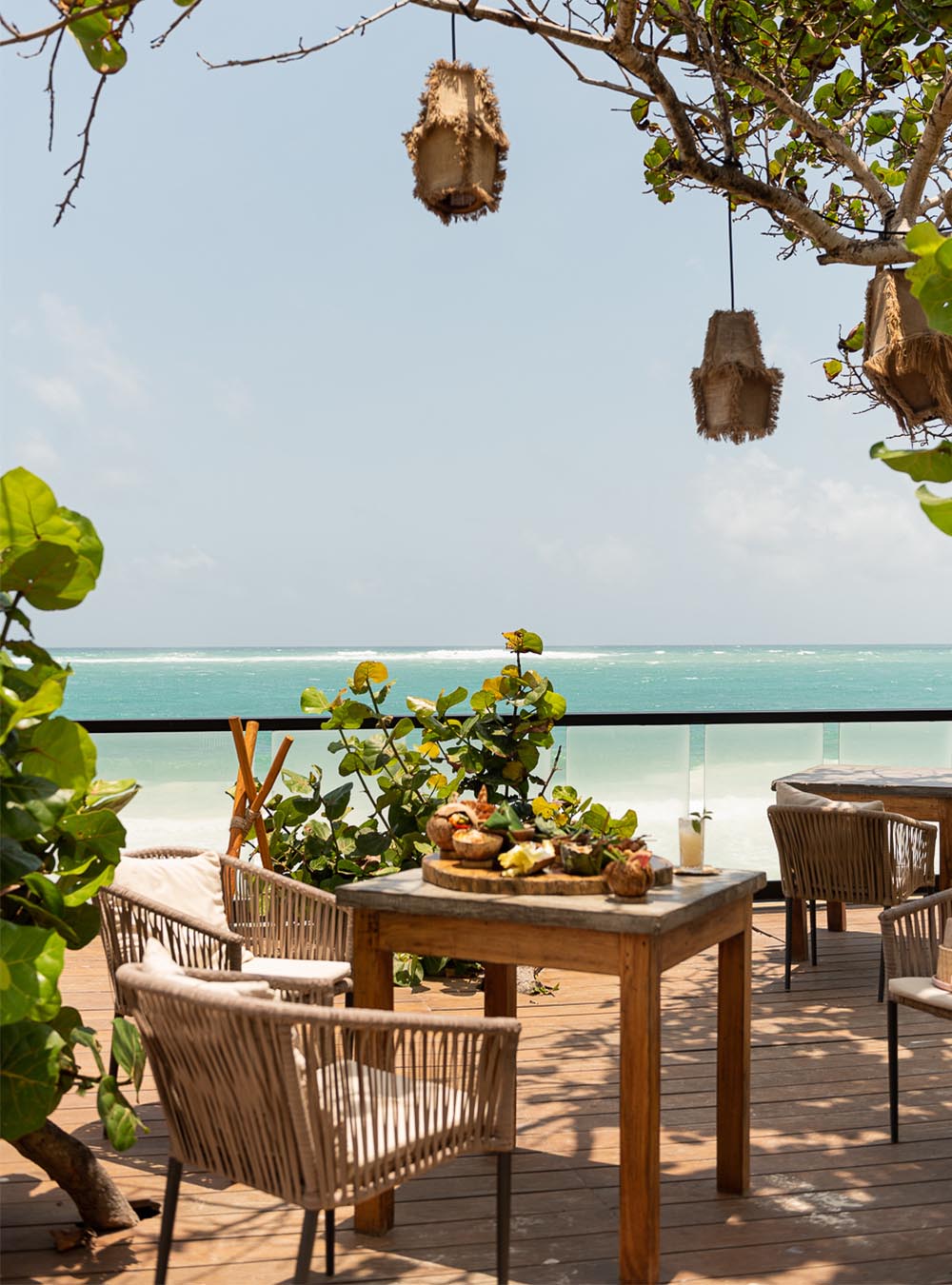 6. Finca Serena, Mallorca – Spain
Bucolic beauty abounds at Finca Serena, a countryside retreat surrounded by cypress and citrus trees where birdsong breaks the silence each misty morning. Choose to dine in the panoramic Restaurant Jacaranda which makes full use of homegrown produce, or outside among the lavender, vines and olive trees. If the weather isn't quite warm enough to dine alfresco, bring the outdoors in with terracotta vases holding fragrant foliage, and centrepiece bowls of lemons (or whatever fruit might be in season). Create a clean palette with a simple white tablecloth, which will let your dinnerware do the talking – and add texture through placemats and napkin rings.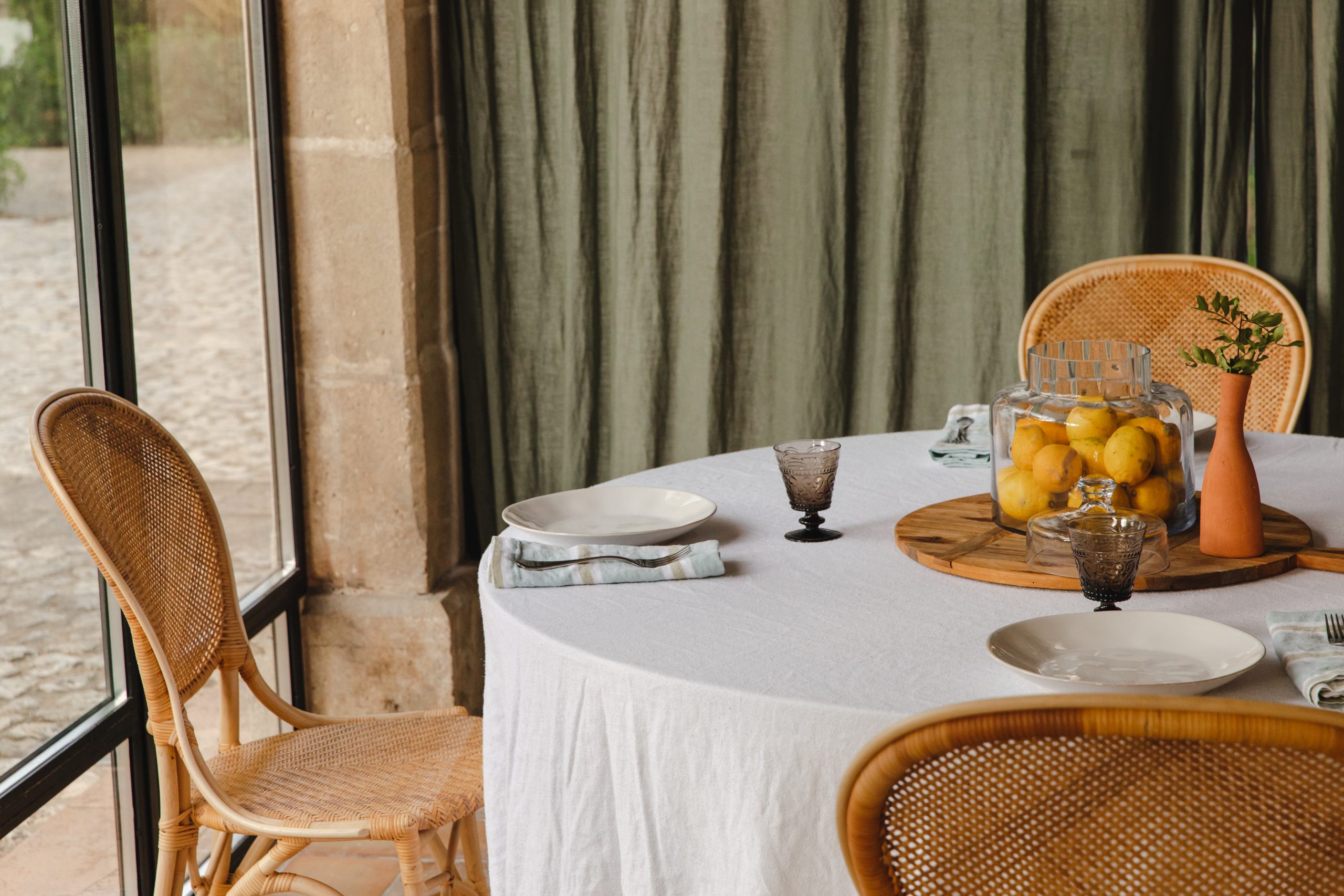 7. Susafa, Sicily – Italy
Created as a haven in harmony with nature, Susafa is a family-run, 200-year-old farmhouse that raises the spirits and soothes the soul. Chefs pick herbs and vegetables from the gardens, ready for dinner – or for a Sicilian cookery class. The family harvest olives to press for their own, organic oil, while sommeliers select locally made wines for guided tastings. Bring wooden chopping boards to the table piled high with bread and cheese for a farmhouse feel, with a smattering of earthy ceramics to tie in with the rustic theme. If dining alfresco, choose your setting carefully – a spot with a combination of shade and sunshine is usually a crowd-pleaser.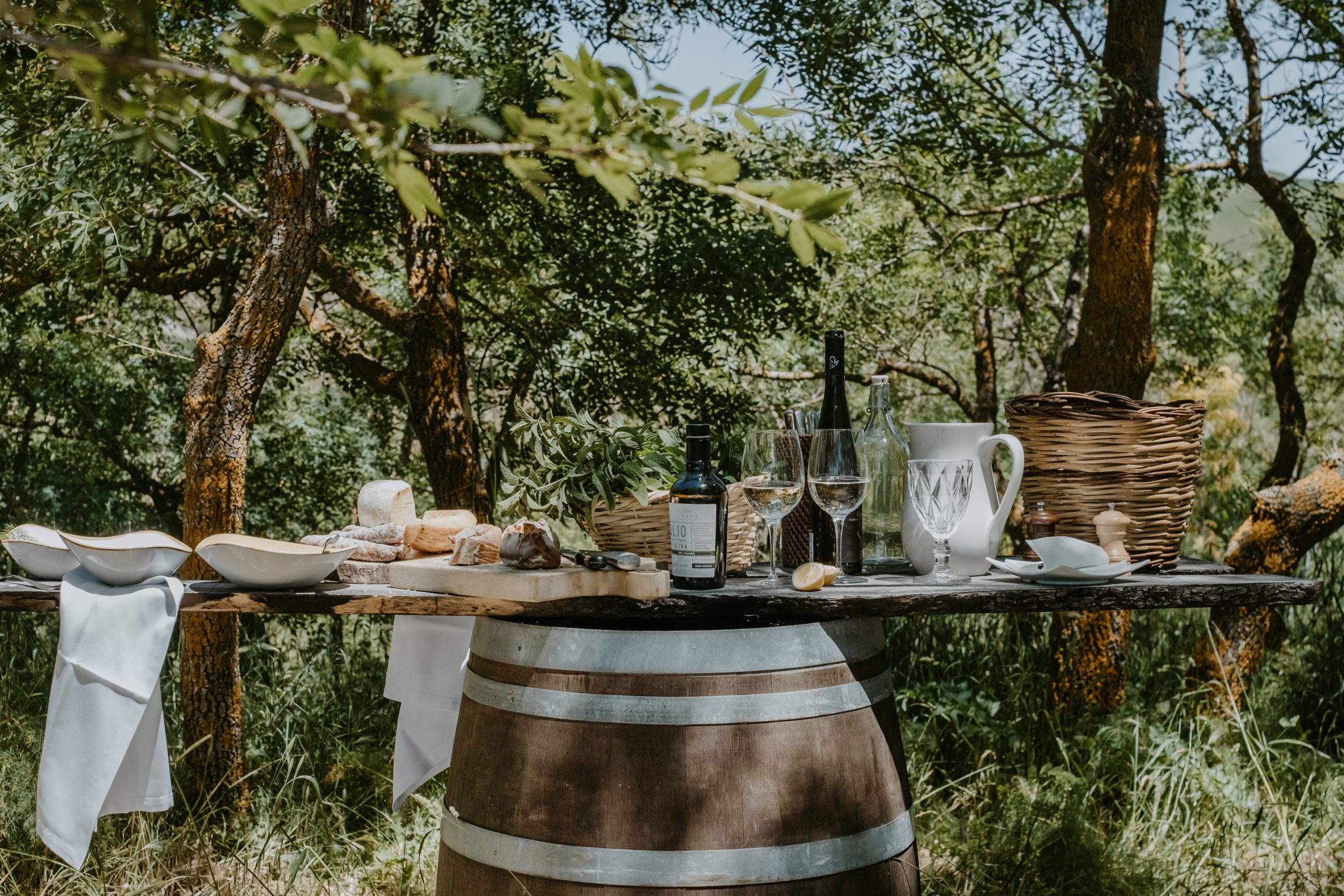 8. Cap Rocat, Mallorca – Spain
Set in 88 acres and stretching along the coastline for two kilometres, Cap Rocat is an adults-only boutique hotel overlooking the Bay of Palma. Take your pick from the main restaurant which is located in one of the former central buildings, serving up seasonal Mediterranean dishes made from products sourced from local ecological farms, or the Sea Club, an open-air restaurant located on the waterfront in the spectacular Cala de la Reina, where food is cooked in a traditional Mallorcan firewood oven and grill. The deep blue colour scheme draws on the seafront setting, with nautical striped deck chairs completing the picture.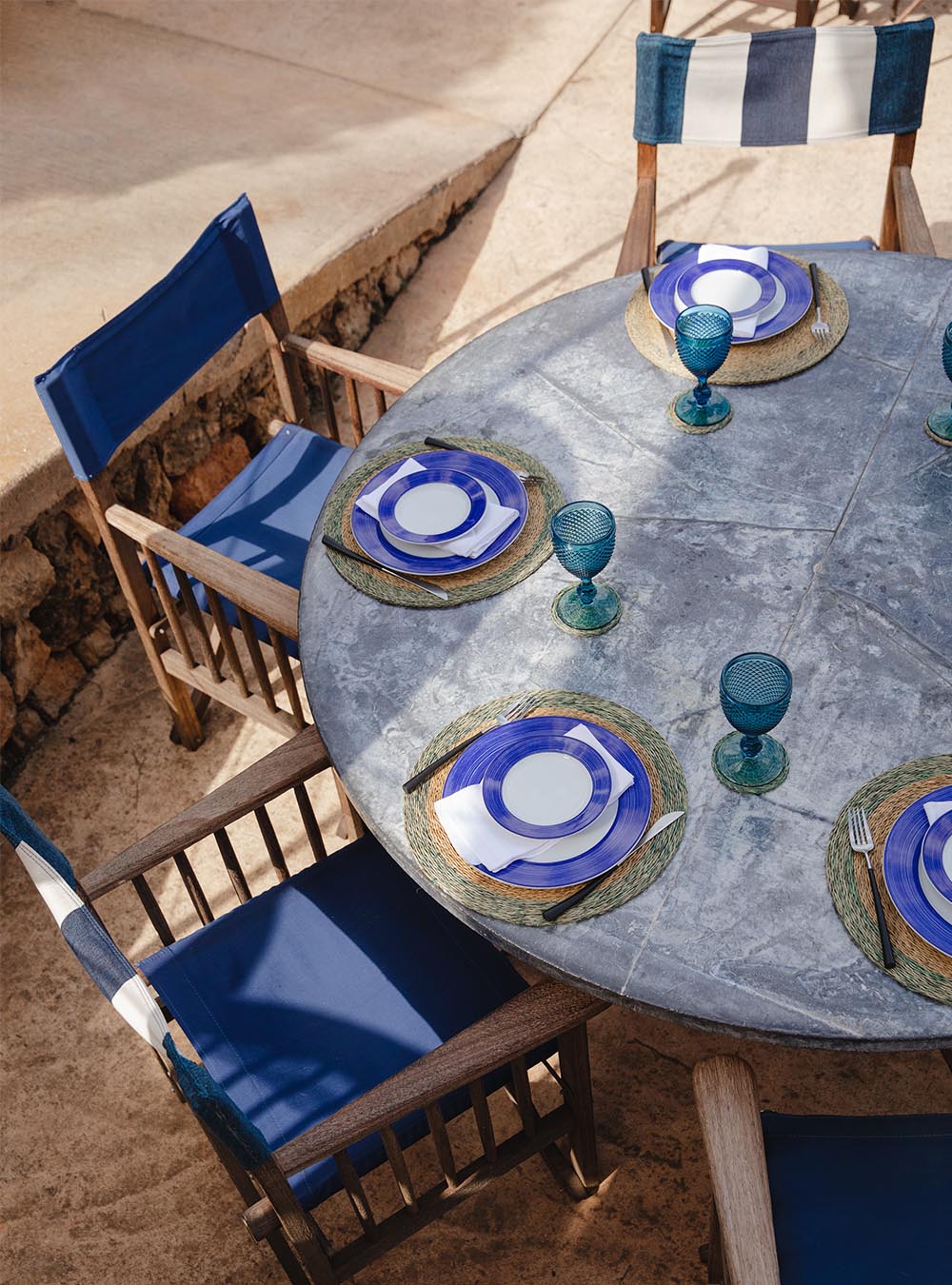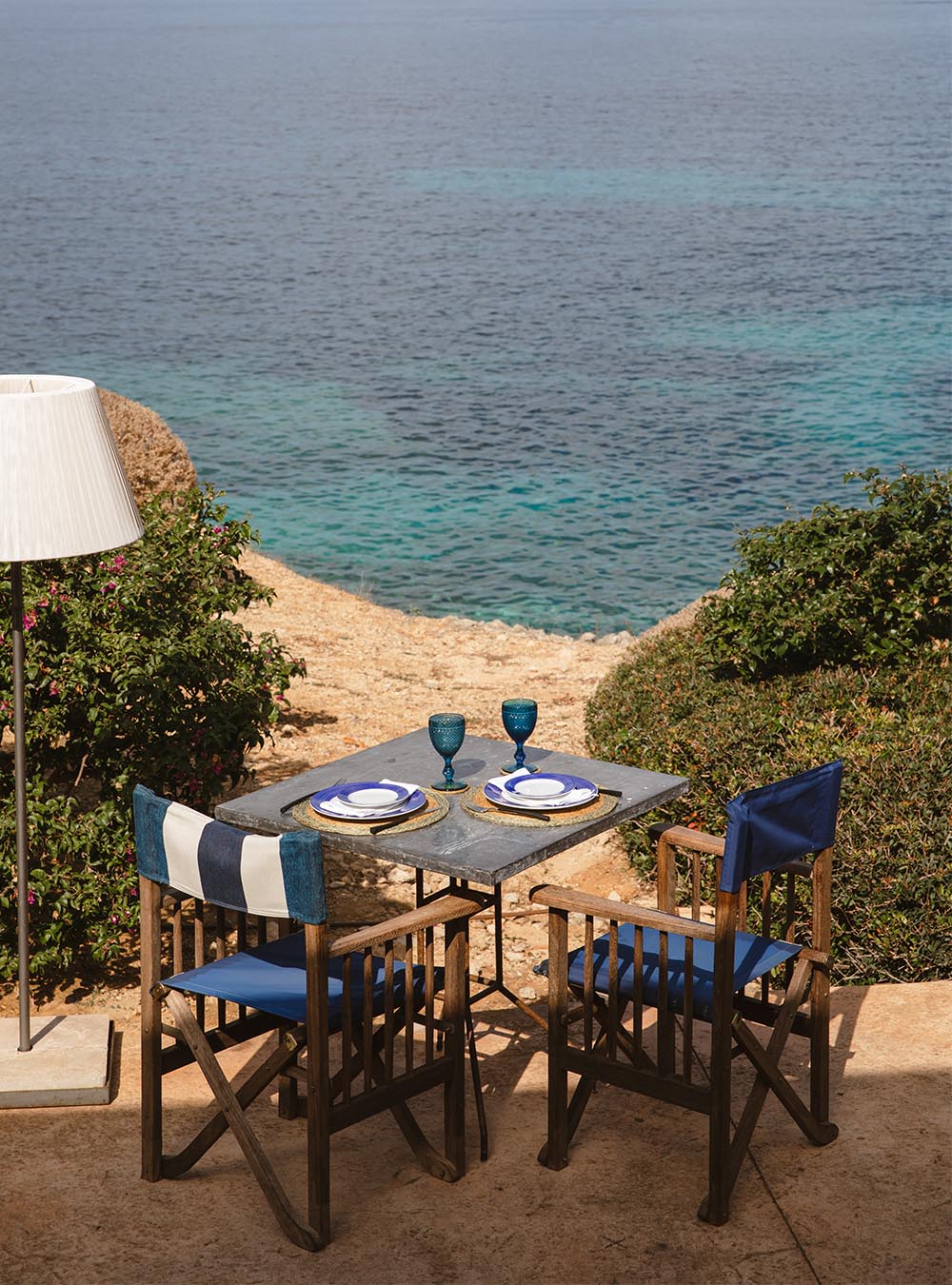 9. Hôtel Lou Pinet, Saint-Tropez – France
A strong vintage aesthetic runs throughout Hôtel Lou Pinet, a soulful retreat which centres around an over-sized, cherry red umbrella-lined swimming pool and lavender scented gardens. With outposts across Europe, the highly regarded Beefbar brings melt-in-the-mouth cuts of Kobe and Black Angus Prime to Saint-Tropez, and evenings can be whiled away sipping Provençal rosé under fairy lights and lanterns. Be imaginative with your tea-light holders (they don't have to match!) and light just before your guests arrive for a relaxed ambiance. If you're creatively inclined, why not try designing your own menu for a more formal occasion.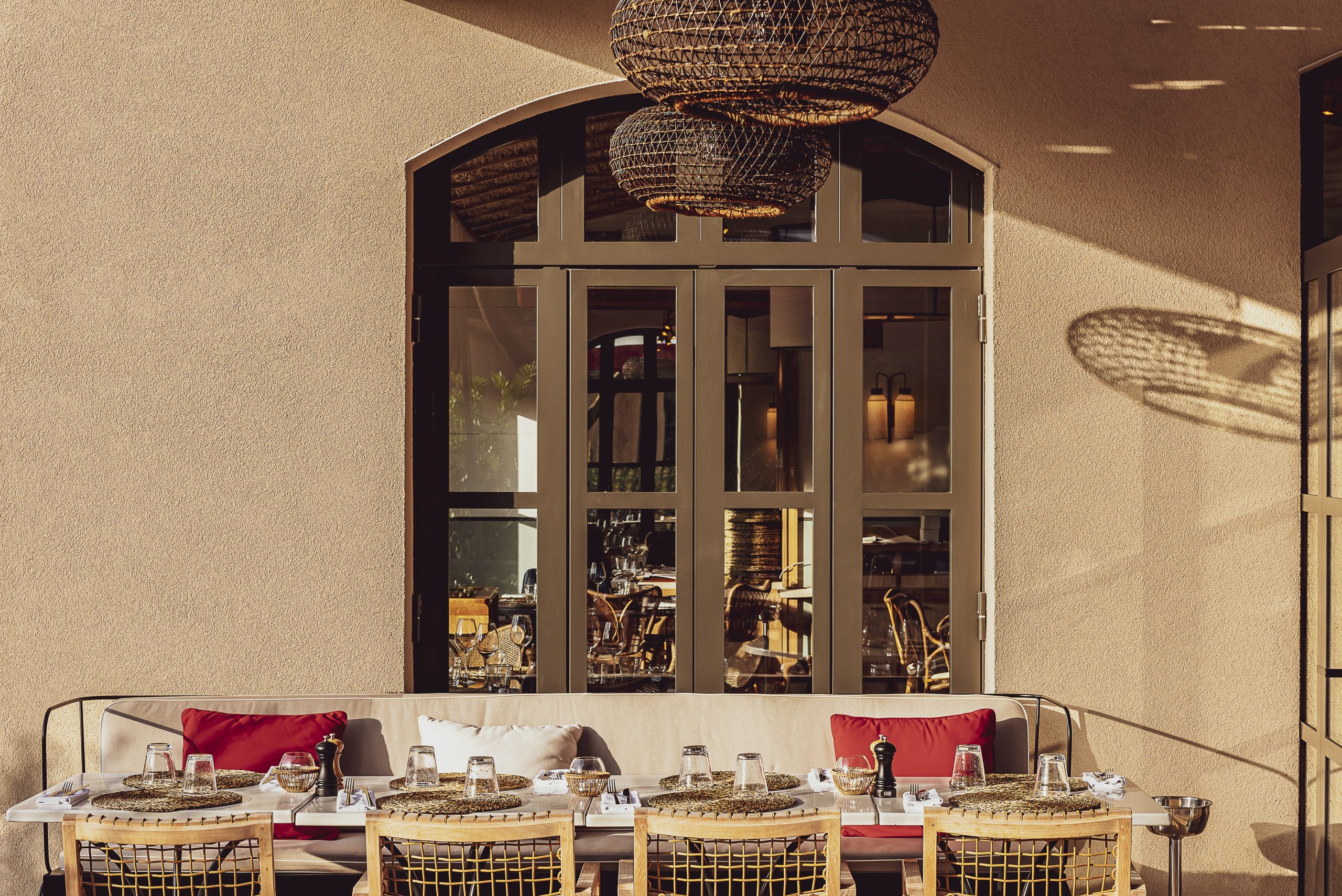 10. Sant Francesc Hotel Singular, Mallorca – Spain
Perfectly positioned in Palma's old town, Sant Francesc Hotel Singular is a grand residence turned contemporary oasis with a show-stopping rooftop pool. Set in the manor's former stables and overlooking the private garden, the hotel's restaurant serves up fresh Mediterranean flavours throughout the day, with both outdoor and indoor seating options. Moody black dinnerware works well with clean lines and a neutral colour palette, while big, bold stripes bring the tables thoroughly up to date.