Seared Maldivian tuna with tropical fruit salsa
Expert, imaginative and above all delicious food is among the many qualities that distinguish SLH. For some this will mean a Michelin-starred tasting menu; for others an opportunity to sample authentic local dishes in a beautiful and restful setting. We hope you agree that the variety and originality of these recipes demonstrates the independently-minded approach to quality that helps our hotels stand out from the crowd.
Enjoy our recipe of the month, Seared Maldivian Tuna with tropical fruit salsa from the Etesian Restaurant at Velassaru Maldives.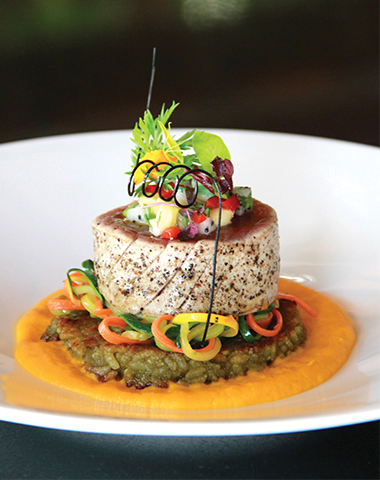 Ingredients (Serves 2)
2 160g tuna steaks
Carrot purée
60g carrot
10g onion
10g garlic
30ml cream
Risotto cake
10g onion
10g garlic
40g arborio rice
100ml vegetable stock
20ml cream
10g parmesan cheese
Vegetable ribbons
20g green courgette
20g yellow courgette
20g carrot
20g white radish
Tropical fruit salsa
10g finely diced dragon fruit
10g finely diced mango
10g finely diced pineapple
10g finely diced guava
10g red thai chilli
5g coriander
5ml lime juice
Micro greens & edible flowers
Lets' cook
To prepare the carrot purée sauté the onion, garlic and cooked carrots in 10ml of olive oil in a small pan until the onions are translucent.
Transfer to a blender and purée with the cream to the desired consistency. Stir in salt and season with white pepper.
Sauté the onion, garlic and rice for the risotto cake in 10ml of olive oil until the onions are translucent.
Add the vegetable stock a third at a time: cook over a medium heat, keeping stirring until all the stock is absorbed. Repeat until all the stock has been used and the rice is cooked.
Remove the pan from the heat then add the cream and cheese. Stir in salt and season with white pepper, then set aside to cool.
Once cooled, divide the risotto in two and form each portion into a cylinder.
Before serving crisp each side in hot oil in a shallow pan.
Cut the vegetables into long thin strips with a mandolin.
Cook until al dente in hot water then plunge into iced water and drain.
When ready to serve, sauté in 10ml of olive oil in a small pan.
Add salt and pepper to taste.
Combine the finely diced fruit for the salsa in a small bowl with the chilli, chopped coriander, a little olive oil, lime, and salt and pepper. Season the tuna with salt and pepper.
Gently place the tuna in the pan with a little olive oil and cook to the desired finish: we recommend rare.
Spread carrot purée on the plate, followed by the risotto cake and vegetable ribbons.
Place the tuna on top with a spoonful of tropical fruit salsa.
Garnish with micro greens and edible flowers.