Grilled wrapped pie of black truffle and foie gras 'temari' style with Périgueux sauce
Expert, imaginative and above all delicious food is among the many qualities that distinguish Small Luxury Hotels of the World. For some this will mean a Michelin-starred tasting menu; for others an opportunity to sample authentic local dishes in a beautiful and restful setting. We hope you agree that the variety and originality of these recipes demonstrates the independently-minded approach to quality that helps our hotels stand out from the crowd.
Enjoy our recipe of the month, the Grilled wrapped pie of black truffle and foie gras 'temari' style with Périgueux sauce from the Blanc Rouge restaurant of The Tokyo Station Hotel in Tokyo, Japan.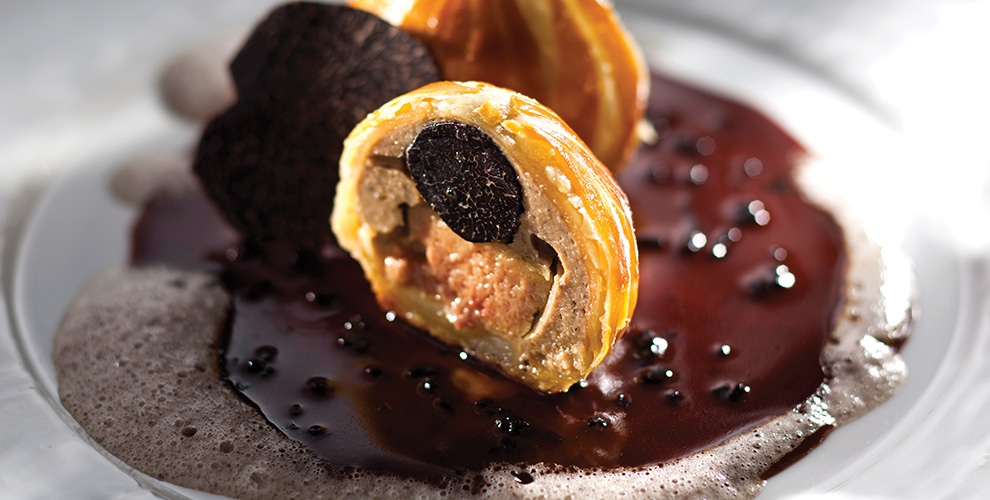 Ingredients (Serves 2)
40g black truffle, most grated,
a little sliced for decoration
50ml madeira wine
50ml port wine
200ml veal stock
20ml single cream
50ml milk
60g foie gras
80g veal paste
2 discs pie pastry,
12cm diameter & 1.5mm thick
1 egg yolk
Let's cook
First, create the two types of sauce.
For one sauce bring 40ml of madeira and 40ml of port to the boil.
Add the veal stock and boil again. Add 5g of grated truffle and salt
and pepper to taste.
For the second sauce warm the milk and fresh cream in a pan with a pinch of grated truffle. Whip to a foam just before serving.
For the filling, mix together 20g of foie gras, the veal paste, 10ml each of madeira and port, salt, pepper, and a pinch of grated truffle.
Divide the mixture in two.
Blend 40g of foie gras and 20g of truffle, and spread over each portion of the filling. Roll up each in the pie pastry to make a ball.
Brush with egg yolk all over and cut decorative patterns into the pastry with the point of a sharp knife. Bake the pies in the oven at 220C for 25 minutes.
Cut each pie in half. Pour out the two sauces and plate the pies.
Decorate with slices of truffle and serve.